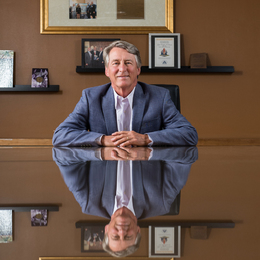 40 Years of Fighting for Workers
Led by founding partner George Martin, Martin Law has been a tireless defender of injured workers for four decades and counting.
In 1979, attorney George Martin opened the doors to a law firm with a singular focus: to defend and protect the rights of workers who have been injured on the job.
"It started with me and a secretary," Martin says of his Philadelphia-based law firm, Martin Law LLC. "Back then we had one dictation machine and one phone, and one of us would work on the dictation machine while the other worked the phone. We grew rapidly from there and added attorneys as the need arose."
In 2019, 40 years after it all began, Martin Law has become "bigger than we've ever been," with 17 attorneys and 65 staff members, and offices throughout the region, including its headquarters on the 35th floor of a Center City high rise. The firm's reputation as "the law firm for injured workers" stems from a simple, enduring principle: do the right thing for clients, many of whom are struggling with physical injuries and/or debilitating psychological pain.
"I've told my partners this many times, but if insurance companies did the right thing all the time, we would be out of business," he says. "But that's not the way the world works. People need us to work on their behalf so they can receive the wages and benefits they need to be able to buy food, pay the rent, and live their lives. That's what we do every day, and even after 40 years, I still love it."

Above and Beyond
At Martin Law, Martin leads a team of highly skilled and accomplished attorneys devoted to Social Security disability, long-term disability, and veterans' benefits, as well as workers' compensation, and nearly all of them started their careers representing insurance companies and employers in workers' compensation cases. Their experience, as well as their track record of helping thousands of injured workers recover lost wages and benefits, has resulted in the accumulation of a number of prestigious accolades, such as having been named among the Best Lawyers in America and the top Super Lawyers in Philadelphia.
Of course, the attorneys don't do the job because of honors and recognition. They do it because their work has a tremendous impact on real people who are dealing with real problems and real pain, and who are being treated unfairly.
"A lot of the people we represent end up in situations where, because of their injury, they have no income for themselves and their families, and they have taken on a great financial burden because they are dealing with major medical issues," says Alfred J. Carlson, a partner with Martin Law who joined the firm in 2000. "It can also happen to anyone. People think that because they have a good relationship with their employer and have been working there for 10, 15, 20 years, that the employer is going to take care of them if they get hurt on the job. Unfortunately, a large majority of the time, that does not happen."
While one might think going against large insurance companies puts an attorney in the role of "underdog," Carlson says he and his colleagues are committed to doing everything in their power to protect a client's rights—even if it means getting laws changed.
He cites a case involving a man named Greg Kochanowicz, who in April 2008 was working at a liquor store in Bucks County when the store was robbed at gunpoint. Kochanowicz survived the incident but was unable to return to work due to posttraumatic stress disorder, so he filed for disability benefits.
Although the benefits were initially awarded, the Pennsylvania Liquor Control Board appealed the decision and the Commonwealth Court halted the benefits on the grounds that the potential for a robbery was a "normal" part of the job. In 2015, Carlson, as Kochanowicz's attorney, appealed to the Supreme Court, which vacated the Commonwealth Court's decision, thereby restoring the client's benefits and awarding him back pay. The decision also compelled the lower court to issue a new decision after Carlson argued the case before the Commonwealth Court.
"Workers' compensation cases come in a wide variety of packages," he adds. "Many of these cases involve musculoskeletal injuries, often from work-related motor vehicle accidents. Some involve something more innocuous, such as lifting a box you've lifted 10,000 times before, but the next time it causes a herniated disk. There are also a lot of cases with injuries you can't see, such as PTSD or someone being exposed to cancer-causing toxins they don't know they're being exposed to."
'Trust the Process'
Although each case is unique, the goal is always the same: to protect each individual's ability to provide for them and their families.
"People are scared for their livelihood, and they're scared about what will happen to their job while they are dealing with their injury," says Joseph A. Conlan, a partner who joined the firm in 2010. "We are going to make sure our clients' rights are protected and put our client in a position to either get back to their employer or move on in the best shape possible."
Along the way, Conlan keeps the client focused on a time in the future when the gray skies will have cleared. After all, the wheels of justice tend to move more slowly than he or the client would like.
"The workers' compensation process is not quick, generally taking at least six to nine months once you file a claim," he says. "All the while, people ask, 'How am I going to survive?' We work with them to keep them calm and explain what's going to happen each step of the way, because a lot of the stress they're experiencing has to do with not knowing. We reassure them, 'We're here to help. Trust the process.'"
Like his fellow partners, Conlan started his career on the other side of the table, defending insurance companies and employers in workers' compensation cases. When the opportunity to join Martin Law arose, he did not hesitate.
"Everyone who does workers' compensation knows Martin Law, and they know George's reputation for serving clients to the best of their ability," he says. "Having dealt with him and some of the firm's other attorneys from the other side, I saw how respected they were and knew this was the place to be."
Fighting for What's Right
The culture at Martin Law comes from its founder's work ethic and desire to do the right thing, according to Carlson and Conlan, and everyone else on the team follows his lead. For Martin, the desire to do the right thing remains as strong and pure as it was 40 years ago.
Early into his career, Martin envisioned a career in environmental law. Life took him in another direction, but he never abandoned his desire to advocate on behalf of the public interest. In fact, his firm's success has enabled him to devote time to Earthjustice, a nonprofit law firm devoted to protecting clean air, clean water, and healthy communities. As chair of the organization's Board of Trustees, he says he finds the work "hugely satisfying."
Whether he's working to protect the environment or clients' rights, Martin believes that only good will come from working hard to fight for what is right.
"There is a firm ethic that we all adhere to, and that is to do right by your client and everything will work out fine," he says. "We've been doing this for 40 years, and we're still getting better. It's been a fun journey, which is why I'm still doing it after 40 years. I love that we're able to help people. I want to keep doing what I'm doing—to keep the firm growing and moving forward while also doing my environmental work.
"Hopefully even after I'm gone, we will be here to help people who need our services," he continues, "but I'm not planning on going anywhere."
Martin Law LLC
1818 Market Street, 35th floor
Philadelphia, Pa.
(215) 587-8400
Photograph by Jeff Anderson

Published (and copyrighted) in Suburban Life magazine, December 2019.