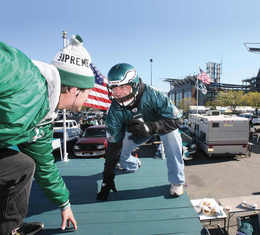 Birds of a Feather
A close-knit group of Eagles diehards puts an extreme spin on a pre-game tradition
It's Saturday, Sept. 11, and Chris Marrone is finishing up a long day of work on an RV that is anything but ordinary, getting it battle-ready for the following morning.
"You can't do much hiking with it anymore," says Marrone, a diehard Eagles fan and police officer from Delaware County. "[Now] it is custom-built for tailgating."
The RV—a 32-foot 1987 Winnebago Elandan purchased from a rock band in the wake of a European tour—is set to make its official debut at the Eagles home opener the following day, which is the first Sunday of the team's 2010 National Football League season. There, in an unremarkable parking lot in South Philadelphia, the RV will become the base of operations for Marrone and his band of longtime friends and fellow Eagles diehards, some of whom have been season-ticketholders for almost 20 years.
Although he's not the first, Marrone has turned tailgating into something of an extreme sport. For his bunch, it has become a tradition, a ritual—even a sacrament, of sorts. Every season the same group of guys gears up and "does it right" for the Birds' eight home games. They camp out in the custom-outfitted RV in the parking lot of Citizens Bank Park, across the street from where the Birds play—Lincoln Financial Field or, familiarly, The Linc—no matter what surprises the weather throws at them: rain, sleet, snow, freezing temperatures, etc.
At the tailgating party before the season's home-opening game against the Green Bay Packers, Marrone jokes that his group is "all cops and lawyers"; attendance varies, however, with the six ticketholders accompanied by a "revolving door" of friends, acquaintances and curious bystanders. For example, another group of fans who used to tailgate exclusively in a lot outside the arena now known as the Wells Fargo Center has hitched a small tent to the side of Marrone's RV, thereby defecting to the Citizens Bank Park lot.
Newcomers are encouraged to take part in the game-day festivities, though every tailgating "rookie" must endure a rite of passage, according to Marrone: "If you come once and we like you," he says, "then you are welcome back." (Editor's note: The author of this story, who attended Marrone's pre-game tailgate at the home opener, has been "approved" to return.)
Going 'All Out'
Marrone's brand of extreme tailgating was borne of the finite nature of the Eagles season. As he explains, "There are only eight home games, so you have to go all out. Sundays only come once a week. It's not like a Phillies season where you can catch a couple games a week. It's one day a week for only eight [weeks]."
Andy, an attorney from Broomall who has become part of Marrone's extended group, adds, "Honestly, I wouldn't come to the game if it wasn't for the tailgate. It just makes it worth it."
Marrone's passion for pre-game tailgating grew out of his excitement for the Eagles after the Buddy Ryan era. "We all got hooked on the Eagles, and tailgating was an extension of that excitement," he says. "Even in this questionable season there is no loss of excitement here. You go where they go."
In other words, amid the ups and downs of a grueling NFL season, only the tailgate is a constant.
Marrone's RV is fully loaded. Its main lounging area consists of a couch and two swivel-back chairs and recliners. Its front captain's chairs turn around to provide more seating. This is critical because any extra place to sit at a tailgate party is a luxury; the vehicle seats 12 to 13 comfortably but packs in as many as 20 when the air turns frigid. ("You don't even need the heat on with all of that body heat," says Marrone.) The vehicle also has six built-in cabinets, which serve as the key tailgaters' own private cubbies—just like in kindergarten, only in this case stocked with whatever an adult diehard Eagles fan needs to survive a day of extreme tailgating.
Other creature comforts include a built-in Budweiser tap jutting from the side of the RV; a second tap is being added, because some of the guys drink Bud while others prefer Miller Lite. The RV's shower had to be "ripped out" in order to create the much more important masterpiece known as the "keg area." Directly across from the keg area stands Marrone's pride and joy: a working toilet, complete with a hand-sanitizer station, truly a rarity among the tailgating faithful. Finally, the heart of this operation is a working generator, whose sole purpose is to power a 26-inch flat-screen TV (recently upgraded) so the tailgaters can keep up with other NFL scores.
Future reconstruction plans—or what Marrone calls "repurposing"—include removing two single beds in the back and replacing them with tables and stools to make a sort of mini-pub. Also, in the near future Marrone plans to give the RV a midnight-green paintjob to mimic the Eagles' colors. (Marrone's previous RV, which had to be "retired" because the group had physically outgrown it, wore the same Eagles-inspired coat of paint.) Even though it is still something of a work in progress, most Eagles fans would already consider the RV a dream come true: a comfortable home away from home with the ability to keep tabs on other games, a flowing tap of cold beer just around the corner, a bathroom nearby.
The Spread
Marrone and his crew don't mess around when it comes to game-day food. For the Eagles-Packers game, Andy's older brother Joe is the designated breakfast man. He makes the trip all the way from Lancaster County, with breakfast provisions in tow: bacon, scrapple, sausage, ham, eggs—all the major a.m. staples. Danny, at 30 the youngest of the six season ticketholders and also a past Wing Bowl contestant, delivers to the lot a 60-pound pig, courtesy of Esposito's in South Philly, for a home-opening pig roast.
And the food parade doesn't end there. The night before the game, Marrone and his brother Frank sliced up and cooked thin filets, to be served with sharp provolone cheese for the ultimate in steak sandwiches. The Marrones' father, Harry, helped out too by providing supplementary broccoli rabe and long-hot peppers.
Game time nears, which means Marrone and one of his oldest friends from grade school, Terry, must close up shop—because they always make it to the game. Sure, a lot of tailgaters will stay out in the lot in front of the flat-screen TV, but for Marrone the tailgate event is merely a prologue to everything that transpires on the field.
As the scoreboard clock ticks off its last seconds, the game ends in an Eagles' defeat—27-20—at the hands of the Packers. Thousands of disappointed fans pour out of the stadium and into the parking lots … to find Marrone's RV strangely absent. Apparently, there will be no after-party. Marrone's crew has likely gotten a jump on the post-game gridlock and headed back to the suburbs, proving that this brand of ultimate tailgating is not without strategy or structure.
The Birds' home-opening loss aside, Marrone and his friends intend to return to their familiar slab of asphalt in South Philly for the next home game, and every one thereafter. Surely, whenever the Eagles are playing at The Linc, this group of longtime Eagles fans can be found "pre-gaming" in their custom-outfitted RV, drawing stares from passersby and reveling in the simple comforts of friendship, plumbing and a freshly poured beer.
Brian Kelly is a freelance writer based in Doylestown.