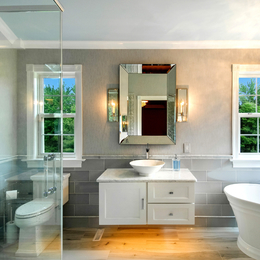 Q&A with Dennis Gehman
Why to consider a NARI member when choosing a home remodeler, according to the president and co-founder of Gehman Design Remodeling.
Professional home remodelers live or die by word-of-mouth. For homeowners who need more reassurance than the recommendation of an acquaintance, however, one of the area's most trusted remodelers has a suggestion: See if the contractor is a member of NARI.
NARI, short for National Association of the Remodeling Industry, connects homeowners with its professional members and also provides helpful tips so consumers can have a positive experience with a qualified remodeler. NARI has four chapters in the Philadelphia area: Bucks Mont, Del Chester, Central Jersey, and North Jersey. Dennis Gehman, president and co-founder of Gehman Design Remodeling in Harleysville, is a charter member of the Bucks Mont chapter since its founding in 1992, and has served on the board in various positions, including president. He has also become involved on a national level as a way to provide a guiding hand to other contractors across the country. Currently he serves as Treasurer of the National Board.
We recently sat down with Dennis to hear more about his longstanding affiliation with NARI, ways in which the organization makes contractors better at what they do, and NARI's value to homeowners.
Q&A
You're heavily involved with NARI, on the local, regional, and national level. Why are organizations such as NARI necessary?
Unfortunately, the home improvement and remodeling industry is largely unregulated; it's not the Wild, Wild West, but it's relatively easy to become a contractor. Prospective members need to have been in business one year before being considered for NARI membership. That's important because statistics show that 90 percent of contractors who start off don't make it one year, and another 90 percent of those who make it one year don't make it more than five. For most people, their house is their biggest investment, and they want to entrust it to someone who knows what they are doing, and who they know will be around if they run into any issues along the way.
Why should a contractor's NARI membership matter to homeowners?
The overwhelming majority of contractors are honest people, but you still hear stories about contractors who don't do what they say they are going to do. Membership in an organization like NARI is a way to vet those people out. NARI has a strict code of ethics that members must adhere to. By enforcing this code, NARI makes sure contractors do what they say and stand behind their work. If there is a problem, the consumer can file a grievance with NARI and we will follow up, do an arbitration process, and do our best to resolve the issue in an amicable way. Thankfully, we don't have to do that very often because the professionals who join tend to have high standards.
Does membership in NARI make you a better builder?
Membership helps you stay on top of pending legislation, OSHA regulations, and other important details that affect the work you are doing in people's homes. The biggest value for me comes from rubbing shoulders with other contractors who want to do business better. Now that I'm involved on a national level, I know contractors across the country who can provide perspective on just about anything that has to do with how I run my business, whether it's something technical or something related to hiring and benefits.
Tell me about the certification process.
NARI offers six certifications: Master Certified Remodeler, Certified Remodeler, Certified Kitchen and Bath Remodeler, Certified Lead Carpenter, Certified Remodeling Project Manager, and Universal Design Certified Professional. With each certification, a professional has to have a number of prerequisites before they can take the course—experience, education, and other criteria—so it's one more way in which contractors stay on top of what's going on in our industry and up to date on the latest trade techniques. Continuing education is required each year to maintain your certification. Members of my team, myself included, have received multiple certifications through NARI over the years. The one I'm most proud of is Master Certified Remodeler, which is the highest certification NARI offers. I hold MCR #78, and there are less than 150 Master Certified Remodelers.
NARI is well known for its CotY Awards, short for Contractor of the Year, and your firm has won many. Why are the awards important?
We've won two national CotY Awards, in addition to 10 regional awards, which cover Pennsylvania up through Maine. Locally we've won at least one award every year since 1996. They're important because they're an opportunity to showcase the best of your work. Our team gets excited about the awards because they provide a sense of validation from our peers, and I think homeowners appreciate the fact that the work we've done in their homes is considered among the best in the business.
Visit Gehman Design Remodeling at 355 Main Street in Harleysville, Pa., call (215) 513-0300, or go to gehmanremodeling.com. PA Contractor Registration: PA0297
Photograph courtesy of Gehman Design Remodeling
Published (and copyrighted) in Suburban Life magazine, July 2019.
For more info on Suburban Life magazine, click
here
.
To subscribe to Suburban Life magazine, click
here
.
To advertise in Suburban Life magazine, click
here