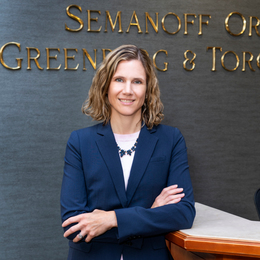 A Clear Path Forward
As the families of children with special needs plan for the future, Alissa B. Gorman of Semanoff Ormsby Greenberg & Torchia, LLC, offers solutions to remove the uncertainty.
When a family has a child with special needs, the ability to think two steps ahead becomes essential. After all, parents and other family members tend to bear the primary responsibility of providing the care the child needs. But as they try to imagine a day when they will no longer be able to provide the personal and financial care for their child, family members often find themselves overcome with anxiety, unsure of where to turn for a satisfactory solution.
Attorneys such as Alissa B. Gorman, J.D., LL.M., can provide the guidance and expertise needed to allay these fears.
"Some parents are so busy with the daily care of their child that they don't have time to think about the child's future care," says Gorman, an attorney with Semanoff Ormsby Greenberg & Torchia, LLC, a full-service law firm with offices in Huntingdon Valley and Chalfont. "They see the child being so vulnerable and have a difficult time thinking about who will provide the same level to their child as they do. That's why we're here, to develop a plan to assist the parents and the child and provide a level of comfort for how the child will be cared for in the future."
Gorman specializes in working with families to provide protections such as the special needs trust, also known as a supplemental needs trust, which is designed to hold and preserve an inheritance and other financial assets parents wish to leave for their child with special needs. By placing assets in a special needs trust, the child can continue to receive means-tested benefits such as Supplemental Security Income (SSI) and Medical Assistance, and still maintain financial assets to provide for his or her supplemental care.
"Typically, I will meet with the family to get an understanding of the child's needs," says Gorman. "I learn how high functioning the child is or isn't and how much support they have or will need when the parents are no longer able to provide the care. I get a feel for the child and make recommendations. We discuss whether the child will work when he or she gets older and where the child will live. I take this information and develop an estate plan for the family that preserves inheritance monies for the child with special needs."
When a special needs trust is created, a family member may be named as trustee to disburse funds in the best interests of the child with special needs. Gorman suggests families have several options available regarding whom to appoint as trustee.
"If there is a significant amount of money involved, a bank may serve as trustee," she says. "There are also nonprofit trustees that can manage the assets. The benefit there is that they are experts in the special needs world and have resources and support systems available."
A parent may also appoint a family member, such as a sibling, to serve as a co-trustee along with a professional trustee. This relationship blends the intimate knowledge the family member has of the child's needs and objectives with the professional trustee's expertise in finance and public benefits.
Whichever option a family chooses, Gorman will carefully guide a family through the process. Her areas of practice include estate planning, estate administration, guardianship, and elder law planning, though approximately 30 percent of her caseload involves a special needs component. This experience inevitably benefits the clients who come to her seeking the best plan for their child's financial future, which may include the likes of a special needs trust.
A four-year starter and team captain for the Fighting Irish women's lacrosse team, Gorman graduated from the University of Notre Dame with a B.A. in government and history. She received her Juris Doctor from Loyola University of Chicago School of Law in 2010, achieving Dean's List honors. She received her LL.M. in taxation at Villanova University School of Law in 2016.
Two years later, in 2018, and again in 2019, she was selected for inclusion in Super Lawyers Rising Stars for estate planning and probate in Pennsylvania—an honor awarded to no more than 2.5 percent of attorneys in each state. Today, she believes her personal and professional experiences have given her a greater perspective on the challenges faced by children with special needs and their families.
"Working with families of special needs children is definitely rewarding," she says. "To be able to help them, to give them the assistance they need, and to make them feel more at ease about their child's financial future is something I hope to provide to every client."
Semanoff Ormsby Greenberg & Torchia, LLC
(215) 887-0200
2617 Huntingdon Pike
Huntingdon Valley, PA
140 E. Butler Ave.
Chalfont, PA
Photograph by Jody Robinson

Published (and copyrighted) in Suburban Life magazine, July 2019.
For more info on Suburban Life magazine, click
here
.
To subscribe to Suburban Life magazine, click
here
.
To advertise in Suburban Life magazine, click
here