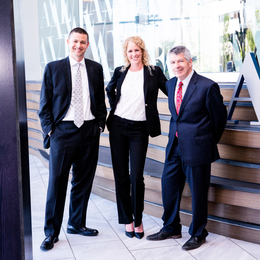 Fighting for Your Future
Intent on making a difference, the attorneys at Ciccarelli Law Offices focus on protecting their clients' futures and address their legal needs when they face a fight that impacts themselves or their families.
"A law firm should be based on idealistic principles: to make a difference for its clients, to serve their needs, and to fight for them when their future is on the line," says Lee Ciccarelli, who has built a law firm than is greater than any one attorney. He has helmed this law firm—Ciccarelli Law Offices, headquartered in West Chester—for more than 20 years.
"The practice of law should not be transactional," he says. "The attorney-client relationship is personal, and clients want attorneys who are experienced, devoted, passionate and street smart."
Ciccarelli has assembled a team of attorneys with strong character. He feels privileged to lead a legal team of disciplined, idealistic, and compassionate attorneys who are engaged in achieving their clients' goals or mission.
"At its heart, our practice still centers on reaching out to individuals, and fighting to get results," he says. "We live in perilous times, in which we are told that we are more connected than ever, but too often we find ourselves anxious, depressed, alone, and feeling isolated. There is an increase in people facing dependency issues with alcohol and other substances. People are being overwhelmed by society, and even the 'lucky' among us are feeling the pressures of the day."
The legal team includes Joshua Tebay, director of Ciccarelli Law Offices' personal injury department. Tebay takes his profession very seriously, "passionately ensuring those who have endured life-changing damages due to the negligence, carelessness or outright recklessness of another, have a strong voice."
Ciccarelli describes Tebay as "deliberate, intense, and devoted to our clients. He is a good man and a great lawyer."
Julia Theobald Rogers, who manages the firm's criminal defense litigation and domestic litigation departments, shares Ciccarelli's vision.
"The powerful thing about Ciccarelli Law is that we have dominant attorneys working here, so we have recognition throughout the counties," she says. "People know us—they understand what we're about—and that helps us get great outcomes for the clients."
Ciccarelli first experienced the exhilaration that comes from the pursuit of justice for all while at The George Washington University Law School in Washington, D.C. During his time at GW, he had the opportunity to work for a firm that was involved in a class-action sexual discrimination lawsuit against the federal government.
"I saw in plain view how determined attorneys could make a difference for real people and shape the future," he says. "It helped me to understand that it was possible to run a successful law practice that was motivated to do good and make a difference."
He opened the firm's first location in Chester County, but the firm has since grown to serve clients throughout Delaware, Lancaster, Montgomery, and Philadelphia counties. Today, Ciccarelli's firm thrives as a leader in personal injury, criminal defense and DUI, family law, workers' compensation, and general litigation. As the firm moves forward, its leadership is intent on serving growing communities, including King of Prussia, Lancaster, and Chester County.
"People don't seek the help of attorneys in a vacuum, and it is important that we understand where they came from, what they are going through now, and where they hope to be in the future," says Theobald Rogers. "I tell all my clients this very moment in time that we are in, no matter how difficult or terrifying, is temporary, and there will be a time in the future where things will be different. It's important to keep moving forward, and I am so grateful that I get to help my clients do that every day."
Ciccarelli considers the desire to recognize the humanity of each client as one of the most striking features that set his firm apart from its peers.
"The heart of our practice goes to individuals in need," he shares. "They have been impacted emotionally or physically in the course of a serious accident, or they or a family member are in physical or emotional distress. They need leadership and guidance through the disruptions, with the force and tenacity to get financial consideration for the pain and suffering they've felt."
Each client interaction is anything but "a transaction."
"Clients need someone to rise above the despair, depression, and darkness of where they're coming from, whether they are facing allegations of wrongdoing, they can't see the future past their injury, or they're struggling with a domestic issue," Ciccarelli adds. "Beyond knowledge and expertise, that takes emotional courage and leadership. It takes the desire to make a difference."
In other words, the Ciccarelli Law team is confident, respected and ready to fight for clients and their families.
Ciccarelli Law Offices
304 N. High Street
West Chester, Pa.
(484) 235-5705