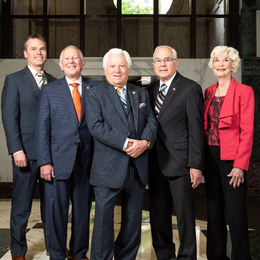 A Better Way
Led by industry pioneer Harris T. Bock, the Dispute Resolution Institute provides a timely, private, and cost-effective alternative for resolving legal disputes.
Like it or not, conflict is a part of life. Serious conflicts often warrant the intervention of a neutral third party, but not all of them have to end up in court. In fact, pursuing a lawsuit can be costly and oftentimes leads to a disappointing resolution. After all, courts operate on the system of a "winners" and "losers," and the fate of each party involved rests in the hands of a judge and jury, with zero control over the outcome.
But options do exist, according to Harris T. Bock, and it's known as Alternative Dispute Resolution, or ADR for short, an option that not everyone knows exists. ADR refers to any means of settling disputes outside of the courtroom, the two primary methods being meditation and arbitration. Mr. Bock has been a pioneer in both of these areas. Twenty-five years ago, he gave up his legal practice to devote himself to ADR, which he describes as "a better way to deliver justice."
Mr. Bock, who is recognized nationally as a leader in ADR, founded the Dispute Resolution Institute (DRI) in 1994 to provide a forum to resolve legal disputes in a timely, private, and cost-effective manner. Since then, his firm has grown to include a team of "Distinguished Neutrals" who assist in the resolution process, all managed beyond the walls of the courtroom.
"Court is nothing more than a polite war," he says. "Instead, the utilization of arbitration or meditation to resolve a case is the most reasonable way available to anyone dealing with a dispute. It's so important that before you take any conflict to trial, you investigate your alternatives. If you're going to court, you're rolling the dice because you lack all control."
A Fair Resolution
A "dice roll" is far from how the arbitration and mediation processes go. Both arbitration and mediation have the same goal in mind—to reach a fair resolution—however, their processes are a bit different.
With arbitration, an arbitrator hears evidence and makes a decision; it's similar to the court process, though quicker and typically more cost-effective. Witnesses do not need to be called live (but can submit testimonies), and it lacks the delays often experienced in court cases. In mediation, the process is more of a negotiation with the assistance of a "Neutral." The parties do not reach a resolution until all sides agree. This provides significantly more control.
"In mediation, we work together until we find middle ground," says Judge Sandra Mazer Moss (Ret.), one of the DRI's Distinguished Neutrals. "This is not only cost-effective and more efficient but it solves a conflict without a winner and a loser, so everyone walks away from the process satisfied."
Another benefit is operating outside of the "one size fits all" approach of court. Instead, Judge Richard B. Klein (Ret.), a Distinguished Neutral with DRI, says that you can "make the forum fit the fuss."
"If you go to court, there is one way that things work," he explains. "But with ADR, there are a variety of methods that can be tailored to fit the individual dispute. It could be arbitration with one or three arbitrators, or it could be 'high-low' arbitration, where there is a bottom figure that a plaintiff gets no matter what the arbitration figure, as well as a 'cap' put on the arbitration. Similarly, mediation can help a variety of situations, often when there are multiple issues and the parties will have to deal with one another in the future."
In addition, the ability to avoid the stress associated with going to court is a huge benefit. Judge A. Michael Snyder (Ret.), another Distinguished Neutral with DRI, adds that the court process often feels like being "thrown to the lions." Though seasoned attorneys feel at home in the courtroom, the experience can overwhelm individuals who are unfamiliar with courtroom proceedings. Arbitration and mediation can remove that stress.
"Any time that the parties can be involved in the decision-making process, it's going to be a much more favorable experience," Judge Snyder says. "Many times, a dispute can get resolved by simply thinking outside of the box and coming up with a creative solution that satisfies both parties. ADR affords flexibility that you simply won't get in the courtroom. As a result, everyone generally finds it to be a more comfortable and positive experience."
Instilling Confidence
Whether it's a business matter, a personal injury, a professional malpractice concern—or any other conflict—DRI may offer a viable option. Mr. Bock says that virtually any conflict is worth utilizing ADR as opposed to the traditional court system.
While there are other ADR firms in the area, as Judge Moss puts it, "Why wouldn't you want to go to the source from which ADR has grown?" After all, Mr. Bock led the way when ADR was in its infancy. Today, he teaches as an adjunct professor of ADR at Villanova Law School and has assisted in teaching courses on dispute resolution at numerous accredited institutions. In other words, many who now offer ADR services learned from Mr. Bock, even if indirectly. Judge Moss says that Mr. Bock helped to develop many of the techniques that are utilized in ADR nationwide.
"The Dispute Resolution Institute, as a smaller firm, provides a number of advantages," says Judge Klein. "We are less expensive and more flexible than the 'big shops.' At the same time, there are four of us and clients can get the benefit of our collective experience. As three of us are former judges, we have seen everything and can bring that experience as we help parties reach settlement."
"Utilizing ADR is a wonderful way to resolve disputes," adds Judge Moss. "The Dispute Resolution Institute has been doing this for many years, and that should instill confidence in those who are looking for an effective resolution."
Dispute Resolution Institute
2 Logan Square, Suite 660
Philadelphia, Pa.
(215) 656-4374
Photograph by Jeff Anderson

Published (and copyrighted) in Suburban Life magazine, July 2019.
For more info on Suburban Life magazine, click
here
.
To subscribe to Suburban Life magazine, click
here
.
To advertise in Suburban Life magazine, click
here