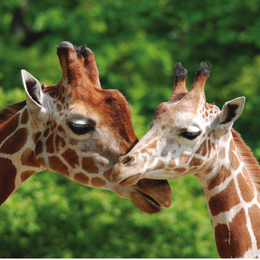 Animal Magnetism
Through continual reinvention, Elmwood Park Zoo brings humans and animals closer together.
When people visit a zoo, it's not uncommon to approach a favorite exhibit only to find it closed, either because of a much-needed renovation or, sadly, the death of an animal. Elmwood Park Zoo in Norristown is no exception to these unfortunate temporary closures, but regular visitors and members know by now that when an exhibit closes, something more elaborate usually takes its place.
Elmwood Park Zoo has made a habit of creating new exhibits that enable visitors to experience the zoo's most precious assets—its stock of approximately 300 animals—in new and dynamic ways, such as feeding them, or gliding over enclosures by way of zip lines as part of Treetop Adventures, added in 2014. The zoo also boasts a recently renovated playground, a carousel, and a train ride, among other activities. When the sun goes down, guests can participate in "ZooSnooze" overnight camps, which include a tour of the zoo by flashlight.
One outsized attraction, both figuratively and literally, brought the zoo a tremendous amount of publicity and attention: giraffes. The zoo's giraffe exhibit, which opened in 2013, includes a flight of stairs leading to a platform that gives visitors a chance to view these gentle giants eye to eye, and also feed them by hand.
In essence, the exhibit kick-started an era of renovation and expansion at Elmwood Park Zoo. The excitement now surrounding this institution marks a significant shift compared to a time not long ago, when the zoo languished in relative obscurity. The zoo's upward trajectory can be traced largely to the efforts of Al Zone, the zoo's CEO.
"In 2011 I came in because the zoo was in such bad shape there was talk it was going to close," says Zone, a Norristown native who visited Elmwood Park Zoo as a child. "After conducting surveys and interviewing guests, what became evident at the time was that people largely viewed the zoo as a kind of petting zoo. The zoo's curator [David Wood, who has since passed away] and I talked about how to make the changes we felt we needed to make—in particular, how to bring in bigger animals."
Making such dramatic changes, Zone and Wood knew, would require a lot of work and money, so the zoo undertook a "marketing campaign and a fundraising campaign," Zone says. Since then, the introduction of the giraffes and the addition of other exotic animals housed within state-of-the-art exhibits have reaped significant benefits. In 2011, Zone suggests, Elmwood Park Zoo had 114,000 visitors. By 2018, that number had increased to 600,000, and its member ranks swelled to more than 13,000, making the zoo among the most-visited attractions in Montgomery County.
"What I learned is that today you have to have an idea of what customers want," says Zone, who has a background in the catering business. "Even a nonprofit organization like a zoo must be run like a regular business."
As an important part of Zone's vision for the future, he strives to make the zoo all inclusive, with fun activities for kids, as well as educational programs and special events for adults. (There's even a beer garden for of-age individuals who wish to imbibe.) But it doesn't end there. Elmwood Park Zoo and its staff recently became autism certified—the first zoo in the world, Zone proudly points out, to achieve such a distinction.
Building Bonds
New exhibits that bring humans and animals together in interactive and highly personal ways remain at the heart and soul of the zoo's mission. "Birds of Paradise" is a good example. In this walk-through exhibit, exotic birds and human visitors share the same space in a large bird cage, of sorts, with visitors able to hand feed the birds as they alight on people's arms and shoulders.
Also, in the spring of 2017, the zoo opened perhaps its most elaborate exhibit in its storied history, "Trail of the Jaguar." As with the debut of the giraffes four years earlier, the jaguar exhibit stunned visitors with its naturalistic way of showcasing the animals. With both indoor and outdoor areas, including a stream, a pond, and waterfalls, the 5,000-square-foot exhibit gives a jungle cat plenty of room, while offering spectators awe-inspiring views.
That having been said, building the human-animal connection through on-site exhibits is just one aspect of the zoo's work. It is equally dedicated to behind-the-scenes activities meant to help beleaguered members of the animal kingdom through programs focused on species survival, animal rehabilitation, and conservation. Elmwood Park Zoo also makes donations to other zoos when appropriate.
"We don't just worry about our backyard," Zone says. "We do all we can for animal conservation everywhere."
Elmwood Park Zoo is celebrating its 95th anniversary this year. While the last few years have been momentous for Elmwood Park Zoo, Zone says visitors can expect much more to look forward to in the months and years ahead. The zoo has purchased a heavily wooded adjacent property that has quadrupled its present size to 60 acres. Zone is confident his team will put the property to good use.
"I am blessed with 300 part-time and full-time employees who are hardworking and totally dedicated to the zoo and its animals, and many more volunteers who feel the same way," he adds. "And, of course, there are the people who donate money. No zoo can exist without funding, and it was the donors who helped turn things around for this zoo. I am thankful there are so many people out there who love this zoo as much as I do."
Published (and copyrighted) in Suburban Life magazine, August 2019.