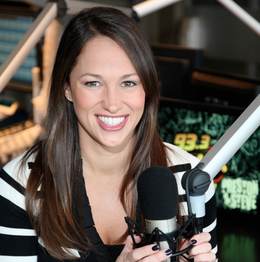 Hear Her Roar
Kathy Romano adds wit and balance to WMMR's wildly popular "Preston & Steve" show
When Kathy Romano was attending Pennsbury High School in Fairless Hills, she already had her eye on a career in the entertainment business.
But she couldn't possibly have imagined she'd someday help anchor the multi-ring circus known as the "Preston & Steve" show, a wildly popular and equally outrageous comedy-and-variety program airing weekday mornings on WMMR—93.3 on the FM dial and streaming online at WMMR.com.
For the past seven years, however, that's precisely what the 5-foot-3, 32-year-old Romano has done. She broadcasts news and traffic updates but, perhaps more importantly, also lends a feminine balance—not to mention the occasional voice of reason—to a male-centric program featuring some of the most bizarre yet entertaining antics heard anywhere on morning radio.
Having also done on-air TV reports for NBC 10 and Comcast SportsNet Philadelphia, Romano feels right at home in the spotlight. Suburban Life spoke with her off-air about early morning wakeup calls, mob hit men and other hazards associated with Philly FM radio celebrity.
How does a magna cum laude graduate from West Chester University end up with a career doing news reports and traffic updates on a radio program, where some of the gags include you and the staff getting drunk on the air?
I grew up on Long Island, moved to Bucks County, graduated from Pennsbury and then from West Chester in 2000 with a degree in communications studies. The next year, I interned at UPN 57 [now CW Philly 57] before getting hired at NBC 10, where I did everything from ripping scripts to helping on the assignment desk.
While at Channel 10, I became a fill-in traffic reporter after the regular reporter left for another job. When I went off the air after they hired a full-time reporter, Preston and Steve, who were then at Y-100, were asking on their show where I went because they liked me. So I sent them a résumé and went on the air with them. They liked me so much they hired me in November 2003.
Is there anything that could have prepared you for working on "Preston & Steve," a program dominated by males and male-themed shows?
I fit right in with all the guys because I grew up with guys in my family. I have two brothers, and all my cousins except one are men. I was used to how crazy men can be.
How quickly did you become "one of the guys" on the program?
I was toned down at the beginning; I had to let the chemistry between us take place. But I'd always chime in with their banter after doing the news or traffic, and always expressed an opinion. That showed them I had potential. When I knew they felt that way about me, I was able to settle into a comfort zone.
What is the craziest thing to happen on the air?
It's hard to zero in on one thing. … We've had [former Philadelphia mob hit man] John Veasey call into the show—we called the segment "Mob Man Review"—to tell us how realistic different mob TV shows or movies are. There's a lot of interesting stuff.
Have Preston and Steve ever done something where you've thought, Man, they've gone too far?
Probably. But when it happens, I'm able to speak up and shoot them down right away. But I don't think they've ever done anything that's creeped or weirded me out too much.
Whatever you're doing on the show, its immense popularity proves it's a working formula.
According to the Arbitron ratings, we've been No. 1 in our time slot in the Philadelphia market for men between the ages of 25 and 54 for the past five years. We also have a lot of women who listen to the show. There's something for everybody.
Are the rules different for men and women on a zany morning show?
Well, there are certain things that I don't go into detail with like the guys do. Listeners will encourage them to go farther, and then I'll say something like, "OK, guys, enough is enough."
You've become very popular on the radio. What are the pros and cons of your celebrity?
I get to meet tons of people from all walks of life. We get doctors who listen to the show and call in, and there's a scientist who calls in all the time. I don't know if I'd meet them if not for the show and how popular it is.
As far as a drawback, there isn't much. I love doing the show. I guess the drawback is the hours; it starts at 6 in the morning.
What are some of your fondest memories attending college in West Chester?
I loved it. I took my studies seriously but had fun, too. I still get together with some of my sorority sisters, and I still get back there for dinner with friends. West Chester was and is a great town.
Have you been able to use your profile on "Preston & Steve" for any philanthropic endeavors?
After Thanksgiving every year, WMMR sponsors Camp Out for Hunger. Preston and Steve live in an RV in the Metroplex Shopping Center in Plymouth Meeting for a week and encourage people to come and donate nonperishable food items for Philabundance (the region's largest food bank). We've raised hundreds of tons of food. Last year we raised 210 tons and $50,000.
Personally, a friend and I are in the process of starting a charity to benefit needy children. It's in the beginning stage; we don't even have a name yet. I think I get my caring about others from my family. I grew up in a home where my mom helped everybody, whether it was family or strangers, who needed help. During Christmastime, I remember my family buying gifts and then taking them to the homes of people in the neighborhood who were less fortunate and dropping them on their porch.
How long do you envision yourself in your current profession?
I don't know. We really have a lot of fun. I guess when I don't have fun anymore I'll know it's time to do something else. I'm a little bit younger than the guys, so when they retire I'll still have to work.
Phil Gianficaro is an award-winning writer based in Doylestown.