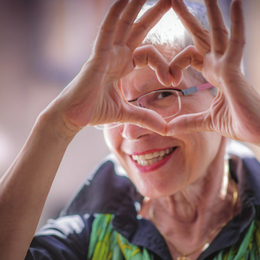 No Limits
Their minds spry and bodies strong, today's seniors prove that adventures can happen at any age.
It's just past noon on a balmy day in late July and Paris Sterrett has already gotten in a few hours of weeding—"a little appetizer for the day," he jokes.
Landscaping, gardening, and other outdoor pursuits fill significant parts of Sterrett's schedule; he has approximately 20 "clients" who have him tend to their grounds.
"I lived in Narberth for many years, and I used to do a lot of work for people in the community, mostly because I just enjoyed the beautification," says Sterrett, a retired counseling psychologist who lives with Joan, his wife of almost 50 years, in a cottage at Presby's Inspired Life in Rosemont. "I no longer have a lawn mower, but I still do the weeding, pruning, and mulching."
He also maintains a raised bed at Rosemont and other locations within a few miles of the community, including multiple garden plots he has tended on the grounds of Haverford College for more than 40 years. In addition to perennials, this year's harvest includes arugula, spinach, peppers, potatoes, and onions, among others.
"It's very therapeutic," he says. "I like the gardening itself, the closure you get from making things look nicer … being outside, seeing things grow, and I like the idea of being able to give away crops to some of the residents here."
Now in his 70s, Sterrett has lived a long, full life, and he has a lot more he still wants to do. His days are full—sometimes maybe even a little too full.
"I've been very lucky, health-wise, and I feel very fortunate to have had a very nice lifestyle," he says. "I enjoy what I'm doing, but I'm not sure I want to take on any more than I'm doing now."
In Motion
Recent headlines from across the country suggest Sterrett belongs to a growing population: men and women of retirement age who, rather than sitting back and taking it easy, continue to challenge themselves by meeting new people, going new places, and learning new things. Life, they believe, is to be experienced, and they intend to indulge in new experiences for as long as they are able.
From the Washington Post: Sarah Yerkes, a 101-year-old resident of the Ingleside at Rock Creek retirement community in Washington, D.C., recently brought to life her first book of poems, Days of Blue and Flame, published by Passager Books at the University of Baltimore. From ABC News: Two Ohio grandmothers, Beverly Mylek and Brenda Sutton, recently enjoyed their first skydive, with an assist from the nonprofit MyJump, which helps seniors cross off lingering items on their so-called "bucket lists"; the same organization recently arranged for Louise Spencer, age 92, to drive an 18-wheeler as a way to honor her late husband, who was a trucker.
Research suggests such undertakings can have profound effects on an individual's health and happiness. Meaningful social connections and more frequent interactions—through volunteerism, participation in community or religious groups, and engaging in new activities—may help mitigate loneliness and its associated health risks, according to the 2019 National Poll on Healthy Aging. Chronic loneliness, for example, can affect older adults' memory, physical well-being, and mental health, and even shorten one's life, according to the report.
Elisabeth Robbins embodies the idiom, "An object in motion stays in motion." At 84, the retired mathematician walks two and a half miles a day. She plays billiards every Saturday morning. She plays golf, 18 holes per round, which she took to after retiring from playing softball three decades ago. She spends as much time as she can with her family, including her many grandchildren and great-grandchildren. She's also something of a technology whiz, so she's become an unofficial kind of tech support at the Manor at York Town in Jamison, where she helps her fellow residents set up their computers, TVs, and other gadgets.
Perhaps her greatest passion is world travel.
"I travel a lot," she says humbly. "I tend to take four trips a year, and I try to spend two weeks everywhere I go. So far I've been to 129 countries, and I've been on all seven continents. It helps that I've been retired for 30 years."
She recently returned from a trip to Nova Scotia and Prince Edward Island in Canada, and she has another trip planned for October. Potential destinations include the United Arab Emirates, Oman, and Namibia.
"I was always interested in other cultures," she says. "Wherever I go, I want to move around the country and see how the people live. The tour company I use arranges for me to have a meal with someone in-country; it's as good of an immersion as you can get."
Some of her favorite places include Vietnam ("the people were really nice; it's a beautiful country"), Israel ("I'm not a religious person, but it's just amazing to get a feel for the distances between cities and towns"), and the African savanna ("I don't like zoos, but I love safaris in Africa, just seeing the animals in their natural habitat"). Of course, she also enjoyed her trek to Antarctica, one of Earth's most remote and least-visited places: "The penguins will walk right up to you."
In Alignment
Paris Sterrett has a fondness for travel, too, as he and his wife shuttle back and forth between the southeastern corner of Pennsylvania and Kiawah Island, a barrier island located nearly 25 miles from Charleston, S.C. The Sterretts have been going there for the past 35 years, to appreciate the natural beauty, biking trails, and, for him, the island's many golf courses.
In the Philadelphia suburbs, when he's not tending to his gardens or landscaping duties, Sterrett can be found on the greens of golf courses in Pennsylvania and New Jersey. He's a member of Cobbs Creek Golf Course in Philadelphia, where he plays three times a week. In addition, he coaches the junior varsity golf team at Episcopal Academy in Newtown Square. He also coaches visually impaired golfers of all ages through his work with the Mid Atlantic Blind Golf Association, which he serves as vice president.
"The key with anyone, whether you have vision or not, is alignment," Sterrett says. "Golf should be easy because the ball isn't moving. In every other sport the ball is moving, so you should be able to hit it straight. That's what makes it so frustrating for some people. If you're not hitting the ball well, it's probably because you're not lined up correctly."
Now that he and his wife are finding their way at Presby's Rosemont community, Sterrett expects their schedules to become even fuller. They've already been invited to a musical performance and some other onsite events. Unsurprisingly, he says he'd rather be too busy than bored.
"If there ever comes a time when I can't be busy, just shoot me," Sterrett jokes. "We certainly won't wear out this cottage, because we're not home that much."
Published (and copyrighted) in Suburban Life magazine, August 2019.