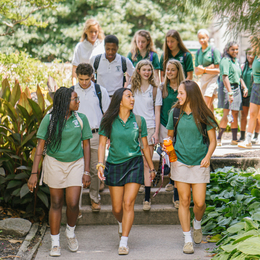 Ready to Succeed
Archmere Academy's rigorous academic program and highly diverse campus prepare students for the challenges they will face in college and beyond.
Much has changed at Archmere Academy since John Jordan last roamed the halls as a student nearly 40 years ago.
For example, a 35,000-square-foot Student Life Center frames one side of the campus quad. Also, females now constitute about 50 percent of the school's 508 students—a 20 percent increase from Jordan's time at the college preparatory school, located in Claymont, Del., between Wilmington and Pennsylvania's southern border.
While the physical campus may look much different, Jordan emphasizes that Archmere's core mission has not changed.
"The expectations are the same: challenging students to be the best they can be," says Jordan, Class of 1980, who has served as Principal for the past seven years. "The teachers challenge them. The greatest contentment in doing this job is doing what's best for the students—whatever it takes. We make sure we address whatever it is they need to succeed."
A strong work ethic, dedication to learning, and commitment to moral values have long been trademarks of the Archmere Academy experience, for teachers and students alike. That's why students arrive each morning feeling "energized," according to Leah daPonte Lightcap, Archmere's Director of Enrollment and Admissions.
"You feel the invigorating atmosphere as soon as you step on this campus," she says. "Students are not put in a box here. They want to push themselves in all spheres of life, and we have an environment that welcomes it."
Archmere is also unique in its commitment to diversity and access, as minorities account for 24 percent of the student body. Nearly 70 percent of all Archmere families receive tuition assistance or merit awards, and Jordan suggests the lion's share of the school's financial assistance and scholarships is awarded based upon family need.
Outreach has been the key to student diversity. Jordan began forging relationships with inner-city schools when he was Archmere's director of admissions for the five years before he became principal. Likewise, he credits Lightcap for her continued success in attracting students of all backgrounds.
"Those voices and those faces are very important to Archmere," Jordan says. "We ask ourselves, 'What are we teaching them? How are we teaching them?' We're mindful of what their needs are."
Archmere's dedication to minority students extends far beyond the walls of the classroom. For example, the academy sponsors Dive-In, a club for students of color. These students meet after school, with a Faculty Advisor as moderator, and can express their thoughts and ideas, as well as any concerns they may have.
Inclusivity aside, Archmere is perhaps best known for its rigorous academic program, which includes 24 different Advanced Placement classes. Over the past five years, Archmere has enjoyed a 90 to 95 percent pass rate among AP students.
To further prepare students for the challenges they will face in college, Archmere will launch the AP Capstone program beginning in the 2019-2020 academic year. The diploma program revolves around two year-long AP courses: AP Seminar and AP Research. Using an interdisciplinary approach to develop the critical thinking, research, collaboration, time management, and presentation skills students need for college-level work, these courses are designed to complement other AP courses a student may take.
"This program is designed to bring together skills that colleges have been telling us kids need: collaboration, public speaking, synthesis of information," says Tim Dougherty, Archmere's Director of Academics. "They'll start with a mock project working with teachers, who'll present them with a subject. Then the students will branch out. There will be six kids per group doing their work independently but also collaboratively. They'll write individually and be scored on presentation. Then their writing test will be submitted to the College Board."
Academic preparation is a hallmark of the Archmere experience, yet the school aims to develop the whole student—mind, body, and spirit. The school offers a host of clubs, intramural activities, and athletics to enhance a student's time in high school, and most students take full advantage of the opportunities available to them. Approximately 90 percent of students compete in some of the 24 interscholastic sports offered, for example.
"One of the things that distinguish Archmere Academy from others, or make it definable to me, is that there's truly a commonality among students," says Dougherty, who has been at Archmere for 14 years. "You can be your own kind of person and find people who are like-minded. There's a shared ideal of what they're trying to achieve, and a shared vision of comfort, safety, and respect."
For Principal Jordan, that's great to hear. Given his experience as a student in those same classrooms nearly 40 years ago, he's not at all surprised.
Archmere Academy
3600 Philadelphia Pike
Claymont, Del.
(302) 798-6632
Photograph by Aubrey Kingston Photography
Published (and copyrighted) in Suburban Life magazine, August 2019.