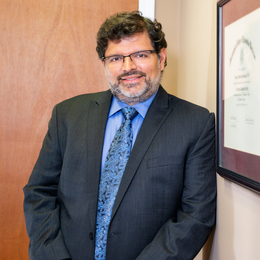 Eye Contact
Dr. Sanjay Kamat of Bucks Eye Specialists takes a proactive, hands-on approach to addressing patients' vision concerns, from the routine to the complex and emergent.
Some medical offices run like finely tuned Swiss watches—keeping patients moving in and out and back to their lives according to a precise, perfectly kept schedule. Sanjay Kamat, D.O., might not characterize his Bucks County ophthalmology practice in quite the same way, but that's by design.
"I have a deep respect for my patients' time," says Dr. Kamat, owner of Bucks Eye Specialists in Yardley. "That being said, my patients' health is my No. 1 priority. If you're coming to see me, I'm going to look at you, listen to you, make eye contact, and take care of you. Doing so might mean that someone else may have to wait 15 to 20 minutes, but I think that's reasonable. Six months down the road, it could be that person in the waiting room who requires the extra time."
The daily patient schedule has a tendency to "change on the fly," because there's often no way of knowing the care a patient needs until he or she sits down and starts talking to Dr. Kamat or to Dana Cianni, O.D., an optometrist with his practice. Some patients may require a 15-minute checkup or a 30-minute procedure, while others will require a 45-minute full evaluation.
"We're a patient-driven practice rather than a technician-driven practice," says Dr. Kamat, who earned his board certification in ophthalmology through the American Osteopathic Colleges of Ophthalmology and Otolaryngology-Head and Neck Surgery. "Either I or Dana have the lion's share of the chair time with the patient. Twenty to twenty-five percent of our visits are folks who have been elsewhere and want a second opinion. If they have a complicated issue that requires 20 minutes or more, they're going to get it."
Throughout his distinguished career, including the past 10 years at the helm of Bucks Eye Specialists, Dr. Kamat has treated just about every condition related to the human eye: refractive error; cataracts; glaucoma; dry eye; ptosis, which is drooping of the upper eyelid, which can compromise vision; blepharitis, or chronic inflammation of the eyelids; and diabetic retinopathy, or damage to retinal blood vessels caused by diabetes.
Such expertise means the extra time he spends with patients has the potential to make a dramatic difference in someone's life. It could even help to spare a patient's vision.
"I do a lot of work in Spanish-speaking clinics, and you see a lot of difficult pathology in those clinics because many of the people that go there don't have much money, and their overall health is not as good because they don't get regular checkups," he says. "There's a myth that you won't see the same kinds of pathology outside of an urban clinic, but we're seeing the same kinds of problems out here in the suburbs. That being said, if you don't look for it, you won't find it."
He cites one patient who was referred in with high intraocular pressure—a precursor to glaucoma, which can cause severe damage to the optic nerve. The insidious nature of glaucoma means patients often don't notice the subtle changes in their vision until the disease has progressed too far; glaucoma can lead to the significant loss of peripheral vision and, in some cases, permanent blindness.
"This patient had central vision of 20/20, but she had lost 50 percent of peripheral vision in one eye," he says. "Working at her computer, she thought her vision was odd, but just like one of my patients from the urban clinics, she thought she just needed new glasses. My style is to reassure patients by being compassionate, but I also have to be brutally honest. I had to explain to her that we could maintain the vision of the one eye and protect the vision of the other, but whatever vision loss she had was permanent."
Team Effort
Dr. Kamat wants patients to realize that improving their health is a "team effort." A self-described Star Trek nerd, Dr. Kamat is reminded of Star Trek II: The Wrath of Khan, the 1982 film starring William Shatner and Leonard Nimoy. Specifically, he mentions a scene in which cadets of Starfleet Academy learn about leadership and the concept of a no-win scenario by way of a computer simulation involving a ship named the Kobayashi Maru.
"The point of the scene was to show that sometimes, when it appears there is a no-win situation, there's always an out-of-the-box solution," Dr. Kamat says. "In Star Trek, Kirk beats the simulation by reprogramming the computer, and even though he technically cheated, he gets promoted. In medicine, we don't have a way of reprogramming the human body; medicine doesn't have a cure for every situation.
"Sometimes the best thing we can do is to provide an accurate diagnosis and the information a patient needs to move forward," he continues. "It's not always a simple fix, and some patients don't understand that they have a responsibility and accountability to do their part. Without some work on their end, they have to realize things may not change for the better."
With their help, however, Dr. Kamat can make a big difference. One particular area of specialty includes surgery to correct refractive error, such as myopia (nearsightedness), hyperopia (farsightedness), astigmatism, and presbyopia (the inability to see things up close, due to the aging process). He also specializes in "combined procedures," in which he can remove a patient's cataracts and also treat a patient's glaucoma or add implantable contact lenses, all during the same OR visit.
"Premium lenses for astigmatism correction and other conditions are really hot," he says. "We're almost at a 60 percent conversion rate, where more people than ever want to take the plunge and get premium lenses following cataract surgery or glaucoma surgery so they can have 20/20 vision or close to it afterward."
Although the industry changes quickly, Dr. Kamat invests the time and energy needed to stay abreast of advances in technology and medications that can have measurable effects on patients' eye health. For example, he's excited about Rocklatan, an ophthalmic solution recently approved by the FDA designed to reduce elevated intraocular pressure in glaucoma patients. So far, patients who have used the medication have seen "some really good results," he says.
Such commitment to his field is one of the reasons Dr. Kamat has become a leading ophthalmologist is the Greater Philadelphia Area. Furthermore, his profile has become elevated across the country and around the world; earlier this year, he served as co-chairman of the 2019 Global Ophthalmology Summit in Amsterdam, Netherlands.
"The field of ophthalmology is anything but not stagnant," he says. "Every six to nine months, it seems there is some new surgical procedure or opportunity. They're still finding new ways to help people improve or even save their vision. For me, it's exciting to keep learning new things, but more importantly we're getting access to new methods of treatment that can make a difference in someone's life."
Bucks Eye Specialists
301 Oxford Valley Road, Suite 801-A
Yardley, Pa.
(215) 493-7330
Published (and copyrighted) in Suburban Life magazine, October 2019.