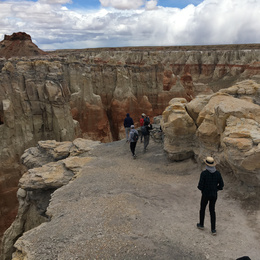 World Class
The Hun School's NextTerm program immerses students in real-world experiences that take them far beyond the four walls of the classroom.
So often, the most valuable learning experiences a student can have happen outside of the classroom.
The Hun School, an innovative day and boarding college preparatory school based in Princeton, has taken this concept to heart with a first-of-its-kind immersion learning curriculum called NextTerm. This three-week intensive mini course enables students in grades nine through 11 to have real-world experiences and gather firsthand insights in places both near and far, from remote locales in Arizona and Montana, to cities such as Memphis and Washington, D.C., to international destinations in countries such as France and Ghana.
"The Hun School has spent five years researching ways that we can make our programs more effective for students," says Upper School Head Ryan Hews, who along with Headmaster Jonathan Brougham masterminded the program. "We already teach a skills-based curriculum throughout the year, so we were looking for ways to offer them real-world experiences and applications for those skills. Finding ways to provide students with real-world learning experiences was the impetus behind NextTerm."
While such intensive mini courses are not uncommon in college, they are relatively unheard of in secondary schools. On top of that, NextTerm is unique in that its courses mirror what's happening in the world around us. Rather than sending students to a location for a small taste of its culture, NextTerm enables students to immerse themselves deeply in the specific issues associated with a particular destination. At the conclusion of the course, students are required to develop a project to share the specific lessons they have learned.
"We know that the most successful educational environments make students feel their work really matters in the world," says Brougham. "That concept is built into each of the 19 courses that students can choose."
Students who choose to take "Migration and Identity," for instance, will travel to the Arizona-Mexico border as part of their quest to learn about the immigration conflict. Students who choose "Into the Open Spaces: America's National Park Experience" will learn how and why America's national parks are essential to the American experience, and what roles humans play in the stewardship of public lands; they will also travel to Nevada to step foot inside some of the country's national treasures. And, students who take "Castles Made of Sand: Exploring Ghana" will learn about Ghana as a case study, and also travel to the African nation to explore the impact of the transatlantic slave trade and government instability on the economics and development of the country over time.
"During NextTerm, students are fully immersed in the subject matter, working with experts and then visiting specific travel destinations," Hews says. "But students also know that the course will culminate with a project that will be evaluated by real-world experts and have real-world impact. The project can be anything. For instance, the students who participated in the 'Into the Open Spaces' course created an e-book that was a travel guide for teens visiting national parks, which is going to be available on iTunes."
One year into the program, teachers and administrators consider NextTerm such a game-changing step forward that they have made it mandatory for all students in grades nine through 11. The NextTerm Freshman Experience is a bit different in that students are immersed in more local community experiences in towns such as Princeton, Trenton, Philadelphia, and Manhattan. Sophomores and juniors then choose from the 19 courses that take them on a variety of adventures and learning experiences.
The NextTerm opportunity is just one way in which The Hun School is continually evolving to offer students the best possible learning experience—and to prepare them for the future. Though The Hun School has been in existence for more than a century, Brougham says the school has shifted its focus to include skills development and experiential learning in the past decade. Student-teacher relationships and college prep are still at the core, but The Hun School has also become a place where innovation is desired, encouraged, and wholly supported.
"We know that when students get into the real world, they're not just drawing upon memorized mathematic equations or history facts," he adds. "They are pulling on all of the disciplines they have been exposed to and the skills they have learned to solve daily challenges. That's why we wanted to develop a program that truly reflects real-world needs. We believe in developing skills and learning experiences that go well beyond just memorizing content."
The Hun School
176 Edgerstoune Road
Princeton, N.J.
(609) 921-7600
Published (and copyrighted) in Suburban Life magazine, November 2019.