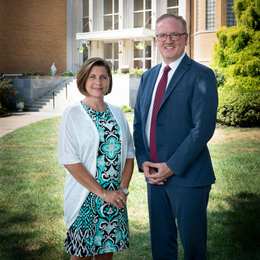 Learning to Lead
At Notre Dame High School, the young minds of today gain the tools needed to become the leaders of tomorrow.
Students come to Notre Dame High School for numerous reasons—namely, its exceptional academic program, its welcoming and diverse culture, and access to opportunities through which they can grow, learn, and lead. Ken Jennings was attracted to the Notre Dame community for many of the same reasons.
"This is an extraordinary place," says Jennings, the newly installed president of Notre Dame, a coeducational college-preparatory school based in Lawrenceville, N.J. "It's a place where students can realize their full potential. We want them to be well educated, but we also want them to be informed citizens, and to be morally and spiritually prepared for the world. Students come here to gain the tools they need to lead, so no matter where life takes them, they feel a strong ethical responsibility to the world around them."
Prior to joining Notre Dame, Jennings was the principal of St. Joseph Notre Dame High School, Alameda, Calif. Before that, he served as principal of two other schools in his home state of New Jersey: DePaul Catholic High School in Wayne, where she spent two years; and Benedictine Academy in Elizabeth, where he spent 10 years.
His arrival represents something of a new era at Notre Dame. When classes begin in September, the school's leadership will also include Joanna Barlow, who was named principal after serving as Notre Dame's interim principal for the 2018-2019 school year. With the new leadership and its roster of talented educators, Jennings believes the school has the potential to significantly enhance its ability to help students succeed.
It's a high bar, he realizes. Notre Dame's SAT scores are already well above the national average, he says, and 98 percent of graduating students go on to some of the country's leading colleges and universities, accompanied by millions of dollars in scholarships. In addition, the school offers nearly 20 Advanced Placement classes, with an 85 percent pass rate.
"This is a place where students can lead, develop, learn how to fail, and then get back up and keep going forward," he says. "We take great pride in our challenging academic program, and we're continually seeking new ways to enhance the student experience. We already have a strong STEM (science, technology, engineering, and math) program, and I think we can continue to grow in this area by broadening students' real-world experience."
Notre Dame fosters student preparedness through more than academics alone. Various athletic programs, academic clubs, and career-oriented programs, as well as the creative arts and faith-based opportunities, give students great freedom to develop their skills in familiar interests and explore new pursuits. Notre Dame has a long history of fielding championship-winning athletic teams, and many students come to the school specifically for the exemplary music and theater program.
"Parents want to invest in a Catholic-school education because of the high-profile academics, but they're also looking for what I call the 'X factor,'" Jennings says. "Anybody who steps on this campus immediately gets a sense of the Notre Dame family. A lot of people today feel disconnected, and the kinds of meaningful bonds and relationships our students form here can make a big difference in their lives."
For example, Notre Dame's Service-learning Program provides immersive experiences that give students firsthand interactions with the community beyond the walls of the classroom. Past projects include preparing meals for the homeless, visiting the elderly, and sponsoring events for organizations devoted to assisting the disabled. Jennings believes such experiences help students develop the "soft skills" needed to help students become well-rounded, compassionate leaders.
As Jennings and Barlow plot out the school's future, they're keeping sight of the many things that have made Notre Dame so special: among them, an academic program designed to help young adults become lifelong learners; an inclusive community in which students feel a connection to something bigger than themselves; and ready access to the tools needed to tackle the challenges ahead.
"If we're doing our job here, our students will emerge as leaders," he says. "Some will be quiet leaders and others more vociferous, but no matter who they are, we want them to embrace these opportunities so they feel prepared for the rigors of college and ready for the real world. The excitement will come as we expand our offerings to prepare students for the jobs and challenges of tomorrow."
With that said, he invites prospective students to answer the following question: "Where will Notre Dame lead you?"
Notre Dame High School
601 Lawrence Road
Lawrenceville, N.J.
(609) 882-7900
Photograph by Jody Robinson
Published (and copyrighted) in Suburban Life magazine, August 2019.