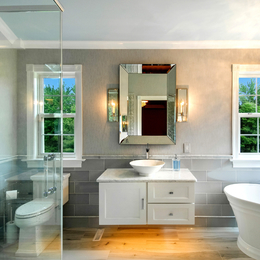 Building Trust
"Should I hire a design-build firm for my next remodeling project?" Dennis Gehman of Gehman Design Remodeling weighs in.
Undertaking any home-remodeling project requires a certain leap of faith. For those looking to remove some of the uncertainty, Dennis Gehman suggests one way to complete the project in a seamless, economical, and less stressful manner: Hire a design-build firm.
"Basically, it's one-stop shopping," says Gehman, president and co-founder of Gehman Design Remodeling in Harleysville. "Maybe people know they want a new kitchen, a room addition, or a finished basement, but they're not sure who to call first, an architect or contractor. A design-build firm is able to help them with everything from start to finish."
Gehman says many people don't understand the value a design-build firm brings to the table. Simply put, a design-build firm has a team of designers, architects, and tradesmen all working hand in hand. In addition, Gehman says most design-build firms take care of all the necessary permits and engineering work needed to complete the project.
"In our firm, the people who are doing the design upfront are in conversation with our production department and tradesmen," he adds. "If they arrive at something out of the ordinary, the designer can say, 'This is what we want to achieve and here's what we were thinking to make it happen; you have the tools, so what do you think?' It's a more collaborative way of doing things."
Some people believe they might be able to save money by hiring disparate professionals who work independently—having one party draw up the plans and then putting the construction project out to bid. Although this approach might work to the homeowner's advantage from time to time, Gehman has seen such arrangements result in certain details "falling through the cracks" in the construction phase.
"When we take on a project, everything about the project is on our minds," he says. "The whole point of working with a design-build firm is that it should be less effort and less stress for the consumer. Another big value comes from the fact that there's no blaming or finger-pointing if any problems arise, because the buck stops here."
There's also the issue of budgeting. Gehman says it's important to work with someone who can help the homeowner plan for the unexpected.
"Maybe a homeowner has a budget of $60,000 for a kitchen remodel," he poses. "Does that figure include contingencies? If it does not, is going over that amount going to hurt your lifestyle? In that situation, we might recommend ways to do the job for a budget of $50,000 as a way to plan for some of those contingencies, but without compromising the integrity of the work. Things come up, so we suggest leaving some wiggle room."
Every new project begins with an in-depth conversation with the homeowner—about desires, budget, and options going forward. From there, Gehman Design Remodeling uses sophisticated CAD software to create a 3D design of the proposed design to help each homeowner envision how the finished project will look. Some of the options discussed may help to prevent situations that can cost the homeowner significant sums in the future.
"Maybe what spurred you to want a new kitchen is that you've noticed the floor beneath the sink has gotten wet too many times, and now the cabinet floor is starting to sag," he suggests. "One option would be to add a vinyl liner beneath the sink. It holds up to six quarts of water, so for a drip you don't see until it's been happening for a long time, the water will stand rather than absorb into the wood. It's an inexpensive add-on, but it could save you hundreds or even thousands of dollars down the road."
As a homeowner begins the process of identifying the "right" design-build firm for a job, Gehman offers the following advice: Interview several firms; meet them more than once, if possible; and check references. He also suggests learning about the team's collective experience, including whether team members have gotten certified through NARI, also known as the National Association of the Remodeling Industry. Of the 19 people employed by Gehman Design Remodeling, four are Certified Kitchen and Bathroom Remodelers, three are Universal Design Certified Professionals, and Gehman himself is a Master Certified Remodeler.
"My best advice is to find someone you feel comfortable with, and someone you feel is going to be honest with you," he adds. "If you have any hesitation up front, it's not going to get any easier to work with someone once the dust starts flying."
Visit Gehman Design Remodeling at 355 Main Street in Harleysville, call (215) 513-0300, or go to gehmanremodeling.com for more information.
PA Contractor Registration: PA0297
Published (and copyrighted) in Suburban Life magazine, August 2019.