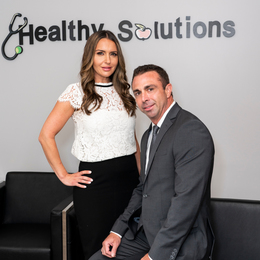 In Good Hands
From concierge family medicine to medical weight loss and aesthetic services, Dr. Michael Luciano and his team provide high-quality, personalized care for every member of the family.
Ten years have passed since Dr. Michael Luciano first opened his practice in Bucks County. Although his keen focused on providing top-quality patient care and individualized attention has never wavered, he has completely transformed the many ways in which he interacts with patients—not to mention the amount of time he spends with each one.
Two years ago, having grown his Ivyland-based practice to more than 3,000 patients, he decided he no longer wanted to provide the same "drive-through care with Band-Aid solutions" offered by most insurance-based practices. So, he reshaped his approach to treatment, away from a traditional family practice to a membership model based on concierge-level service.
His concierge patients pay $149 a month (spouses and children under age 26 receive family discounts) for all-inclusive access, without additional copays or fees. With the concierge model, Dr. Luciano is focused solely on the patient, not administrative tasks such as billing the patient's insurance company. As a result, he has earned a reputation for being one of the "Best Family Doctors" in the community.
Dr. Luciano, who is board certified in family medicine and obesity medicine with a major emphasis in wellness care, is excited to announce that he is now opening up a limited amount of new patient memberships.
"Our patient retention rate and satisfaction are extremely high," he adds. "My practice is all about unlimited time and accessibility. We are providing a high level of service that is in great demand, and our patients and their families are always getting an advocate and a doctor in a timely manner."
With a major emphasis on family, Dr. Luciano prides himself on handling everything from routine checkups to extremely complicated medical cases, and he often cares for everyone in the family—children, parents, and grandparents alike. Patients can be seen for same-day or next-day office appointments, and the doctor also visits home-bound patients for an additional fee. He believes that concierge medicine for primary care doctors represents the wave of the future.
His patients seem to agree.
"Having a concierge doctor is like having a doctor in my back pocket," says Kathleen A., one of Dr. Luciano's patients. "I can text him, I can email, and I can send pictures to expedite an office visit. He's the best choice I have ever made."
To show how grateful he is that his patients trust him with their health, Dr. Luciano hosts a Patient Appreciation Day every spring at Warminster Community Park. The special event features a catered breakfast or lunch, where patients can spend time outdoors connecting with him and the staff outside of his medical practice.
Inna Luciano, Dr. Luciano's wife and office manager, says she often receives appreciative phone calls, cards, and letters from her husband's patients, praising his instincts and personalized care.
"He is unique because he listens to his patients, is thorough, and has great bedside manner, as well as a great sense of humor," she says. "He is a doctor that patients enjoy coming to and feel comfortable with, and most importantly they trust him with their health and know they are absolutely in good hands."
In addition to running his concierge practice, Dr. Luciano serves as the medical director of a medical weight loss and aesthetic medicine practice known as Healthy Solutions by Dr. Luciano. Inna runs this side of the practice, which offers services such as medical weight loss, IV vitamin therapy, and body-contouring services, as well as anti-aging and laser treatments. Dr. Luciano and his team of registered nurses and aestheticians help patients lose weight, as well as improve their overall health and appearance.
Looking back on the past 10 years, Dr. Luciano says he is grateful of what he and his "stellar team" have accomplished.
"We appreciate the loyalty of our longtime patients," he says, "and look forward to offering excellent care to our new patients."
Healthy Solutions by Dr. Luciano
882 Jacksonville Road, Suite 204
Ivyland, Pa.
Photograph by Jody Robinson
Published (and copyrighted) in Suburban Life magazine, August 2019.