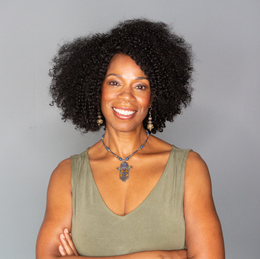 Divine Comedy
Kim Wayans feels truly blessed about her latest laugh-out-loud role, which brings her to Bucks County this month.
Kim Wayans' next role may also be one of her most ambitious. As the lead actor in a side-splitting stage play called An Act of God, slated for a month-long run at the Bristol Riverside Theatre in Bucks County, she will step into the otherworldly shoes of the Supreme Being.
In other words, she will quite literally have the chance to play God.
Written by 13-time Emmy winner David Javerbaum, An Act of God will run at the theater from Sept. 19 to Oct. 13. Wayans says the production will make audience members laugh but also have them pondering their relationship with the Creator, irrespective of their religious views.
"I'm going to be fabulous as God," Wayans adds with a laugh. "It's a unique opportunity to make people laugh but also make people think about the way they envision what God is, who God is, and how that impacts their world in general."
Wayans comes from one of comedy's most prolific families, best known by most for her work on the sketch comedy series In Living Color. Her career has included appearances on sitcoms such as A Different World, comedic films such as I'm Gonna Git You Sucka, and the touching drama Pariah, for which she received a Best Supporting Actress nomination in the 2012 Black Reel Awards.
Originally from New York, Wayans now lives in Los Angeles. Her tenure at the Bristol Riverside Theatre will mark her first trip to the Philadelphia suburbs, or at least to Bucks County. We spoke with her about growing up in her famous family, what it's like to play such a heavenly role, and whether or not God has a sense of humor.
Q&A
You're playing God in An Act of God. Besides having the opportunity to play God, so to speak, what do you like most about the production?
I couldn't refuse the role. I'm a comedian, so humor is important to me. It's irreverent, and the subject matter is of interest to me. … There's so much hilarious stuff, but just in general, the notion of God coming down to set the record straight, with the audience entertaining questions, is something most people will appreciate. In some ways, in everyone's secret heart, I think they wish they could have that opportunity.
How does acting for a play compare to acting for a film or a TV show?
I love theater. Whenever I have had the opportunity, I have always loved the experience of stepping onto a stage in front of a live audience.
Your family name is synonymous with comedy. What was it about the Wayans family that made comedy part of your DNA?
Not having a lot had a lot to do with our comedy. We were coming from a background of material poverty, but we were so rich in other ways. We did not have money to buy toys and bicycles, so when you're in that situation, a lot of that energy goes into interacting with your siblings. A lot of comedy came out of that.
You'll be in town for about a month for An Act of God—your first time in Bucks County, as I understand it. What do you hope people will take away from the play?
I'd like for them to take away the idea of just how much we project our own selves and our own humanness onto the idea of God. And that often is something that stings us; it stings us in ways that aren't healthy. If God is like me and you, a person, that means He has all the same foibles and weaknesses—all the same things that make us human. … I believe [God] has a wonderful sense of humor, and we make Him laugh every day.
Published (and copyrighted) in Suburban Life magazine, September 2019.