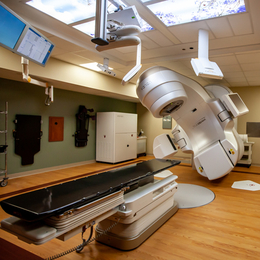 After Cancer
Advances in cancer care, research, and understanding give local families hope for a cure.
The door closes, and the physician's diagnosis includes a word no one ever wants to hear—cancer. It's a ground-shaking experience, giving rise to a flurry of questions: What happens next? Where do I get treatment? How much will my life change? Will I survive?
Once the shock and fear subside, it's time to focus on the fight ahead. In the Greater Philadelphia Area, individuals who have received such a diagnosis have ready access to an abundance of life-saving treatment and supplemental care.
In Willow Grove, for example, Asplundh Cancer Pavilion of Abington – Jefferson Health provides virtually any care option needed, from diagnosis to treatment to survivor support. The continuum of cancer care includes multidisciplinary clinics, radiation therapy, private and group infusion suites, and an outpatient procedure suite, among other offerings. The site's architects designed the campus to promote healing, through a wide array of support services, including image recovery to help patients manage the appearance-related side effects of cancer and cancer treatment. In addition, the campus facilitates healing through natural elements, such as an abundance of natural light and outdoor gardens and walking paths.
In Pennington, N.J., Capital Health Cancer Center has made strides to become one of the region's leading providers of treatment for patients contending with cancer. Cataldo Doria, M.D., the former surgical director at the Sidney Kimmel Cancer Center at Thomas Jefferson University Hospital in Philadelphia, serves Capital Health as the center's medical director. He's joined by a number of experienced surgeons who have been trained in minimally invasive and robotics-assisted surgery, as well as a team of oncologists and other providers who play integral roles in patient care.
Making Progress
Colorectal cancer is among the most common cancers, but it's also largely treatable as long as people take necessary precautions to get screened for it. Unfortunately, some people shy away from getting screened because of the perceived unpleasantness of the primary way to detect the disease—colonoscopy. As a result, some procrastinate or simply choose to forgo screening, giving any nascent malignancies time to grow and spread.
Einstein Healthcare Network has made strides to make screening for colorectal cancer as simple and accessible as possible through. Through an initiative known as Direct Access Colonoscopy, one phone call—(610) 233-3161 for Einstein's Montgomery County campus, (215) 456-5832 for Einstein's Philadelphia locations—enables patients to schedule a colonoscopy without having to first undergo a preliminary office visit.
If a colonoscopy does detect something to be concerned about, the surgery to remove the cancer has come a long way. Rather than invasive open surgery, which required significant incisions and long recovery time, colorectal surgeons such as Michelle DeLeon, M.D., are trained in advanced techniques such as robotic surgery and laparoscopic surgery to minimize the impact on a patient's quality of life. If a patient has benign polyps or some early cancerous tumors within the rectum, Dr. DeLeon can remove them through a procedure known as TAMIS, short for transanal minimally invasive surgery. The organ-sparing procedure is performed entirely through the body's natural opening, meaning no incisions. As a result, patients who have this surgery tend to experience a smooth recovery, without scarring, and return to normal bowel function in short order.
"With a less invasive approach, the recovery is much shorter," says Dr. DeLeon, who operates at Einstein Medical Center Montgomery in East Norriton and Einstein Medical Center Elkins Park. "People get back to their lives much quicker than they used to, and they're back to normal in just a few weeks. That's not to say that all surgery can be done with small incisions. And with regard to surgeries when a portion of the colon is removed, with time the body acclimates."
Among all cancers, as many as 60 percent of patients will require radiation therapy during their course of treatment, according to the National Institutes of Health National Cancer Institute. St. Mary Medical Center in Langhorne invested in new radiation therapy equipment called TrueBeam by Varian to ensure that patients have access to the most advanced cancer treatment close to home.
The TrueBeam linear accelerator utilizes a highly precise beam of radiation to target cancer sites found anywhere in the body, while avoiding critical, healthy organs. TrueBeam can treat any type of cancer, including brain, head and neck, prostate, lung, gynecologic, and breast. Another benefit: The treatment can be delivered in significantly shorter time compared with prior options—only two to three minutes, as opposed to 10 to 15 minutes previously.
"We combine state-of-the-art technology with compassionate care and highly skilled physicians," says Todd Flannery, M.D., a radiation oncologist at St. Mary Cancer Center. "This investment allows us to care for our patients using the most precise, accurate, and fastest delivery of radiation to fight any cancer—head to toe—potentially in only one to five treatments."
More Reasons for Hope
Advances in cancer care in the Greater Philadelphia Area are happening outside of the operating room. The Blue Bell-based nonprofit Philly Fights Cancer has spent the past five years raising funds and awareness to support the progress made at Penn Medicine's Abramson Cancer Center in Philadelphia. As Abramson Cancer Center's primary fundraising source, Philly Fights Cancer helps to underscore the dire need to continue making forward strides through groundbreaking research and clinical trials.
The nonprofit's upcoming gala at the Philadelphia Navy Yard, "Philly Fights Cancer: Round Five," will feature A-list entertainers such as Hugh Jackman, John Mulaney, and Andy Grammer. Slated for Oct. 26, Round Five will honor the Breast Cancer Clinical Investigative Team at the Abramson Cancer Center, a comprehensive team devoted to providing the education, care, and support needed to help each navigate their diagnosis and treatment plans. Last year's sold-out event raised more than $10 million for the cause.
Although the battle against cancer has not yet been won, recent advancements in treatment and research should spur hope in anyone whose life has been touched by the disease.
Providing Care and Compassion
Nearby cancer centers provide a profusion of resources to patients and their families.
Abramson Cancer Center at Penn Medicine
Philadelphia
pennmedicine.org/cancer
Asplundh Cancer Pavilion of Abington – Jefferson Health
Willow Grove
jeffersonhealth.org/abingtoncancer
Capital Health Cancer Center
Pennington, N.J.
capitalhealth.org/cancer
Einstein Healthcare Network
East Norriton, Elkins Park, and Philadelphia
einstein.edu/cancer
Charles A. and Betty Bott Cancer Center at Holy Redeemer Hospital
Meadowbrook
holyredeemer.com
Main Line Health
Multiple area locations for cancer care
mainlinehealth.org
McGlinn Cancer Institute of Tower Health
West Reading
towerhealth.org
St. Mary Cancer Center
Langhorne
stmaryhealthcare.org/cancer
Photograph courtesy of St. Mary Medical Center
Published (and copyrighted) in Suburban Life magazine, September 2019.