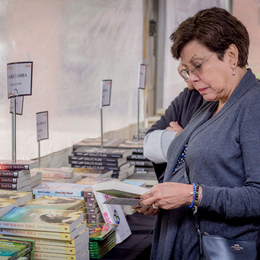 The Story Continues
As readers crave more well-told tales, a suburban book festival begins a new chapter.
Summer is a time for devouring so-called "beach reads"—books built on page-turning stories to be enjoyed amid the comforts of sun-warmed sand by the edge of the sea. For most readers, however, the love of poring through a good book doesn't wither once August turns to September.
Bibliophiles throughout the area have seen books experience something of a renaissance—not that they ever went anywhere. Established independent bookstores such as Baldwin's Book Barn, The Doylestown Bookshop, and Wellington Square Bookshop continue to lure readers, while new shops continue to pop up; new indie stores opened recently in Elkins Park, Phoenixville, and South Philadelphia.
More good news: The Bucks County Book Festival will return to Doylestown on Oct. 12 and 13 for two days of author panels, workshops, and other writerly events for readers of all ages and genres. Now in its second year, the festival presents a prime opportunity for readers to not only discover new literary works from local and regional authors, but also meet the individuals behind some of their favorite books.
Pulitzer Prize winner Anna Quindlen headlines a lengthy list of notable authors who will be participating in this year's festival. Quindlen, whose books include Lots of Candles, Plenty of Cake, A Short Guide to a Happy Life, and, most recently, Nanaville, will speak at a ticketed keynote presentation at 7 p.m. on Oct. 12. In all, the event will feature more than 30 authors of various genres, including the locally tied Jon McGoran, Kelly Simmons, and Chuck Wendig.
The festival strives to offer something for everyone with an interest in the written word. Those with a penchant for creating books of their own, for example, can take advantage of workshops for writers and illustrators (both ticketed events) led by skilled storytellers. Also, for those looking to slake their thirst, literary or otherwise, this year's festival will host a "Books 'N Brew" pub crawl of a trio of Doylestown's finest watering holes.
Another new addition: a community-wide reading initiative known as "One Book," in which community members are encouraged to come together by reading and discussing a single book—The Art of Racing in the Rain by Garth Stein. The bestselling book is told through the eyes of a dog named Enzo with a "nearly human soul," as Stein writes on his website. The festival has created a series of interrelated events, including a panel discussion, a special film showing at the County Theater, and more.
The Doylestown Historical Society will use the festival to formally launch Neshaminy, a new literary journal created in partnership with the Bucks County Writers Workshop. Each issue will include works of historical fiction, memoirs, and poems, all devoted to the historical richness of Bucks County, according to Don Swaim, founder of the BCWW.
Throughout the two-day festival, book lovers will be able to enjoy live music and vendors, including independent authors looking to promote their published works. Although some events require advance purchase and registration, many of the events are free, and will be sprinkled among several locations throughout the borough of Doylestown.
Photograph courtesy of the Bucks County Book Festival
Published (and copyrighted) in Suburban Life magazine, September 2019.