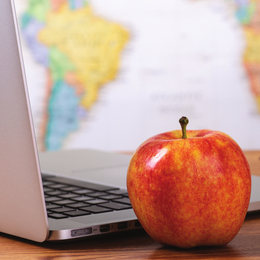 Setting a High Bar
Private high schools in the Philadelphia area take whole-student education to the next level.
With summer officially in the rearview mirror, school is back in session.
The Greater Philadelphia Area is well known for its exceptional educational institutions, including some of the country's most prestigious private high schools. Their intimate class sizes, inspiring academic and athletic facilities, and immersive extracurricular programs provide students with a truly transformational experience. After all, students use their high school years to develop many of the habits and interests that will lead them to greater heights—in college, the working world, or wherever life takes them.
Each of the schools on the following pages deserves an "A+" for attracting administrators and faculty who work hard every day to prepare the whole student, not simply help them earn high scores on the SAT. As a result, each school has become known as an incubator, where young men and women gain the skills needed to become the leaders of tomorrow.
Future-focused academic programs prepare students for life in the real world.
A high school administrator's No. 1 priority is to make sure students are prepared for the challenges ahead. Of course, this translates into giving students the tools they need to perform well on standardized tests and provide opportunities to help them shine in the eyes of college admissions. But it's much more than that. Many schools throughout the Greater Philadelphia Area help students delve into the likes of robotics and artificial intelligence—The Wilberforce School in Princeton, N.J., and the Perkiomen School in Pennsburg, for example—as a way to immerse them in the technologies that may serve as the currency of tomorrow's work force.
Besides the tools to help students become lifelong learners, high school offers plenty of ways in which students learn about what interests them, what they stand for, and what kind of people they want to become. In fact, most of the individuals who lead locally based private schools would say they believe they have a responsibility to provide students with the foundation—spiritual or otherwise—needed to navigate the world.
At The Haverford School, an all-boys college-preparatory school on the Main Line, character is built into the curriculum. By having conversations about important topics such "what it means to be a man," students learn to manage their emotions, find the strength to defy traditional stereotypes, and grow into thoughtful, caring adults.
Athletics and other extracurriculars hone all aspects of a student's development.
Some of high school's most important lessons happen outside the classroom, long after the last bell has rung—through participation in extracurricular activities, such as musical theater or mock trial, for example. They also occur on the turf, the cinder track, and the hard court, through athletic competition. Truly, athletics enable students to develop their physical prowess, leadership skills, and teamwork.
Top-flight coaches and training facilities certainly help. Abington Friends School in Jenkintown recently unveiled a sprawling new athletics hub, the Richard N. Berman Athletics Center, for all students, whether they intend to fight for a spot on the roster of a collegiate team or simply want to improve their personal fitness. Likewise, Villa Maria Academy High School in Malvern has succeeded in attracting skilled, compassionate coaches who are committed to honing students' raw talent. Such commitment has reaped considerable rewards, as the school has racked up an impressive number of district and state championships over the years, and seen several of its alumnae earn spots on prestigious postgraduate athletic squads—college or otherwise—to continue training at an elite level.
In addition, many Philadelphia-area private schools now offer immersive cultural and travel-abroad opportunities that were once solely the domain of higher education. The Hun School in Princeton, N.J., for example, offers an intensive three-week mini course known as NextTerm, whereby students visit destinations at home and abroad. Students participating in the program are immersed in the challenges and issues associated with the destination they visit—France or Ghana, for instance—an experience that tends to open a student's eyes to global issues in ways that break through the walls of the classroom.
In addition, a number of schools have linked arms with leaders in professions such as medicine, business, and finance, so students can gain real-world experience in careers that may interest them. Example: Holy Ghost Prep in Bensalem enables students with an interest in finance to gain an intimate understanding of high finance from industry professionals, including HGP alumni who work on Wall Street.
A+ Private High Schools in the Greater Philadelphia Area
Archbishop Wood High School
Conwell-Egan Catholic High School
Holy Ghost Preparatory School
Villa Joseph Marie High School
Bishop Shanahan High School
Delaware Valley Friends School
Malvern Preparatory School
Villa Maria Academy High School
Academy of Notre Dame de Namur
Archbishop John Carroll High School
Monsignor Bonner and Archbishop Prendergast Catholic High School
Delaware County Christian School
Sacred Heart Academy of Bryn Mawr
Valley Forge Military Academy & College
Bishop McDevitt High School
Gwynedd Mercy Academy High School
Jack M. Barrack Hebrew Academy
La Salle College High School
Mount Saint Joseph Academy
West-Mont Christian Academy
Germantown Friends School
Nazareth Academy High School
Roman Catholic High School
St. Joseph's Preparatory School
West Catholic Preparatory High School
Stuart Country Day School of the Sacred Heart
Published (and copyrighted) in Suburban Life magazine, September 2019.