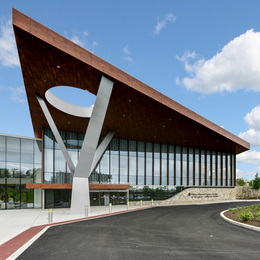 Every Step of the Way
Asplundh Cancer Pavilion of the Sidney Kimmel Cancer Center at Abington – Jefferson Health uses comprehensive and personalized care to guide patients through cancer diagnoses.
Cancer is smart and persistent, some might even say ruthless, but the disease is meeting its match at Asplundh Cancer Pavilion of the Sidney Kimmel Cancer Center at Abington – Jefferson Health. Since the pavilion's opening in 2018, the 86,000-square-foot outpatient center has been providing the care needed by patients who are dealing with cancer, from diagnosis to treatment to survivor support.
Conveniently located in Willow Grove, the pavilion offers access to the continuum of leading-edge outpatient care, clinical research, and support services, all in one modern facility uniquely devoted to healing. The vast spectrum of cancer care includes multidisciplinary clinics, radiation therapy, medical oncology, private and group infusion suites, and an outpatient procedure suite, as well as financial counselors, nutrition and genetic counselors, social work, and expanded offerings in clinical trials.
Asplundh Cancer Pavilion's team of physicians, nurses, and additional support staff understand that being treated for cancer takes more than advanced treatment and exceptional care. All medical treatment is supplemented by a full range of support services, including image recovery, fertility preservation, symptom support program, survivorship programs, genetic risk assessment and counseling, and financial counseling, as well as support groups, workshops, and special events.
In other words, patients and their families will find that Asplundh Cancer Pavilion fulfills every need that can be addressed in an outpatient setting. Of course, patients in need of inpatient or emergent care can receive treatment at any of Jefferson Health's nearby hospitals, including Magnet-designated Abington Hospital – Jefferson Health, which is located less than four miles from the pavilion.
Close to Home
Asplundh Cancer Pavilion's approach to fighting cancer is highly personalized, beginning with the creation of a tailored care plan that treats patients and their specific cancer, and then proceeding to the delivery of the most effective support services to patients and their families. Its cancer specialists collaborate across disciplines to share knowledge and ensure patients are receiving the optimal treatment and care. Nurse navigators are present to assist patients and families every step of the way to make sure all questions are answered clearly, quickly, and to their full satisfaction.
All of this comes from a community-based cancer center close to home.
"Today, more than 90 percent of all cancer care is provided in outpatient centers," says Steven J. Cohen, M.D., medical director of Asplundh Cancer Pavilion, and chief of medical oncology and hematology at Abington Hospital – Jefferson Health. "This year, the number of newly diagnosed cancer cases in Abington's service area is projected to grow by 7.5 percent. While providing care outside a hospital setting has been the trend for many years, patients used to travel to different locations for various treatment and support services."
Should a patient's treatment plan require the care of multiple cancer specialists and healthcare professionals, the staff can work together to coordinate care, enabling patients to meet with all caregivers on the same day at the same location.
Strength and Hope
More than 1.7 million Americans were newly diagnosed with cancer in 2018, according to the National Cancer Institute, and more than 600,000 died from the disease.
Asplundh Cancer Pavilion aims to help upend such regrettable statistics. The pavilion is home to some of the finest oncology minds anywhere, including specialty physicians from the renowned Sidney Kimmel Cancer Center in Philadelphia, which is one of only 70 NCI-designated cancer centers in the United States. The staff includes board-certified experts in diagnostics, evaluation, surgery, radiation therapy, medical oncology, interventional radiology, and more.
Another benefit to patients at Asplundh Cancer Pavilion is its mission to treat cancer recovery as a holistic process rather than addressing it solely as a medical problem. The pavilion features meeting space for cancer support groups, soothing gardens with walking paths, and a café with healthy dining options, as well as an Image Recovery Center (IRC) offering specialized manicures and pedicures, skin care, cosmetology consultations, breast prostheses fittings, head coverings, and wigs. Fewer than 20 IRC locations exist nationwide. Uniquely, the IRC at Asplundh Cancer Pavilion will work with Jefferson Health's lymphedema specialists on treatment, wrapping, and garments.
"Our design team did an incredible job bringing the outdoors into the pavilion with abundant natural light, birch and moss design elements, and views of the surrounding greenery," says Margaret ("Peg") O'Grady, administrative director of oncology at Abington Hospital – Jefferson Health. "Research shows that the environment has an effect on the burden of disease and healing times, so we were sure to make each choice thoughtfully."
With the opening of Asplundh Cancer Pavilion of the Sidney Kimmel Cancer Center at Abington – Jefferson Health, patients in southeastern Pennsylvania have good reason to be hopeful. After all, each patient who steps through its doors will find the care, treatment, and comfort they deserve, as well as the strength to keep fighting, every single day.
Asplundh Cancer Pavilion of the Sidney Kimmel Cancer Center at Abington — Jefferson Health
3941 Commerce Avenue
Willow Grove, Pa.
(215) 481-4000
jeffersonhealth.org/abingtoncancer
Photograph courtesy of Jefferson Health
Published (and copyrighted) in Suburban Life magazine, September 2019.