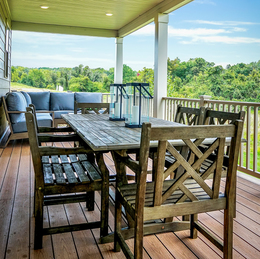 The Luxe Life
Pulte Homes' newest communities in Montgomery County offer the pinnacle of luxury living.
Montgomery County has long been known for its natural beauty, proximity to shopping and nightlife, and exceptional school districts. Now, prospective residents have even more reason to flock to this coveted area—Gwynedd Ridge and Whitehall Estates, the two newest single-family home communities by Pulte Homes.
Gwynedd Ridge, located in Upper Gwynedd, is a small enclave of 27 home sites in the highly regarded North Penn School District. Gwynedd Ridge offers four distinct two-story floor plans ranging in size from 2,724 to 3,426 square feet, with four to seven bedrooms, two to six bathrooms, and two- to three-car garages. All homes include family-friendly features such as the Everyday Entry and the Pulte Planning Center. The community features a walking path that will offer a connection to nearby White's Road Park.
Whitehall Estates opened earlier this summer, a neighborhood of 36 single-family situated on 64 acres in Eagleville. Whitehall Estates offers four spacious two-story floor plans ranging in size from 3,526 to 4,281 square feet, with four to seven bedrooms, two to two and a half bathrooms and three-car, side-entry garages. Whitehall Estates is located within the well-regarded Methacton School District, and was named by niche.com as one of the "top 50 suburbs" to raise a family in all of Pennsylvania.
Pulte Homes welcomes prospective homeowners to visit the model homes at both communities to learn more and start building their dream home.
"I think one of the things that initially drew me to Pulte was its reputation as a quality builder who stands behind what they build," says Tom Spiess, Pulte's general sales manager for the northeast corridor. "Everything we do is consumer-inspired. We take feedback from homeowners seriously, and we're always trying to innovate through smart technology and the options we offer. I like to say we're at the leading edge of the industry.
"Because we are a high-end builder, we have a proven process to ensure our offerings match what our buyers desire or need in their new home," he continues. "We've done focus groups to determine what is the best look, and what is best for function and livability, so when you walk into Pulte's homes, you'll see well-designed floor plans that offer big, open gathering rooms and indoor-outdoor living, plus nice-sized master bedrooms and suites. The floor plans are extremely flexible so you can add bedrooms, dens, and guest suites."
Smart-home technology is another way Pulte Homes meet the needs of discerning buyers. Pulte homes are ready to connect with seamless WiFi reliability and increased bandwidth, thanks to built-in access points and direct wiring throughout the home. Built-in wiring and assured connectivity from anywhere in the home allows access to a full array of customizable home automation technologies and features designed to run a smarter home. Starting with keyless entry at the front door, amenities abound—technology that allows a homeowner to turn on lights or even set the thermostat from a smartphone, for example. Also, homes can feature wireless speakers, Alexa-enabled systems, and Bluetooth technology.
While Pulte Homes has earned a reputation for creating exceptional communities such as Gwynedd Ridge and Whitehall Estates, it's about much more than just the homes. Spiess credits the company's founder, Bill Pulte, for instilling its business model with a sense of service and dedication to others.
"When Bill was 18 years old, he borrowed money to build a house out of plans from Reader's Digest," Spiess explains. "He added a fireplace, which wasn't popular in the neighborhood, and the house sold before it was finished being built. He learned that if you give consumers what they want, they'll be proud homeowners and advocates for you, talking to friends, family, even strangers.
"We build consumer-inspired homes and communities to make lives better," he continues. "It's inspiring to know that we are building homes for families who will make memories in those homes for years to come."
For more information on Gwynedd Ridge, Whitehall Estates, and other communities from Pulte Homes throughout the region, visit pulte.com.
Photograph by Jody Robinson
Published (and copyrighted) in Suburban Life magazine, September 2019.