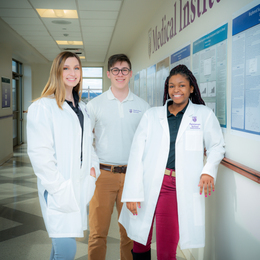 The Perkiomen Experience
Students from across the country and around the world come to Pennsburg's Perkiomen School in pursuit of a transformative education that places them on the path to success.
When vetting schools for their children, most parents seem to have a vision of what the ideal school looks like: a challenging learning environment with plenty of opportunities to grow and learn, all designed to help students thrive in college, and after. He may be biased, but Mark A. Devey suggests a compelling option some families tend to overlook: boarding school.
Contrary to popular belief, boarding schools are not solely for children from well-off families or "trouble kids" in need of a course correction. In most cases, Devey says, the opposite is true.
"Boarding schools prepare students for life in an ever-changing world," says Devey, Head of School at Perkiomen School, an independent, co-educational school in Pennsburg. "It's a 360-degree learning environment that extends beyond the desk, beyond the bell, and beyond what's expected."
Situated on 185 acres in the Upper Perkiomen Valley, Perkiomen School has been educating students since 1875, providing exceptional opportunities in a diverse, caring, close-knit community. There, students from across the country and around the world uncover a highly participatory, supportive learning environment that encourages them to take calculated risks and become creative, independent thinkers.
"In a boarding environment, the connections that we develop with students and their families extend beyond the classroom, the fields, the walls," says Diana J. Gleeson, Assistant Head of School for External Affairs. "I came to Perkiomen for myself professionally, but also to provide both of my children a place where their teachers, advisors, and coaches would be a partner in parenting. This partnership allows us to strategically provide a balance of support and challenge for students. Students not only learn more and do more because they are safe and cared for, but they also experience a level of growth that provides preparation for the unexpected."
"Having kids here 24/7 is a game changer," adds Devey. "It's the time around the edges that can really make a difference in their education. Students learn how to be self-advocates and solve problems on their own, but never far from trusted faculty members."
While the Perkiomen School motto—Solvitur Vivendo—can be literally translated as "it is solved by living," the interpretation of the Latin is closer to "experience is the best teacher." The school's administration and faculty take this concept to heart with each student, providing authentic learning opportunities.
The Middle School, for students in grades six through eight, delivers a challenging and integrated academic program. The curriculum provides strategies tailored to each student's learning style that encourages them to become critical and strategic thinkers, as well as confident learners. The Upper School program, for students in grades nine through 12, as well as post-graduates, prepares students for college and beyond. Each class has an average of 12 students, allowing for individualized attention and guidance from faculty.
In addition to the traditional liberal-arts curriculum, the school takes students on deep dives into artificial intelligence, entrepreneurship, and medicine. The Artificial Intelligence Institute explores the interaction and application of emerging technologies with a focus on application, literacy, decision making, and ethics, while learning how AI will help students define their value in the new economy. The Entrepreneur Institute allows students to focus on creating for-profit products or businesses, or nonprofit socially driven enterprises, learning resiliency, cooperation, calculated risk taking, and creative thinking. Students participating in the Medical Institute can explore and interact with various medical professionals through hands-on learning experiences and research projects.
"The institutes provide students with real-life experiences now and empower them to have a voice in their education," says Devey. "In the traditional school environment, you don't really have ownership of your education. Our students are more vested in their own learning, which can help them determine what they want to do with their lives and put them on a path to achieve their own personal goals."
After the academic day ends, the extracurricular possibilities just begin. With 42 teams across 20 sports, there are opportunities for all athletes—whether elite or beginner. Options in music, visual, and performing arts are offered, along with leadership organizations and community-service projects. Weekend activities take advantage of the school's proximity to large cities and cultural events. In fact, participation in extracurricular activities is a requirement, with one goal in mind: to provide a well-rounded, experiential education.
As Devey puts it, "Our goal is to help our students become independent, responsible young adults through strong support systems. Boarding provides them with a strong educational foundation and an opportunity for personal growth to lead to success in college and beyond."
Perkiomen School
200 Seminary Street
Pennsburg, Pa.
(215) 679-9511
perkiomen.org/boarding
Photograph by Jody Robinson
Published (and copyrighted) in Suburban Life magazine, October 2019.