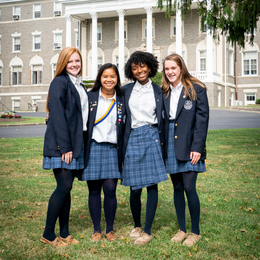 Forward Thinking
At Philadelphia's Nazareth Academy, young women gain leadership and life skills needed to thrive in the future, all rooted in the tradition of Christian service.
For many high school students, the process of figuring out what to do once a diploma is in hand can be daunting, to say the least. It's a little less intimidating at Nazareth Academy in Northeast Philadelphia, the city's only private Catholic high school for girls, where a dedicated staff of mentors such as Deborah Glasson gives young women all the support and guidance they need to make a smooth transition from high school to college.
"Our college counseling program has undergone a transformation, in which more resources, and more individualized attention, are available to each student," says Glasson, Director of College Counseling, now in her seventh year at Nazareth. "Our faculty is very understanding and supportive; they understand the importance of taking time to really meet with students individually. We all want our students to find the school that's the best fit for them—a school that fits their personality, has their major, and is a fit for the style of student they're looking to be. We all want our girls to be successful."
Principal Jim Meredith has been at Nazareth for only a year, yet he has extensive experience leading young women to the doorstep of a bright future. After all, he is the father of five daughters.
"I think our students are very focused not only on the present, but on the future," he says. "They have plans on what they want to do when they take their next step out of Nazareth."
Nazareth boasts a 100 percent college acceptance rate, with 97 percent of students looking to attend a four-year college or university. In fact, the class of 2019 earned a 100 percent college acceptance with students receiving more than $30 million in college scholarships.
Additionally, Nazareth boasts an 8:1 student-to-teacher ratio, 17 Advanced Placement courses, and, thanks to a partnership with Holy Family University, which Nazareth shares a campus with, a program that allows students to earn both high school and college credits.
"Our students take their goals and dreams, work with our college counselors and staff, and find the best fit for them," Meredith adds. "I think that's crucial because it's not only where they're going to spend the next four years, but it's an investment."
Nazareth begins the process of preparing students for college in ninth grade, with a study skills class and lessons that focus on personal and relationship skills. The first year of high school should be "all about exploring," Glasson says. "We don't want to overwhelm the students, but we want them to look at all the options available to them."
In sophomore year, students focus on nurturing individual interests—"what makes you you," as Glasson says. Nazareth students dive into course selections, including electives that allow girls to try out different interests in a safe space. Students also take a Campbell Interest and Skill Survey to help align their studies with their career aspirations.
Junior year is filled with college orientations, according to Glasson. In addition, the school meets with students and their parents in large group settings to share information and provide "an open format to ask questions," she says. "We want to have as much information as possible for them."
As part of this goal, Nazareth welcomes college representatives to its campus through opportunities such as College Panel Day, during which students meet with representatives from an array of schools. Also, Nazareth offers classroom information sessions that aim to help students compose college essays and prepare for standardized tests such as the ACT and SAT. Another resource: Financial Aid Night, during which parents and students find a unique opportunity to learn more about applying for scholarships or otherwise funding a college education.
"We encourage open communication with parents," Glasson emphasizes. "We don't want anyone to feel lost in the process."
Even the school day itself is geared to help students acclimate to college. Nazareth embraced college-preparatory scheduling several years ago, changing classes to four 80-minute lessons per day, plus an activity period. Also, co-curricular education helps students tie different subjects together; for example, one class combines science and history to focus on the history of epidemiology.
"Being here, what most impresses me—other than the abilities of the students in all things across the board, from academics to activities, including fine arts and athletics—is the spirit of the school, in terms of the girls having each other's backs," Meredith says. "The camaraderie of the sisterhood of these young ladies who are together as women of faith is impressive to see."
Nazareth invites prospective students and their families to see for themselves during their upcoming open house, taking place on Saturday, Oct. 19 from 9 a.m. to noon.
Nazareth Academy High School
4001 Grant Avenue
Philadelphia, Pa. 19114
(215) 637-7676
Nazarethacademyhs.org
Photograph by Jody Robinson
Published (and copyrighted) in Suburban Life magazine, September 2019.