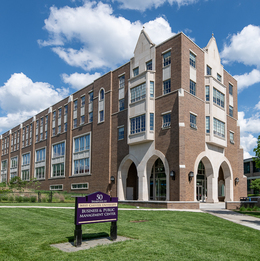 Making Connections
West Chester University's entrepreneurial leadership initiatives offer life-changing opportunities to students and business owners alike.
For years, West Chester University has been pursuing forward-thinking outreach that brings together students and local business owners to better serve the greater West Chester area. By making these connections and positioning itself as a resource for the community, WCU has generated new ideas and hands-on learning opportunities for various populations—and many are now thriving as a result.
Much of this is done through the university's Dr. Edwin Cottrell Entrepreneurial Leadership Center and the Center for Community Solutions (CCS). The Cottrell Center, established in 2009 through a gift from financial services professional Gary E. Daniels, aims to support students' business ideas and foster entrepreneurship throughout Chester County.
"The center allows us to be more visible across WCU and across Chester County," says Pattie Diggin, director of the Cottrell Center. "Many businesses that reach out might ask just for an intern, but we've found they don't really know what they need to make their business more efficient, better, stronger. So we came up with the idea of initiating project-based entrepreneurial marketing classes. Through this we identify area businesses that would benefit from competitive analysis and marketing analysis. In essence, they get real-world ideas of what they need to run their business better."
On the education side, the center identifies students who could support businesses in ways that meet their specific needs. They do this through close interaction with the CCS and the Business College's department of academic marketing. The program "checks two boxes," so to speak: Students receive real-life experiences and earn certifications they can use to build their résumés and kick-start their careers; and small businesses gain precious resources for critical functions such as market research. Diggin characterizes the arrangement as "a win-win."
"Small businesses are overwhelmed," she says. "They're told 'join this group,' 'use that advertising vehicle,' etc. They need a strategic plan. This program offers them the chance to see their business through a fresh set of eyes. "
This fall, for example, four women-owned businesses will be working directly with the students.
A History of Commitment
Community engagement has long been part of WCU's DNA. In fact, it's one of five goals of the university's strategic plan, "Pathways to Student Success." In 2010, the Carnegie Foundation recognized the university as a community-engaged institution. Last year, more than 6,800 students provided in excess of 668,000 hours of public service in the community.
"WCU has a long history of commitment to the community," adds Susan Argentieri, who serves the university as CCS liaison. "The idea for CCS evolved in response to an interesting question. If you have a university in your community, the first question you should be asking when a problem surfaces is: 'I wonder how our university can help us?'"
CCS was established to provide a single point of contact for the community to connect with the university and its resources. How the process works: Organizations in need of assistance submit an Engagement Application to the CCS. Faculty members working closely with CCS staff then carefully review the application and specific requests for assistance to determine how to best to align WCU resources with the organization's specific needs.
During the university's previous fiscal year, 51 organizations contacted CCS for assistance, according to Argentieri. This resulted in 40 undergraduate and graduate students supporting as many as 70 projects. Students developed and applied their skills, enhanced their education experiences, and involved themselves in the community. Projects included designing a new logo for the Chester County Health Department, providing social media and marketing assistance for Local Yoga Café, creating a new Transportation Unit for the Master Planner Program offered by Chester County 2020, writing strategic marketing plans for Baroni Estate Planning and Elder Law, and mapping and GIS work for local townships and parks through the university's Geographic Information Systems lab.
'A Wonderful, Ongoing Relationship'
Kim Wardell has benefited from this entrepreneurial outreach. Wardell, a former e-commerce customer service rep and manager, had spent years as a stay-at-home parent. During that time she began a lifestyle blog, which she turned into DLK (Design Life Kids), an online store that has grown into a flourishing business with its own warehouse in Newtown Square.
Wardell had been living in West Chester since 2010. After starting Design Life Kids in 2014, she found she needed help. She wanted to support the community and "young creative minds," so she decided to post job opportunities directly with WCU, seeking to hire students and alumni. She added her company's first employee through WCU, and others have followed.
"It's been a wonderful, ongoing relationship, as I feel they are such a supportive team at WCU," she says. "The university is always looking to support local businesses and their students by connecting them with businesses in the community. This semester I will be working with the marketing department's Special Topics class that focuses on entrepreneurial marketing and marketing analysis, and I couldn't be more excited."
Wardell loves the idea of working directly with students. Not only does it create experiential-learning opportunities for students who will benefit from the work, but it also offers her multiple perspectives that help to inform her business decisions.
"WCU draws in students from all over the country and world; the visions that they have will be able to truly enlighten and bring new ideas to the table," she says. "I'm eager to see how the program progresses for both the students and each business that participates."
As the owner of a small business, she has seen the firsthand benefits of working closely with "fresh and open-minded individuals" who are based right in her backyard, figuratively speaking.
"The idea that WCU has student resources to share with companies such as my own is huge," says Wardell. "Students are eager to find their way into the work force, figure out what their dream is, and learning the roots of business from a small company is such an ideal way to do so. Working directly with a company owner, creator, and entrepreneur helps students understand what it takes to build a business and make those dreams come to fruition."
She speaks from experience.
"It's how I learned how to run a business myself," she says. "I worked directly with the owners of a business during my internship, and here I am today."
For more information about the Dr. Edwin Cottrell Entrepreneurial Leadership Center and the Center for Community Solutions, visit www.wcupa.edu.
Photograph by Erica Thompson
Published (and copyrighted) in Suburban Life magazine, September 2019.