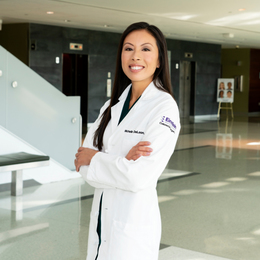 'No Magic Pill'
Dr. Michelle DeLeon of Einstein Healthcare Network prescribes open dialogue, screening, and other proactive measures to protect against colorectal cancer.
The statistics surrounding the prevalence of colorectal cancer in the United States are, in a word, sobering. The disease is the third leading cause of cancer-related deaths in American men and in women, according to the American Cancer Society; it's the second most common cause of cancer deaths among men and women combined. If the estimates hold true, the disease will have claimed more than 51,000 U.S. lives this year.
"The good news is that it's a very preventable disease," says Michelle DeLeon, M.D., a board-certified colorectal surgeon with Einstein Healthcare Network. "The best way to prevent the disease is with screening. With colonoscopy, precancerous polyps can be removed completely to prevent the development of an invasive cancer."
To facilitate the screening process, Einstein has created a program called Direct Access Colonoscopy, through which patients can schedule the procedure over the phone, without having to come in for a preliminary office visit. The goal: to make preventative screenings as accessible as possible. The Direct Access Colonoscopy number for those who live near the Einstein Medical Center Montgomery campus in East Norriton is (610) 233-3161, and the number for residents who live near Einstein's locations in the city is (215) 456-5832.
"The problem is that some people don't want to talk about it," she says. "Many of them are nervous about getting a colonoscopy so they put it off, and that delay can give the cancer time to develop and, in some cases, metastasize."
She has been encouraged by increasing rates of screening, but suggests the medical community still have a lot of work to do, with only 50 to 70 percent of the target population getting screened for the disease. The age at which a patient should begin getting screened is somewhat debatable. While the American College of Gastroenterology recommends normal-risk individuals go in for colonoscopy starting at age 50, the American Cancer Society issued new guidelines in 2018 that suggest the recommended screening age be decreased to 45. The change stems from a data analysis showing colorectal cancer occurring at an increasing rate among younger adults.
For those whose screenings indicate colorectal cancer, institutions such as Einstein have revolutionized the surgery used to treat the disease.
"It used to be that all colon surgery was done with big incisions to remove a portion of the colon, and people were in the hospital for a long time because of postoperative pain," Dr. DeLeon says. "Now with minimally invasive approaches to surgery, people are out of the hospital in just a few days, and back to their normal daily lives in a few weeks."
Dr. DeLeon, who operates at Einstein Medical Center Montgomery in East Norriton and Einstein Medical Center Elkins Park, is trained in advanced surgical techniques including robotic surgery, laparoscopic surgery, and transanal minimally invasive surgery, or TAMIS. TAMIS uses long instruments to remove benign polyps and some early cancerous tumors within the rectum. The organ-sparing procedure is performed entirely through the body's natural opening, requires no incisions to gain access to the treated area, and "saves a lot of morbidity," Dr. DeLeon says. The scar-free recovery tends to provide a quick return to normal bowel function and, all in all, normal life.
A native of Cherry Hill, N.J., Dr. DeLeon went to medical school at Thomas Jefferson University in Philadelphia, and did her fellowship in colorectal surgery at the Cleveland Clinic in Ohio. In addition to colorectal cancer, she treats conditions such as diverticulitis, inflammatory bowel disease, and pelvic floor dysfunction, among others. She says she "finds a lot of reward" in treating patients affected by these serious health issues.
If she has any advice for individuals looking to decrease the risk associated with colorectal cancer, she suggests following a healthy lifestyle and being proactive about addressing any changes to their gastrointestinal health.
"The biggest thing is to get screened, because many deaths attributed to colorectal cancer are preventable," she says. "In terms of diet and lifestyle, it's always good to have high fiber in your diet, but there's no magic pill. If you're having any bleeding or experiencing any other gastrointestinal symptoms, alert your primary-care doctor. A lot of the things we take for granted sometimes end up being more serious."
Einstein Medical Center Montgomery
559 W. Germantown Pike
East Norriton, Pa.
(800) EINSTEIN
(484) 622-1000
Direct Access Colonoscopy: (610) 233-3161
einstein.edu
Photograph by Jody Robinson
Published (and copyrighted) in Suburban Life magazine, September 2019.