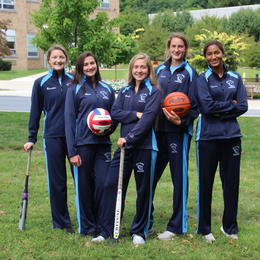 Rise Above
Villa Maria Academy High School's elite athletics program shapes students into young women who are ready to lead, unafraid to fail, and prepared for life.
In the world of high school sports, a championship brings glory, gratification, and, in most cases, a gleaming trophy. Villa Maria Academy High School has produced an abundance of winning teams and amassed plenty of championship trophies in its history, but students who participate in VMA's dominant athletics program receive something far more valuable than a shiny addition to the display case.
Just ask Meghan Nolan, a 2001 VMA alumna who played soccer, basketball, and lacrosse during her time at the school. She says many of the skills she honed in high school have helped her forge a fruitful career in business. Presently she works as a pharmaceutical sales and marketing leader for Johnson & Johnson.
"Many of the key lessons that I learned from playing sports at Villa are ones that I use today," says Nolan. "A big one was teamwork—how to focus on achieving a collective goal with a group of individuals. Another was that being a great leader sometimes means stepping back and letting someone else take the lead."
VMA also taught her that it's OK to fail, and that failure can create opportunities to grow.
"That's not to say that we should ever settle for mediocrity," she adds. "Whether in sports or in work, I believe you should always give 100 percent effort. However, you should win with humility and lose with grace and dignity. That's a life lesson that's stuck with me."
VMA is an all-girls, Catholic, college-preparatory school in Malvern, offering 14 varsity sports, including the new rowing team. With dozens of state and district championships to its credit, the school has gained a reputation for producing elite athletes who go on to excel in college and even grander stages, both on and off the field. Often, their future success stems from lessons learned through athletic competition, according to Stephanie Taylor, VMA's athletics director.
"In general, American culture loves sports—and we certainly love sports here and have an impressive record to back that up," says Taylor. "At the end of the day, sports are important because they prepare us for life. They help us build better relationships, communicate better, and teach important concepts like balance and resilience."
Winning Combination
Throughout the Greater Philadelphia Area and across the country, VMA has become synonymous with athletic excellence. The school has won an astounding 85 championship titles (state and district) throughout its history, including five district wins in the past year alone.
Such distinctions do not go unrecognized by the country's top colleges, Taylor suggests. She references Paige Lauder, a senior at VMA and one of the top scorers in the history of the school's basketball program. Lauder recently committed to playing basketball for Columbia University, whose coach also happens to be a VMA alumna.
"We have students like Paige who commit as juniors and seniors to playing for great college programs," she says. "Many of Villa's athletes across various sports go on to play their sport in college at all levels, including Division I schools like Duke, University of Virginia, UConn, and many more."
In addition, the athletics program fosters a sense of camaraderie among VMA alumnae that lasts long after graduation day and extends far beyond the campus boundaries. Peggy Evans, VMA's head volleyball coach, would know. Having coached alongside Joe Boland—the man who built the school's volleyball program into one of the region's best until his retirement last year—Evans was able to watch her daughter grow, learn, and build her skills through the program under Boland's leadership. Her daughter, Carly, is now at Franklin & Marshall College, where she is being coached by Mary Kate Salko, another VMA alumna who happens to be Boland's daughter.
"It's like being able to watch the circle of life play out, but it all comes back to family," says Evans. "Volleyball is really just part of the journey here, and it's teaching young ladies important life skills such as accountability and leadership and how to get things done under pressure. That's good preparation for college, and ultimately for life."
VMA athletes have garnered attention from high-profile organizations beyond prospective colleges. For example, students Mary Harkins, Hannah Miller, and Adele Iacobucci made last year's Under-19 Women's National Team in field hockey, through which they had the chance to travel to tournaments as representatives of the country and continue training at an elite level. Also, several of the school's field hockey players have made the U.S. Senior Women's National Team, including alumna Katie Evans, who currently serves as field hockey coach.
Evans is hardly an anomaly in terms of alumnae who have "come home." Many VMA alumnae tend to return to the school after graduating from college to become teachers or coaches. Taylor says this speaks to the "tradition of excellence" and the long-lasting connection students have to the school.
Good Balance
VMA's history of athletic excellence may be a direct reflection of the school's coaching staff. Nolan says her coaches provided invaluable guidance both on and off the field, and their influence has continued to have an impact on her life even though she graduated 18 years ago.
"Through balancing academics and athletics, I learned good time management—something that serves me well today," Nolan says. "You have to learn how to juggle it all. Sometimes, that means putting sports first, and sometimes it means putting academics first. You have to prioritize, and at Villa the coaches and the teachers are there to support and guide you in all of that."
VMA's coaching staff blends energy and experience. Kathy McCartney, as the school's basketball coach for 29 years, has more than 600 wins to her credit. Swimming coach Cathy Hay has eight consecutive state team championships, from 2011 to 2018. Along with former longtime athletics director and field hockey coach Maurene Polley, for whom the school's turf field is named, McCartney and Hay have been inducted into the Chester County Sports Hall of Fame.
"Whether in academics or in athletics, it's about supporting one another," Peggy Evans adds. "We're a family. I challenge these ladies that it's not just about winning, but it's about success. What that means is that beyond the wins and the losses, our goal is to develop young women who are prepared for bright futures."
Taylor agrees, adding that success means much more than winning championships.
"We love sports and we want to be competitive, but ultimately it's not so important just because of the winning," she says. "It's important because of what our students learn about life, and the athletics department here is focused on helping students maintain that perspective as they go out into the world."
Villa Maria Academy High School
370 Central Ave.
Malvern, Pa.
(610) 644-2551
vmahs.org
Photograph courtesy of Villa Maria Academy High School
Published (and copyrighted) in Suburban Life magazine, September 2019.