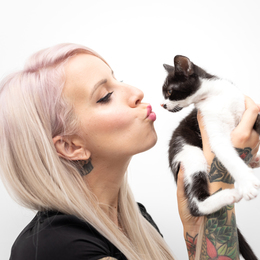 Fierce
Hannah Shaw, the high-profile animal advocate better known as Kitten Lady, carves out a brighter future for at-risk kittens in Philadelphia and across the country.
Hannah Shaw has a New York Times bestselling book to her credit. Her legions of fans on social media include more than 970,000 Instagram followers, nearly 900,000 subscribers to her YouTube channel, and more than 430,000 followers on Facebook.
Despite her reach, it's understandable if her given name doesn't sound familiar; most people know her, simply, as Kitten Lady. She describes herself as "a professional animal rescuer, a humane educator, and a fierce advocate for the protection of kittens." It's less of a job, more of a calling.
She lives on the West Coast now, near San Diego, but her rise to fame began in Philadelphia. She was just 21 at the time, living in South Philly and working for a summer camp for children with special needs. One day, as she sat on a bench with a co-worker, she looked into the trees overhead and saw a pair of eyes staring back—those of a tiny black kitten stranded in the branches. So she scaled the tree and rescued the kitten, in the process becoming a "cat mom" to a kitten she would name Coco.
This act of compassion uncorked a bottle.
Since then, she has personally provided surrogate care to hundreds of neonatal kittens, including those in need of bottle-feeding because they had no mothers to nurse them. Her influence has been far greater, however, considering the popularity of the educational and entertaining videos in which she teaches others how to care for at-risk kittens. She also travels the country to work with shelters and municipalities to design educational materials for families interested in fostering or adoption.
Considering her Philadelphia roots, she says the city will "always be in her heart." In fact, through her nonprofit Orphan Kitten Club's recently launched Mighty Cat grant program, she enabled the city's beleaguered open-admission shelter, ACCT Philly, to hire two full-time staffers focused on providing lifesaving care to neonatal kittens brought into the shelter.
"I started rescuing in Philly, and once I saw my first kitten outside, in 2009, I saw kittens everywhere after that," she says. "I learned a lot in the first two years, and it really was because there were so many [cats] free roaming in Philly. I feel very passionate about making sure I'm always making a difference in Philadelphia."
We spoke with Shaw about her lifelong love of animals, how she decompresses when she's not acting as a surrogate caregiver, and the next step in her mission to change the world, one vulnerable kitten at a time.
Q&A
Congratulations on Tiny but Mighty. It's a beautiful book, and very well written. Have you been happy with reception to the book so far?
I'm really so thrilled with the feedback I've gotten. I put my entire heart and mind into the book, so the moment it launched, I've had telling me what they think about it. It's become a New York Times best seller; I couldn't have expected that. The truth is, I think fostering is for everyone, and it's a niche right now, but I didn't think it would have broad reach. The reason I think it has captured the interest of a broad audience is because it's an intimate book filled with so many positive stories. It's also an actionable book, and it shows that anybody can play a role in doing something really important: saving lives. I've seen so many comments from people, "I picked up your book, and then I picked up foster kittens for the first time."
What is it about cats, and specifically kittens, that made you want to be their advocate?
I've been an advocate for all animals most of my life, including farm animals and animals that were being abused in [the] entertainment [industry]. The reason I got involved in cat welfare was that I always assumed cats had it really good. Then I found a kitten outside, and from that point forward I started finding more of them outside. In that process I found that kittens are one of the most at risk and most misunderstood of animals. So it not about felines specifically; it's about at-risk animals.
People love cats, but there's also a massive problem with way too many cats going into shelters and never coming out. Can you speak to the scope of the problem?
Hundreds of thousands of cats die in shelters every year, and the No. 1 most vulnerable group is kittens under eight weeks old. The majority of those kittens are coming from the outside, meaning they're born on the street. People are finding them and scooping them up, so they often come in without a mother. They're being born in such high numbers, and then there's the issue of our shelter system not having ample community support. That's why I tell anyone looking for a cat, "Adopt, don't shop."
You must meet many people who say, "I would love to foster but I just don't have the time or space." For people who truly want to help, what's your counter to that argument?
There are a lot of perceived obstacles, and the operative word is perceived. A good starting place is rather than saying what you can't do, have curiosity about what you might be able to do. Kittens don't take up very much space; it could be something as simple as a top-opening plastic tub or a little playpen; something like that can save lives. If there's a mom cat in the mix, she's going to be nursing her babies, so each of us has time to do what we can do. The most important thing is to approach rescue with an attitude of being curious about what you can do rather than being discouraged. It's just about setting up your life in a way that can work.
I imagine that sometimes the last thing you want to talk about or think about is cats and kittens. What are your interests outside of all things feline?
This is a lot of my life, and to me this is not remotely a job; it's a passion project. When I'm not taking care of kittens, I spend time on education and working on my nonprofit; I don't have a ton of time outside of that. I love traveling, because it's a way to get a bit of distance from the work I do, although I somehow seem to find a cat or two even when I'm traveling. I try to plan a big trip at least once a year—a big international trip—where I can literally unplug in the jungle or be on an island. … It's hugely revitalizing for me, and I do my best to get out there.
Considering your success from the past few years, what's next on your to-do list?
The Orphan Kitten Club has gotten very busy in just the last couple of months, and I'd like to offer more programs. I'm constantly traveling, so I'm looking at more events, conventions, and educational seminars. I also hope to do more writing and continually create more tools, because everyone learns differently. I have a children's book coming out in October (Kitten Lady's Big Book of Little Kittens) and I'm so excited about it. It's very educational for kids, taking them on a journey from rescue to adoption. It's something I've wanted to do for a long time. So many kids watch my videos, and I'm always amazed and happy with the response from young people. Kids believe in themselves more than we do as adults, and I've seen a lot of kids want to get involved and make this change. They have a great attitude: "I believe in myself, and I can make a difference."
Photograph by Andrew Marttila
Published (and copyrighted) in Suburban Life magazine, September 2019.