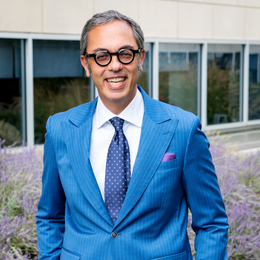 Capital Gains
Guided by Medical Director Dr. Cataldo Doria, the team at Capital Health Cancer Center takes strides to become a leading provider of cancer treatment in the region.
Since coming to the United States from his native Italy, Cataldo Doria, M.D., Ph.D., M.B.A., has emerged as an internationally renowned surgeon, helped develop innovative cancer treatments and become an important voice in his field. Clearly, this is not someone who backs down from a challenge.
So when he was asked in September 2018 to take over as medical director of Capital Health Cancer Center—part of Capital Health Medical Center – Hopewell in Hopewell Township, N.J.—he seized the opportunity without a second thought. Dr. Doria believes that Capital Health has the potential to become the leading cancer center in the region, and is encouraged by the tremendous strides that have already been made in just a year's time.
"When I arrived here at Capital Health, there was a good infrastructure built for the cancer center, but only the basic services were provided, primarily revolving around medical oncology," he says. "Basically I was tasked with developing the cancer center from the ground up. Together with a really strong team of clinicians and administrators we have already achieved many of the goals that we set out to achieve.
"This organization is amazing," he continues. "There is a lot of energy here, and things get done extremely quickly. This is exactly what I was looking for, and I think the mindset I bring is the perfect mix for Capital Health to achieve the greatest results."
Dr. Doria came to Capital Health after serving as the surgical director of the Sidney Kimmel Cancer Center – Jefferson Liver Tumor Center at Thomas Jefferson University Hospital in Philadelphia. He specializes in the treatment of patients with cancer of the liver, pancreas, and bile duct, and has been at the cutting edge of advanced procedures throughout his career.
His vision for Capital Health has two prongs: to prevent the outmigration of cancer patients in the area to other hospitals; and to increase the visibility and elevate the reputation of the organization.
"Our hospital is beautiful, and our main campus is located in a spectacular part of the state," he says. "However, not too many people know where we are and what we can offer. My objective is to make sure we produce an innovative approach to treating cancer so we become known very soon at the local, national, and international levels.
"We are making amazing progress, and I have no doubt that we will be the premier cancer center not just in this area, not just in this state, but also in neighboring states and beyond," he continues. "On a daily basis, I am currently receiving at least one or two cases to review from around the world, from places like Europe and Asia. So we are on a fast track to reaching our vision."
A Multidisciplinary Approach
Dr. Doria's arrival was just the beginning for Capital Health, which has since brought on well-regarded surgeons in the fields of thoracic, colorectal, breast, and gynecologic oncology surgery. All of the new hires are experienced and skilled in minimally invasive and robotic surgery, which offer patients a better recovery time, a shorter stay in the hospital, decreased readmission to the hospital, and decreased postoperative effects.
Capital Health employs physicians who specialize in all different aspects of the body, allowing the organization to treat everything from brain and pancreas cancer to leukemia and melanoma. The focus is on a collaborative approach, with the entire team working together to provide the best possible outcome for the patient.
"The advantage of Capital Health is the multidisciplinary approach for any type of cancer," Dr. Doria says. "The time of single doctors treating cancer is gone. Here we work as a team; we have doctors specializing in surgical oncology, medical oncology, radiation oncology, and on and on. We all look at the patient with the same end goal and we formulate a plan that everyone buys into, and then we move forward with that plan. That is what has led Capital Health to achieve incredible results in terms of patient survival."
In addition to having so many specialists under one roof, Capital Health is committed to offering advanced procedures not available elsewhere in the state or even in major markets such as Philadelphia.
One example is the robotic-assisted Whipple procedure, a surgery used to remove cancer that originates in the head of the pancreas. Instead of the traditional open procedure in which patients undergo a large incision, this operation involves two holes between 5 and 12 millimeters. The surgeon then utilizes a robotics platform known as the da Vinci surgical system, leading to precise movements and expanded capabilities.
Another example is called ex vivo liver resection with liver auto-transplantation, which is offered to patients with advanced liver cancer that cannot be removed during a normal operation. The entire liver is removed from the body, chilled in cold solution and ice, and the cancer is resected on a table. The healthy portion of the liver is then implanted back into the patient.
"This is an operation that only surgeons who have been trained in transplantation, as well as in hepatobiliary surgery, can perform," Dr. Doria says. "Capital Health is one of the very few places in the country and the world where patients can go for this if needed."
Although these groundbreaking procedures can be lifesaving in many instances, going under the knife is not the only option. Capital Health focuses on individualized treatment for each patient, combining the use of surgery, chemotherapy, radiation, and other methods to help patients overcome the disease and get back to what makes them happy.
That was Dr. Doria's motivation in working with cancer patients in the first place, and why he considers himself fortunate to have been in the field for more than 20 years. He is proud to continue his life's work at Capital Health Cancer Center.
"The absolute best part of what I do is when I'm able to get patients to the point where he or she goes back to his or her normal life," he says. "That is the complete fulfillment of why I went to medical school and decided to pursue this career. There is not any other moment in my daily professional life that is more rewarding. We love to get these patients back to their lives and back to their families."
Capital Health Cancer Center
One Capital Way
Pennington, N.J.
(609) 537-6363
capitalhealth.org/cancer
Photograph by Jody Robinson
Published (and copyrighted) in Suburban Life magazine, September 2019.