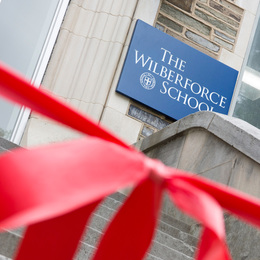 The Wilberforce Difference
At The Wilberforce School in Princeton, students gain the intellectual, social, and spiritual foundations needed to become adaptable leaders and lifelong learners.
Students come to The Wilberforce School in Princeton, N.J., in search of a high-quality education, but they take away so much more. The private college-preparatory school, named in honor of noted abolitionist William Wilberforce, aims to help students find joy in learning, gain the tools needed to adapt, and build a close-knit community, all rooted in Christian faith.
Nearly 15 years ago, Head of School Howe Whitman Jr. started the cutting-edge school with his wife, Brenda, and friends David and Awilda Rowe. Their shared goal: to give children in pre-K through 12th grade a solid intellectual, social, and spiritual foundation needed to help them thrive into the future. Today, the school provides 230 students with "a rich and rigorous academic program worth their time that is also deliberately addressing their spiritual development and character that is grounded in our Christian faith," as Howe explains.
This fall, The Wilberforce School is celebrating the opening of a new location, on the former grounds of St. Joseph's Seminary. The 47-acre campus, complete with impressive stone buildings and an abundance of mature trees, has given the school a distinctive home with plenty of room to grow.
Accredited by the Middle States Association Commissions on Elementary and Secondary Schools since 2015, The Wilberforce School has assembled a faculty driven by "the common desire to help address both the intellectual and spiritual formation of the student," Howe explains. These individuals guide students deep into the worlds of philosophy, religious history, poetry, music, art, and many other subjects designed to stoke their intellectual curiosity.
"Our education is about finding the joy in books, art, and music, as opposed to just grades, and all of this has a much bigger impact in how a student engages in a subject," Howe says. "If we can introduce our students to books, arts, music, and overall ideas when they are not worried solely about being tested on it, they are being given a feast to enjoy."
The rigorous academic curriculum includes a focus on STEM (science, technology, engineering, and mathematics). All students are introduced to MATLAB, for example, a programming language through which students gain a deeper understanding of various branches of science and mathematics. In addition, if they so choose, students have the opportunity to explore advanced topics such as artificial intelligence and robotics.
"We don't know what kinds of jobs and challenges they will face after graduation, but this is the kind of education that gives them the tools to be able to adapt to the ever-changing workplace," Howe says. "By using in-class discussions, making claims and defending them, writing well and speaking well in class, the students are being well prepared for life in college and beyond. We are giving them the building blocks they can use in any setting."
'People Are Friends Here'
Emmanuel David, currently a senior, has been a Wilberforce student since second grade. David appreciates the school's Christian values, as well as the fact that his teachers are always accessible and willing to engage in a discussion about a litany of subjects, even those beyond their particular areas of focus.
"Every morning before classes we gather together and pray," he says. "We are able to grow closer, not just through academics. People are friends here, not because of their SAT scores, but because of who they are. It's a really strong community. Because it's a small school, I know everyone in the high school and most students in the middle school."
He also enjoys the house system, which he describes as similar to Hogwarts School from the Harry Potter universe—minus the wizardry, of course. Each house has 32 students in grades six through 12, and the students get to know one another by competing in weekly games, activities, and service projects. They also go on a fall field trip together, during which incoming sixth graders are inducted into their respective houses.
David has benefited from many opportunities at The Wilberforce School—opportunities he believes he may not have received had he gone to another school. For his junior project during last year's winter break, for example, he worked with a Wilberforce parent to build a facial recognition system. He also feels well prepared for college, where he intends to study data science, computer science, and AI. So far, he has applied to MIT, Carnegie Mellon, Georgia Tech, and the University of Rochester.
Prior to coming to The Wilberforce School, David attended other schools where he was, in his words, "very quiet and hiding in my shell." At Wilberforce, his fellow students and teachers made him feel welcome and compelled to get involved.
"I was a kid who wouldn't talk to anyone I didn't know, and I went from that to captain of the debate and volleyball teams and president of one of the houses," he says. "There are so many leadership opportunities right there waiting for you that will help you for the rest of your life."
'A Wonderful Community'
David's schoolmates include three of Sarah and Stephen McLean's four children, one each in first, second, and third grade. All three have attended the school since pre-K, and the youngest will join her siblings at Wilberforce when she is old enough.
Sarah McLean, a former special education teacher, and her husband chose The Wilberforce School after doing intensive research and then visiting the campus, where they saw the remarkable difference teachers made in the classroom. In particular, she witnessed a seventh-grade classroom filled with enthusiastic and participatory students, led by a teacher she characterizes as "exceptionally gifted" at drawing students out and getting them excited about learning.
"We saw the teachers delight in teaching their students," she explains. "Even in the youngest class, the teacher demonstrated a ton of love and care, but also set really high expectations for her students. It didn't take much time for us to see it is a wonderful community that upholds the same Christian values we are teaching at home. Our family wanted to be part of what Wilberforce is doing."
As an example of the Christian values taught at Wilberforce, McLean cites the community service projects required by all lower school students. Recently, for example, her children chose to visit a local nursing home. The children spent several hours with the residents, sharing stories and playing cards and games such as Scrabble.
"I am so thankful for my children to be in a school that prioritizes service and care for others," she adds. "We need to think about the world outside of the walls of the school. We want our children to be educated for more than their own benefit, but also for the good of the world around them. We feel they're finding that at Wilberforce."
The Wilberforce School
75 Mapleton Road
Princeton, N.J.
(609) 924-6111
wilberforceschool.org
Photograph by Alison Dunlap
Published (and copyrighted) in Suburban Life magazine, September 2019.