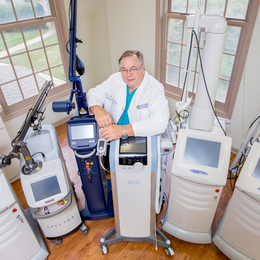 Active FX: the Gift that Keeps on Giving
Through Active FX and other innovative treatments, Dr. Glenn DeBias of The Institute for Laser and Aesthetic Medicine helps patients of all ages achieve their best look and skin health, "safe and natural."
As men and women grow older, the human body undergoes a gradual transformation. This natural process is perhaps most apparent in the face and neck, where continuing changes to the skin's appearance and texture often give an individual a "tired" look. As a result, it's common for men and women alike to feel self-conscious about the way they look and then search for effective ways to amend the problem.
Glenn DeBias, D.O., has a tried-and-true solution, and it's called Active FX. Dr. DeBias refers to this revolutionary fractional CO2 laser skin resurfacing as "a game changer" for treating aging and/or unwanted skin conditions, resulting in improved skin health and appearance for patients of all ages. He has performed more than 23,000 Active FX procedures over the past 15 years, most commonly treating the face, neck, and upper body.
"It's as close as you can get to perfection without actually getting younger," he says.
In his more than 21 years in practice, Dr. DeBias has performed in excess of 100,000 procedures and earned a reputation as one of the most knowledgeable and experienced aesthetic physicians in the region. At The Institute for Laser and Aesthetic Medicine (ILAMED) in Doylestown, Dr. DeBias blends artistry and scientific technique to help patients achieve optimal skin health for their age.
We spoke with Dr. DeBias at his Bucks County office to discuss the reasons behind aging skin, and how Active FX and other treatments can help each patient who comes through Dr. DeBias' door "achieve their best look, safe and natural."
Q&A
Before we talk about Active FX, can you tell me about what patients have on their minds when they come to you seeking aesthetic treatments?
Most patients today desire aesthetic treatments that do not require more than three or four days of downtime due to their busy schedules. They also desire safe procedures that are reasonably comfortable and don't require more than 10 or 15 minutes to perform. The current trend is for less invasive but more natural and corrective office treatments that can be performed on a more frequent basis. The technology behind these treatments helps patients "win the race" in achieving a more youthful, refreshed improved skin health.
Which brings us to Active FX. What can the technology help patients achieve?
I innovated Active FX in 2004, and it has since become the gold standard. To this day, Active FX continues to be the most widely used technology in the world to improve the texture, tone, and tightness of one's face and neck skin, including the eyelids. A lot of patients have this procedure performed repeatedly to address their maintenance needs for their aging skin. In fact, I recently performed the 28th face and 17th neck Active FX procedure on a patient who is 85 years young.
The Active FX procedure involves sloughing of old and damaged outer skin, resulting in the development of new, healthier skin. The heat from the laser in the deeper support structure of the skin is perceived as an injury by the body, so new thicker, firmer skin develops from new collagen and elasticity fibers that continue to develop over approximately six months. Most patients describe the sensation as hot sand blowing on their skin, so it's very tolerable.
Ultimately, your look and skin health improve daily for six months, even as you continue to age. No other technology has been able to achieve this. If a second procedure is done within six months, an even better result occurs. Also, if no further treatments are done, it will take three years of ongoing unopposed aging to break down all the positive results from one treatment. For these reasons, I've heard patients describe this procedure as "the gift that keeps on giving" and the "proverbial fountain of youth."
I imagine the technology is used to address different concerns, depending on an individual's age and other circumstances.
That's correct. Teens and 20-something patients desire this procedure to offset acne disease and/or scarring. Active FX resets the skin health by reducing the quantity and intensity of day-to-day breakouts, while reducing skin oiliness for an extended period of time. I can also use to it effectively treat darkened skin tone due to melasma and/or sun damage.
Once someone reaches their 30s, Active FX treatments can address the signs of early "negative aging," when the skin loses more collagen than it makes, thereby resulting in thinning skin that begins to sag. This begins to be noticeable in your late 20s, and continues to worsen and accelerate for the rest of your life. Therefore, you have to rely on technology to "equal the playing field." Uneven skin tone and enlarging pores with skin-texture irregularities begin to manifest in this decade, too. From what I've seen, the resurfacing benefit of the Active FX procedure addresses these concerns better than anything else on the market.
People in their 40s may observe a significant deterioration of skin health and the worsening of their overall appearance, especially related to how their face is aging. Textural changes of the skin begin to appear, enlarging pores, and uneven pigmentation worsens. A more noticeable "tired" look appears. More camouflage and foundation makeup is needed to hide the skin changes. This group tends steps up their Active FX treatments to twice a year to achieve the desired improvement of the "three T's"—texture, tone, and tightness.
Patients age 50 and above continue to observe accelerated worsening of the aging process, requiring twice-a-year treatment to maintain their best look and skin health for their age. In addition, many opt for more frequent "spot region treatments," such as the eyelids and around the mouth.
I mentioned that I have a regular Active FX patient who is 85, and she looks great! You would never guess she is in her 70s, and certainly not in her 80s.
Is there anything people should keep in mind as they consider taking steps to make sure they like what they see when they look in the mirror?
With any aesthetic procedure, the patient wants something that offers minimal patient fatigue, utmost safety, reasonable natural results, and minimal discomfort, all at a reasonable price so patients can have the procedure performed frequently. Also, when they're looking for a provider to perform these procedures, people should seek out someone who has a depth of knowledge, a wealth of experience, and an artful eye when using this technology. This will ensure that they receive the highest level of satisfaction.
I always emphasize to my patients that I cannot make you younger or reverse the aging process, but I can use the best technology available to achieve your best look and skin health for your age. With an ongoing treatment strategy, I can help you maintain your best look and skin health despite the acceleration of the aging process.
The Institute for Laser and Aesthetic Medicine
110 Hyde Park
Doylestown, Pa.
(215) 230-1804
ilamed.com
Photograph by Allure West Studios
Published (and copyrighted) in Suburban Life magazine, September 2019.