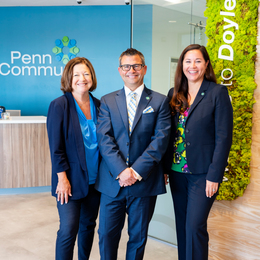 Commitment to Local Business Success
How Penn Community Bank's Business Banking Unit supports and grows business in Doylestown.
Bucks County businesses have a new, convenient way to access the financial resources and support they need, right in the heart of Doylestown.
Penn Community Bank, a leading mutual financial institution in Bucks County, has opened a new, centralized location in the Doylestown Shopping Center on North Main Street. In addition to serving the public as a retail bank branch, the bright, sleek space also is now the home of the bank's Business Banking Unit, formed earlier this year to cater exclusively to local business owners.
"Penn Community Bank has been a longstanding partner to Doylestown-based businesses and organizations, so we are particularly thrilled to open this gorgeous new branch in the middle of Doylestown," says Penn Community Bank President and CEO Jeane M. Vidoni. "Doylestown is the county seat and, in many ways, the heart and soul of Bucks County. This new location enables us to be highly accessible and to serve the community's financial needs even more efficiently and effectively."
In the Heart of Bucks County
Located at 426 N. Main Street, the new location opened on July 15. It offers a 24-hour ATM and features Penn Community Bank's fresh, new look, with a backdrop of wood textures and its bright brand colors of blue and green. The modern layout features a curved teller station that allows customer service representatives to assist customers with transactions, digital displays that highlight financial information, and a community wall that spotlights the bank's connection to and support of local organizations.
But it is the private conference rooms and office space that sets apart the new location and makes it so valuable to local businesses. That's where Penn Community Bank's business banking advisors meet with customers to discuss their financial needs and goals.
"Penn Community Bank has always had a strong presence in Upper and Lower Bucks County, but we needed a more convenient and accessible location in Central Bucks," says Karen Lasorda, SVP, Director of Business Banking. "Doylestown is the county seat; this is where things are happening, so it is important to be here. In addition, several Doylestown-based community banks have been purchased or merged over the past few years, so we are filling a real need for local, independent banking in Doylestown Borough."
Business Banking with a Personal Touch
Penn Community Bank's Business Banking Unit is composed of financial experts with decades of experience in banking. After years of working with business owners, they have the experience and knowledge to serve as trusted advisors to local businesses in a wide range of industries.
"Because the Business Banking Unit is focused on meeting the needs of local businesses, we are happy to invest the time to talk with and counsel businesses of all sizes," says Rick Battaglia, Vice President, Business Banking. "And we have a product line and the services and technology that Bucks County businesses want."
Business owners particularly like the convenience that financial technology offers, Battaglia says, including mobile deposit, robust cash management, and data-driven money management tools. Penn Community Bank has made long-term investments in financial technology in order to be able to provide the products and financial tools that local businesses need to thrive.
Versatile Lending Arrangements
One thing that the bankers kept hearing from small business owners repeatedly was the difficulty in accessing working capital to help their businesses grow. That's why Penn Community Bank developed lending products to meet those needs, says Nicole M. Boytin, Vice President, Business Banking.
"For many Bucks County companies, business is booming," says Boytin. "Sales are increasing and business owners need working capital to be able to expand and support that growth. Penn Community Bank is happy to support these businesses with funding solutions such as term loans and lines of credit to ensure that their businesses can keep growing."
Penn Community Bank developed Penn Edge Small Business Solutions to meet the needs of small business owners. One of its unique features is that business owners do not have to own real estate to qualify for a business loan or line of credit. Businesses benefit by providing less documentation, obtaining a faster approval, and maintaining convenient access to funds with the bank's business checking account.
Lasorda knows firsthand how helpful those terms can be to business people. Before she started her career in banking, she owned a small service business for many years.
"Having owned a small business gives me a unique perspective on how these businesses usually are treated by banks," Lasorda says. "Because of this insight, I work hard to give every business my full attention and always treat them fairly. That commitment is a cornerstone of the Business Banking Unit and is echoed in the guiding principles of Penn Community Bank."
For more information, visit penncommunitybank.com. Member FDIC.
Photograph by Jody Robinson
Published (and copyrighted) in Suburban Life magazine, September 2019.