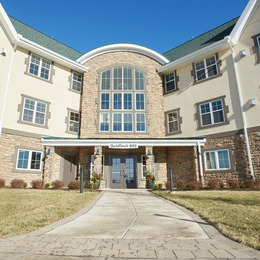 The Natural Choice
On its idyllic campus in Worcester, Meadowood Senior Living offers a bounty of options for residents looking to improve their health, happiness, and well-being.
For residents who have a fondness for the natural world, Meadowood Senior Living hosts off-campus "wellness walks" at parks and wooded areas throughout the area, yet residents don't have to go far to experience the simple joys of birdsong, the whisper of wind, and the gentle rustling of leaf-lined branches. In fact, all they have to do is open their front doors and step outside.
The 131-acre community in Worcester is practically a park itself, boasting near-endless groves of trees, wetlands, and other areas of natural beauty. The sylvan campus has even drawn attention from the likes of the Pennsylvania Horticultural Club and the Norristown Garden Club, the latter of which bestowed the 2018 Landscape Design Award on Meadowood's stunning woodland garden.
"We came here because it appeared to be a community of good neighbors, and it certainly is that, but there's a lot more than meets the eye," says Paul Anderson, who has been living with his wife, Grayce, at Meadowood for 10 years. "We have a walking trail that circles the campus, and most of it is in wooded areas—what we call 'the Nature Preserve.' The trees and plants are labeled for those who have that interest. The deer roam through it. Once in a while, we have a fox. It's a lovely area."
Anderson, who walks the trail several times a week, appreciates the additions and improvements Meadowood has made—and continues to make—to its park-like campus. He's also excited about what's to come. One addition currently in development is an elevated, wheelchair-accessible observation platform that blends seamlessly into the natural surroundings, similar to the one found at Morris Arboretum of the University of Pennsylvania in Chestnut Hill.
It's not just the residents who benefit from the Nature Preserve. The area serves as a resource for education and outreach across multiple generations. Students from nearby schools often visit the campus to participate in improvements that benefit the greater community. For example, Meadowood recently added 500 new trees to its campus, enabled by multiple TreeVitalize grants, contributions from residents, and the efforts of students from nearby Worcester Elementary School.
"The beauty of this place has enabled us to do a lot of community outreach, so people outside of our small world here can enjoy it, too," Anderson says. "That's good for them, and it's also very good for us."
In addition, Meadowood received a $58,000 grant in 2012 to retrofit an existing storm basin and install a series of demonstration rain gardens to reduce the volume and velocity of storm water entering the wetland area. This project has been funded in part by Exelon Corp., through the Schuylkill River Restoration Fund and the Delaware River Basin Commission. Both projects were completed in 2014. Based on these projects, Meadowood was awarded "Wise Land Use" by the Perkiomen Watershed Conservancy in 2016.
Focused on Health and Wellness
Meadowood's uniqueness extends far beyond its vast natural resources. Just ask Helene Boclair, who has been a Meadowood resident for the past six years. As current president of the Meadowood Residents Association, she works closely with the administration to promote her fellow residents' interests and well-being. It's a demanding position at times, she says, but she likes the "mental challenge."
"Meadowood has given us a great community, and it continues to get better," she says, referring specifically to The Grove, a new residential expansion opening this year. "The residents have a strong voice when it comes to what happens here, and that includes the kinds of activities we have available to us. The Residents Association supports 60 activities and committees—so much that it's impossible for one person to do everything. You pick and choose what you want to do."
For her part, Boclair spends a fair amount of time at the community's fitness center, participating in classes such as standing aerobics. She's also a big fan of water volleyball, which has become one of Meadowood's most popular wellness activities.
"The wellness offerings weren't part of the decision-making process when my husband and I came here, but it has been a nice benefit," she says. "I play water volleyball on Friday afternoons with other residents. It's a great opportunity to laugh at yourself and others. We also play the staff three to four times a year, and it's nice to know we can beat them once in a while."
The fitness center offers classes to suit all residents' needs, according to Boclair, whether they're looking to raise their heart rate, maintain strength, or simply improve balance. She credits Becky Anhorn, the community's fitness & wellness director, with continually coming up with inventive ideas for classes that challenge residents.
Like Anderson and Boclair, Allan Bozorth is a regular at the fitness center. He has been minding his fitness for most of his life, so having the fitness center "200 feet from my front door" is a significant benefit. He enjoys rowing, walking, lifting free weights, and playing water volleyball, as well as occasionally taking second base for the Meadowood staff softball team.
"I came here to meet people, to have fun, and to relax," he says. "The walking trails on the campus and the fitness center were nice surprises."
Bozorth was born and raised in the Philadelphia area, but his career took him to Virginia, where he lived for more than 30 years. After his wife passed away, he decided to return to the Philadelphia suburbs. He already knew about Meadowood when he started his search for a community to call home, but touring the campus and spending some time with residents convinced him to look no further.
Meadowood suits his lifestyle, he says, in part because the campus' central location allows him to "stay busy and on the move." He spent a lot of time off campus this summer—for example, at shore houses owned by friends and family. He also ventured to Ambler, Skippack Village, and downtown Philadelphia for dining and entertainment.
"I've been extremely fortunate in my health," he says. "A lot of people, as they get older, have to slow down because their body wears out. The exercise I do here pays off by helping me get around better. If doing that means I can keep my strength up and still throw around my suitcases so I can go on a trip somewhere, I'm happy to get off the couch and do it."
He credits Meadowood with making fitness both accessible and enjoyable for him and his fellow residents.
"I believe in taking care of myself, and I also believe in having fun," Bozorth says. "My goal is not just to live another day but to enjoy the day. I feel like I'm doing that here."
Meadowood Senior Living
3205 W. Skippack Pike
Worcester, PA 19490
610.584.1000
Meadowood.net
Photograph by Nina Lea Photography
Published (and copyrighted) in Suburban Life magazine, September 2019.