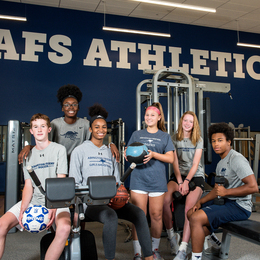 Game Changer
The newly opened Richard N. Berman Athletics Center represents a dramatic step forward in Abington Friends School's quest to develop the whole student.
Clay Lewis is learning the meaningful lessons of high school both inside and outside the classroom. At Abington Friends School (AFS), where he suits up for the wrestling team, Lewis has come to better understand himself—as a student, as a Quaker, and as a human being—through the rigors of athletic competition. Lewis is also an honors student who has performed in a number of musical theater productions, and he is a percussionist in the school's jazz band.
"To me, wrestling is about respect and dedication," says Lewis, a sophomore at the Jenkintown-based Quaker college-preparatory school. "Every wrestler knows how difficult the sport is, and how much effort goes into training and preparing for a match. Every wrestler wants to win, but I've learned that it's much better to lose graciously than it is to win without honor."
He wrote an essay about how he reconciles his fondness for the sport—in which two people attempt to physically dominate one another—with his Quaker beliefs. The May 2019 issue of Friends Journal published the essay, which originated as an English class assignment.
"Through self-discovery, I've come to realize that I'm not competing with someone because we've come to a disagreement," says Lewis. "There's no anger or turmoil between us. I can take someone down to the mat and still have love and respect for him as a person."
Lewis is excited for the upcoming wrestling season, in part because of the buzz surrounding a transformative new addition to the AFS campus: the Richard N. Berman Athletics Center. The newly opened $9.5 million center represents a dramatic step forward for the school's athletics and physical education facilities. Measuring more than 30,000 square feet, the center houses a competition basketball court with two practice courts, a fitness center, a training room, a multipurpose room, boys' and girls' locker rooms, three team rooms and offices for administrative staff and coaches, and a public lobby with a concession stand.
The space gives the 323-year-old school a state-of-the-art space where AFS students can train, exercise, and compete, as well as a place where the school community can gather for events.
The Richard N. Berman Athletics Center represents a key part of AFS's years-long strategic plan to develop "the whole student," says Rich Nourie, Head of School. In addition to a commitment to hiring talented faculty across the disciplines, AFS has made a number of pivotal investments to help each student become the best possible version of him or herself, including:
* The Faulkner Library and Learning Center, a dramatic space designed to provide students with the most innovative resources for student research and to foster academic growth and collaboration;
* The Headwaters Discovery Playground, a world-class outdoor learning environment overlooking the headwaters of the Jenkintown Creek, a natural setting for creek walks and exploration. On the playground, students learn vital lessons about imaginative play and self-reliance through nature-inspired climbing equipment and "big science" pulleys and swings;
* The Center for Experiential Learning, through which students have the opportunity to travel locally and abroad to benefit from in-depth real-world experiences and mentorship. Rooted in the Quaker belief that experience is a student's most powerful teacher, AFS breaks down the walls of the classroom by immersing students in invaluable professional and cultural experiences, from Paris and Tasmania, to nearby Abington Hospital-Jefferson Health's simulation lab.
"Athletics provide a kind of direct experience you don't find in a lot of other aspects of education—you get to know how to push your body, build confidence, and learn to respond to and overcome adversity," says Nourie. "Our physical education program is one dimension of the strong academic foundation AFS provides. We teach students to collaborate, listen and navigate conflict. All of those things will make our students uniquely valuable to the communities they serve once they leave us."
'Everyone Is an Athlete Here'
Director of Athletics Jeff Bond recently started his 17th year at AFS. He believes the Richard N. Berman Athletics Center will better serve not only each of the school's 49 interscholastic sports teams, but also every student on campus, from pre-K to grade 12.
"We have AFS alums who are playing right now at every level of college athletics, so if you want to be a college athlete, we have avenues in place to help you do that," says Bond, who also teaches ninth-grade history and coaches the boys' baseball and girls' basketball teams. "Our teams are important, but I like to say that everyone is an athlete here, and we will provide opportunities for every student to learn and achieve their best."
In the future, the center has the potential to host events and organizations from outside of the immediate AFS community. For now, though, Bond says he's excited to see how the student body uses the facilities to "up their game."
"When you get involved in a sport of any kind, you learn how to test your limits, how to interact with others, how to be a leader, how to be a teammate," he adds. "You also learn how to handle disappointment, and those are invaluable skills, no matter where life takes you."
Madison Tillmann, an AFS "lifer" who started at the school in pre-K and graduated in 2018, would agree. During her time at the school, she became a standout sprinter and mid-distance runner on the track and field squads. Acclimating to college life was "a breeze," she says, thanks in large part to her experience at AFS.
"Athletics made me more grounded, and I got to form close connections with my teammates and coaches," she says. "Being an athlete showed me how to balance my emotions and release my energy in a productive way."
The lessons she learned at AFS have helped her focus on tackling new challenges. As a business and legal rights major, she has begun to consider her postgraduate options.
"I feel like I got everything I needed from AFS," she says. "Because of what I learned there, I feel prepared academically and connected to what's happening in the world around me."
Nourie adds, "Now that the Berman Center is complete, we are ensuring that children at AFS will experience a multidimensional education that prepares them for truly successful and meaningful lives. We are thrilled to finally witness our students playing and learning in this facility, and proud that this space will exist for many years to come."
Abington Friends School
575 Washington Lane
Jenkintown, Pa.
(215) 576-3950
abingtonfriends.net
Photograph by Jeff Anderson
Published (and copyrighted) in Suburban Life magazine, September 2019.