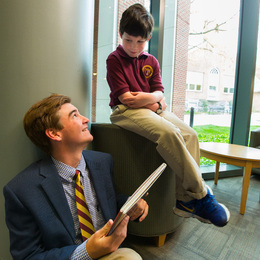 Defining the Modern Man
By helping students develop a strong sense of self, The Haverford School challenges young men to defy stereotypes and come up with their own definition of masculinity.
What does it mean to be a man? Jay Greytok believes there's no one "right" answer, though he does suggest that limiting the definition to conventional stereotypes has the potential to cause significant harm—not only to the individual, but also to society as a whole.
"There is a stereotype from media, movies, books, and more that centers on men as strong, dominant figures who don't cry or have feelings, who are emotionless," says Greytok, head of the middle school at The Haverford School, a position he has held for 21 years. "We strive to change that by being feeling, caring, thoughtful men for others who are respectful of everyone, humble, and modest. We need to understand what these young men perceive to be male characteristics and have a discussion about how that aligns—or doesn't—with the virtues that the school aims to instill. Both our male and female teachers are involved in discussions regarding the expectations of men in today's society."
Greytok's journey to find out what it means to be a man took an unexpected detour when he was just a young man—in middle school, in fact. That's when he lost his father, and the experience of having to navigate such a delicate time without a father to guide him informs him to this day.
"It was a very impactful time of my life," he shares. "Part of the reason I feel so invested in helping our guys become men of character is because I can give time and direction. I'm essentially a 13-year-old in the body of a 54-year-old, so I enjoy tremendously helping middle school boys find their passion and navigate the world, which, in many ways, is more challenging now."
Everything Is a 'Boy Thing'
The subject of masculinity fascinated Greytok so much that he wrote his University of Pennsylvania thesis about masculine stereotypes. In some regards, things haven't changed much since then.
"Stereotypes are still the same in many ways," he adds. "Boys are still boys. But the beauty of a place like Haverford is, boys do everything. Everything is a 'boy thing.' One third of the middle school is involved in music, everyone takes a language—our boys are very verbal."
Haverford students also embrace the arts, including performance and theater—things that may not have been considered masculine when 42-year-old Darren Hengst was in high school.
"In different schools, you have a theater group, a sports group, a math group, an academic group, and often students would stick to their own realms," says Hengst, chair of Haverford's theater department. "I feel really appreciative of how at Haverford, whatever a student tries, everyone will be supportive of that. We had a star lacrosse player act as a lead in a play, and the whole team came out to watch him. When I was in high school, it was completely different."
Students are accepted for exactly who they are, and what their strengths and passions are, according to Hengst. He and other faculty members strive to cultivate students' interests rather than try to impose any limitations upon them.
For his part, Hengst believes theater helps students develop empathy by examining the many different aspects of the human experience. By reading one character's lines and essentially spending time in that character's world, a student can find similarities between himself and the character, exploring how the challenges and triumphs of his own life compare to those of someone in a completely different situation.
"As a faculty, we invest our time in building strong relationships with the students," Hengst adds. "We are continuously challenging the boys to examine their core beliefs around how they view themselves and their relationships with others in the world. It is through this reflection that we are able to identify challenges that may be rooted in archaic beliefs about masculinity, giving us the opportunity to foster awareness and guidance through this important part of their development."
The Importance of Character
While many may not think the concept of masculinity applies to young children, Erin Berrodin, kindergarten teacher at Haverford, says lower school is the perfect time to start the conversation.
"Kindergarten is really when we begin to think about the nature of everything we do," Berrodin shares. "Especially in the last five years, we've really begun to redefine what masculinity is, and this has evolved the way we teach in the lower school. Now we have a greater understanding, and devote more time to teaching character and developing all that is under that umbrella. Character is a core subject, just like math and reading and writing."
One way Haverford develops this character at such an early stage is by fostering open communication—simply talking about emotions.
"For example, anger is a true emotion, but how we express that is important," Berrodin says. "Ten years ago in school, that was never a conversation that we had. It's important for boys to understand what it means to be shy, to be loved, to be sad, and how to express those emotions appropriately."
Greytok believes Haverford bears a responsibility to shape students into thoughtful young men who are ready for life in the real world. This means not only equipping students with the academic tools they need to succeed in the next phase of their education, but also helping them access the entire emotional spectrum. By doing so, he hopes and believes that the young men roaming the Haverford campus will one day become sympathetic and compassionate leaders who strive to have a positive impact on the world around them.
"We're an independent school that is highly academic, but we're so much more than that," Greytok says. "These boys are looking for guidance. We want to build healthy and positive relationships with our students and help to guide them into adulthood as thinking and caring individuals, whether they are helping those less fortunate or giving back to their community. "
The Haverford School
450 Lancaster Ave.
Haverford, Pa.
(610) 642-3020
haverford.org
Photograph courtesy of The Haverford School
Published (and copyrighted) in Suburban Life magazine, September 2019.