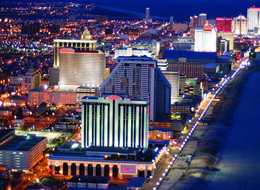 Best of Casinos
The best of the best in gaming, dining and entertainment in Atlantic City, N.J., and southeast Pennsylvania
In the brightly lit seaside town across the Walt Whitman Bridge and down the A.C. Expressway, change is clearly afoot.
Atlantic City's days of being solely a gaming destination are long gone. Now, fine dining, entertainment and nightlife are making this Jersey town a winner once again. While the Queen of the Coast carves out a new identity heading into a new decade, we're spotlighting everything from the must-have reservations to the can't-miss nightclubs. From roulette to room service, this is the definitive guide to enjoying the good life in A.C.
But your luck doesn't end there. Atlantic City has gotten some company from across the river. New gaming destinations in the greater Philadelphia area—SugarHouse in Philly, Parx in Bensalem, Harrah's in Chester—give locals more options than ever for slots, table games and other attractions. There's plenty of room for everyone, however, making our little corner of the world a gaming, dining and entertainment mecca capable of giving Vegas a run for its money.
Go to:
Atlantic City has always been a great place to sleep over, but this holiday season, hotels and casinos are pulling out all the stops with over-the-top promotions and VIP treatments. From New Year's Eve packages that will enable you to party like a rock star—or even with one—to soothing spa treatments that will reinvigorate you from the rigors of holiday shopping, there are plenty of deluxe options on offer.
For rooms with a view, book into any of The Water Club's upscale Vista Rooms, with panoramic water views as seen from your 400-thread-count Egyptian cotton sheets. You could go for one of 70 ocean-view suites in the two-year-old, 39-story Chairman Tower at Trump Taj Mahal, or for Caesars' Centurion Tower, where oceanfront rooms offer a bird's-eye view of the Boardwalk. Outside the casinos, the Chelsea's Rock Star suite includes four rooms on the top floor, with a balcony, sunroom with floor-to-ceiling windows, kitchen and optional adjoining rooms for a three-bedroom party pad.
Special packages, including mid-week specials, dine-and-stay packages and shop-and-stay deals, are on offer across town. But none are bigger than those on New Year's Eve. Trump Marina offers a Disco package ($777 for two), including dinner, Champagne, brunch, a night at The Disco and a deluxe Bayview room. At the Borgata, the Rock Star package includes a classic room and all-access nightlife passes to Gypsy Bar, MIXX and mur.mur ($999 for two). Or, you can rock out with the original Broadway cast of "Jersey Boys," performing hits at The Showroom at Tropicana, where a room and a show costs $250 per person; the Trop also will have a balloon drop in Palm Walk, a DJ in The Quarter, and a late night DJ and drinks at the Top of the Trop. And Harrah's will host a New Year's pool party package with Marina and Harbour Tower rooms, and all-access passes to an open bar DJ party at the Pool After Dark ($748 for two).
Other New Year's packages boast celebrity appeal. At Caesars, an exclusive VIP package includes concert tickets, a Centurion Tower room and a meet-and-greet with Sarah McLachlan ($1,399 per couple). Showboat is offering its own Rock Star package: tickets to Maroon 5 at the House of Blues and a stay in a House of Blues studio suite with state-of-the-art entertainment system and recording studio access, as well a meet-and-greet ($1,699 for two). And Harrah's is offering access to blues royalty, with a package including a new Waterfront room, concert tickets and a meet-and-greet with B.B. King ($999 for two).
When it comes to recuperating, one appealing option is a Red Door Spa Suite at Harrah's. Each of the two 1,965-square-foot, two-bedroom suites offers floor-to-ceiling water views, adjoining treatment rooms, personal exercise rooms, private saunas, steam rooms and high-end entertainment systems.
If that's more relaxation than you really require, there are plenty of new and intriguing treatments on offer. Qua Baths and Spa at Caesars, with its signature Roman baths, has new coffeeberry-based specialty treatments including a refining facial and a remineralizing and detox body treatment. At the Borgata's Spa Toccare and the Water Club's 32nd-floor Immersion Spa with sweeping views, promotions include a Winter Warm-Up Massage with warm towels and holiday fragrances. The Borgata is even offering a New Year's Eve-only Resolution Package, including a Borgata or Water Club room and day passes to the spa and fitness center. If that's not enough to start 2011 off right, we don't know what is.
Get Cooking: If you're weary of all those lavish dinners out—we feel your pain—take a break at Harrah's outpost of Viking Cooking School, which opened this year. A package includes a room at the resort; a credit toward classes like a gingerbread house workshop, holiday pies, Old English Christmas or edible ornaments; and access to the fitness center to counteract any calorie intake.
High Stakes: If you're in town to play, it might be worth stopping by the Tropicana, where new higher table limits are in effect. The maximum blackjack wager has been increased to $50,000 per hand, and craps players can now win up to $30,000. Roulette limits have been increased to $10,000 on 1:1 bets and $5,000 on 2:1 bets. And the maximum aces up bet in four-card poker is now $500. High rollers, step right up.
The Night Before Christmas: Last year, you spent Christmas Eve on the in-laws' foldout couch. This year, celebrate in style. The Borgata's Eat, Drink & Be Merry Package, available Dec. 24 and 25, includes a room; a Holiday Facial, Winter Warm-Up Massage or Arrivederci Cellulite body treatment; a $100 credit for Bobby Flay Steak, Wolfgang Puck American Grille or Seablue; and other perks, starting at $389.
When it comes to dining in Atlantic City, the odds are in your favor. From casual favorites like the White House Sub Shop and Tony's Baltimore Grill to fine dining establishments like Bob­by Flay's Steak or Il Mulino, there are plenty of options to whet your appetite. And while there's been a restaurant boom in recent years, A.C.'s status as a dining destination is nothing new.
The Knife and Fork Inn has been around so long (since 1897 to be exact) that it got a shout-out in HBO's 1920s-themed "Boardwalk Empire." Regulars come for the wine list—nearly 10,000 bottles—and dishes like the bourbon-glazed pork sirloin or the Brazilian lobster tail. This landmark is a mandatory stop for any self-described A.C. foodie.
Another longtime favorite is Dock's Oyster House, the only restaurant in town older than the Knife and Fork. Come for the turn-of-the-century nostalgia but stay for the quality seafood, including eight dishes that have been on the menu since the doors first opened. Oysters come in 10 varieties, but we're partial to the Cape May Salts with a side of the homemade cocktail sauce.
If those restaurants represent A.C.'s glory days, no place epitomizes the modern approach to fine dining in the resort town like Izakaya at the Borgata. Alongside eateries from celebrity chefs and Food Network regulars, Michael Schulson's ode to Japanese cooking holds its own. Schulson studied in Japan for a year before opening the place, and his intense passion for the cuisine shines through in the edamame dumplings and the many specialty sushi and sashimi offerings. Mondays are a particularly good time for newcomers to get to know the menu. A special selection of dishes and cocktails are available at $7 apiece.
Across town at Caesars, Philadelphia's Chris Scarduzio is the man in the kitchen at Mia, where Italy is well represented from the Roman columns out front to the memorable plates like the namesake vitelli alla mia—sautéed veal cutlets and prosciutto topped with melted telleggio cheese and porcini sauce.
Also invoking the taste of Italy is Girasole. From the Versace-designed lounge to the al fresco dining on the patio during the warmer months, this spot on the ground level of the Ocean Club Condos is not your typical red gravy joint. Start off with a gourmet pizza from the brick oven and follow your secondi course of ossobucco con piselli e funghi—veal shank with peas and mushrooms in a tomato sauce—with a torta di ricotta, one of the most delightful desserts in town.
Fin made quite the splash when it debuted earlier this year at the Tropicana. The fresh fish joint is making waves thanks to Chef Demetrios Haronis' approach to sustainable cooking. You'll find day-boat scallops from Cape May, swordfish from Block Island and lobster from Maine. The raw bar is also a welcome addition, and shellfish towers are a great way to sample.
Another newcomer to the Boardwalk is Oshi, a sushi and sake bar that is located within the Rib & Chophouse at Showboat. The menu, created by Chef Tony Fok, changes frequently, though some items remain fixtures. Don't miss the signature soup, the seafood udon, which combines rock shrimp and scallops with the thick wheat noodles.
Finally, no meal is complete without dessert. While you can find lots of calorie-rich options about town, you'd be hard-pressed to find a dessert spot more fun than Temptations at Harrah's. Whether you're look­ing to wind down the evening or kick things up a notch, there's something sinfully sweet about indulging in chocolatier Jacques Torres' creations. Two words—Champagne truffles—sum up the blissful decadence that's fitting for a night out in Atlantic City.
Pa.'s Casinos—Pleasing the Palate: Although newer to the game, southeast Pennsylvania's casinos also offer their share of hit-the-jackpot dining options. Bensalem's Parx Casino has a notable highlight in Parx Grill, a high-end steakhouse featuring an interior as impressively designed as the ornate building around it. The menu features cleanly presented and well-portioned dishes, with standouts including the lobster tail and prime rib. And don't miss out on the sweet yet nutty onion rings.
At SugarHouse in Philly's Northern Liberties/Fishtown neck of the woods, take a break from the tables at The Refinery, a relaxed sit-down with an all-glass façade for stunning views of the Delaware River. The food and atmosphere are casual, featuring distinctive burgers, sandwiches, salads and a wide selection of local microbrews. When the weather cooperates, add fresh air to the mix of good food and drink by making the most of the outdoor patio.
The Other White House: Bill Cosby used to rave about it on TV and, for decades, hoagie aficionados have made it an Atlantic City institution. But now things are about to get a whole lot tastier. That's because for the first time ever, the famed White House Sub Shop is opening a second location in town. Spring 2011 is the targeted date for the restaurant's debut at the Trump Taj Mahal. The new location means more hoagies to go around; just don't expect the lines to be any shorter.
From signature cocktails in a casino floor lounge to craft beer flights at Firewaters, there's no shortage of quality drinks in Atlantic City. Tequila-lovers flock to the Borgata's Gypsy Bar for the impressive menu, while those who prefer vodka journey to Russia via the Trop's Red Square. No matter what your go-to libation is, you're likely to find it in unprecedented variety.
Stephen Starr's Continental is so popular in Philadelphia, there are two locations. But the Atlantic City outpost provides a different atmosphere thanks to its location in The Pier Shops at Caesars. Revel in the retro décor with a vintage cocktail like the Aviation, made with Philly's own Bluecoat Gin, or get a group together and order up a party shaker of the Astronaut—peach vodka and Tang served in a Tang-rimmed glass.
At the Borgata, Wolfgang Puck's American Grille is often packed with hungry diners eager to sample the celebrity chef's menu. Lucky for us, it also has a great bar area, perfect for people-watching while sipping a bottle of vino. There are many interesting reds and whites to splurge on here—but if you've blown your budget at the craps table, the knowledgeable staff can also guide you to the 50 bottles available for under $50.
While the three-martini lunch has gone the way of the pet rock, that classic cocktail has been revived time and again, from "Sex and the City" to "Mad Men." Today, the buzz around martinis is still quite strong. And nowhere are they stronger than at Blue Martini at Bally's. With more than 100 variations, there's something new here for even the most seasoned martini drinker. Try the signature version, which features blue Curacao, Cruzan rum, peach schnapps, sour mix and a splash of Sprite.
Those looking to start the night off right will want to head to the Water Club's poolside Sunbar. This South Beach-inspired locale is a quiet, intimate place to have a cocktail before checking out a show or hitting the tables.
The Trump Taj Mahal's Ego Bar & Lounge offers a little something for everyone. Sports fans come for the oversized televisions. People watchers come for the open floor plan. But everyone comes for the drinks. The mix of entertainment and nightlife make this spot a must-visit on your next trip to A.C. Order up one of the signature cocktails as you settle in for a performance by the house act, Almost Angels, an A.C. version of the Pussycat Dolls.
Located in The Quarter at the Tropicana, Cuba Libre has a split personality. Downstairs, diners can be found enjoying the authentic food offerings, but upstairs at the Missile Bar, it's a different scene altogether. A late-night happy hour from 11 p.m. to 1 a.m. features several drink specials, but the overwhelming favorite is the classic mojito, made with the restaurant's very own namesake rum.
Before Las Vegas even existed, the biggest names in entertainment made their way to Atlantic City to perform. These days, the calendar is packed with topnotch concerts, and the nightlife has never been hotter. Famous names, past and present, regularly stop by for sold-out shows, and the dance floors stay packed until the wee hours of the morning. It's the ultimate adult playground and, unlike Vegas, what happens here doesn't have to stay here.
Caesars' Dusk is a high-end, high-energy nightlife experience in A.C. The modern design extends from floor to ceiling in this multi-tiered club with a thousand spinning lights overhead. Thirty bottle service banquettes encircle the dance floor, putting VIPs squarely in the action. Notables in pop culture and pop music make weekly appearances, and the resident DJs are heavy hitters. There are other places to bust a move in A.C., but none do it quite like Dusk.
Thanks to an enclosed roof, the party at Harrah's Pool Bar is in full swing no matter the season. The spot has the look and feel of SkyBar in Miami, complete with servers in bikinis and cabana areas for rent. But if you want to experience the true VIP treatment here, head to the Loft. It may lighten the wallet, but you'll rub elbows with whatever celebrities are in town as you survey the scene below.
When the weather is warm, the place to be is the Cabana Club. This rooftop pool bar is open until 4 a.m., and everyone from Philadelphia newscasters to special celebrity guests are known to cut a rug. Inside, C5 offers a relaxed vibe with live entertainment and signature cocktails. Unlike the flashier spots around town, ordering bottle service here is more about having a good time than about showing off.
When it comes to karaoke in A.C., only one place comes to mind: Planet Rose. The self-proclaimed "greatest karaoke bar on Earth" boasts more than 15,000 songs to choose from, and private parties for up to 20 people. Each night features a different theme and drink specials, so even the shy ones in the group will be belting out "Friends in Low Places" before the night is through.
Like going out in Atlantic City, but hate the crowds? Then the Foundation Room at the House of Blues is for you. This membership-only lounge screams exclusivity with private events and its very own chef. Membership starts at $1,000 and grants you access to the space and invitations to members-only events like wine tastings and meet-and-greets with bands. For $2,250, you get all that plus access to other Foundation Rooms across the country and free golf at six area country clubs. Add to that your own concierge, and discounted parking and accommodations at all the Harrah's properties, and you can see why so many are clamoring to join.