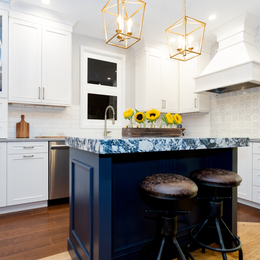 Amazing Spaces
Homeowners who choose Dilworth's Custom Design for a kitchen or bathroom renovation gain an all-in-one resource dedicated to exceeding expectations.
In the world of kitchen and bathroom remodeling, Dilworth's Custom Design Inc. is a leader in the industry. From start to finish, Dilworth's Custom Design does it all, with one goal in mind: complete client satisfaction.
Dilworth's Custom Design aims to be a one-stop shop for the entirety of a home-renovation project, from plumbing to electrical, framing to paint selection, cabinetry design to installation. The Phoenixville-based design-build firm is large enough to plan and design every aspect of a renovation, but it's still small enough to know the granular details about what each homeowner expects from the completed project.
Its approach to client satisfaction isn't the only thing that sets the firm apart. Dilworth's Custom Design has made a name for itself in a field where few companies have stood the test of time. In fact, the family-owned business has been vibrant and growing for nearly 30 years—and it's still growing, with the addition of a beautiful new showroom display.
"The biggest thing about us is that we do everything for the job," says Dan Dilworth, owner and CEO of Dilworth's Custom Design. "We assign a team especially dedicated to your project, and those are the same guys that will stay week after week until your project is done and you're happy."
The company does not use subcontractors for any part of the process. Having the same people on the same job day in and day out creates continuity and streamlined workflow. In other words, things run smoothly and according to plan.
"From day to day, the client knows the same people will be there," Dan adds. "They'll know what was done, what needs to be done, and will know every part of the project. This is a major thing that sets us apart."
'Leave the Hard Work to Us'
Dilworth's Custom Design process is based on establishing a close relationship with each client. By creating this connection, a homeowner has the confidence that the final result will be exactly what he or she had in mind. The process typically begins with a home consultation with Dave Dilworth, Dan's brother and the company's director of sales and design. Dave will go to the client's house to see the space for himself and then will discuss the client's wish list, hopes, and budget, as well as make informed suggestions.
"The next appointment is at the showroom, where they'll see a 3D layout of the space and then be offered different levels of design ideas—a 'good, 'better,' and 'best' version, if you will," Dan says. "They'll see what we can do within their budget and ideas that go above, just in case they decide to try something more. The point is to find out where people need to be."
Subsequent visits to Dilworth's Custom Design's 3,000-square-foot showroom enable the homeowner to essentially walk through the project, step by step, to review everything from colors to finishes. During the design consultation phase, the team works closely with the client to understand their ideas, requirements, and lifestyle. This collaborative process helps to blend the client's expectations with Dilworth's experience and expertise.
"This may take multiple appointments," Dan says, "but this is where we begin to bring the dream into reality."
For homeowners who are unsure of where to begin a renovation, Dan suggests there are multiple ways to approach a new project. Some clients research thoroughly and know almost everything in regard to their options. Others are complete novices with no real idea of any part of it. Then there are those who are somewhere in between.
"I suggest homeowners give it some thought, so they have a framework to begin with," Dilworth says. "Go online, look through all the different styles, talk to people about what you like and don't like. I tell people the same thing at the beginning of projects—pick out one thing that you really love. Let that be your driver. Then we can build around that.
"Just come with an open mind," he continues, "and then leave the hard work to us."
'Creating Something Amazing'
Dan Dilworth is proud of the many attributes his firm brings to the table. Dilworth's offers virtually limitless products and design options at varying price points. Expertly trained, professional installation crews can handle every part of a project, on schedule and on budget.
"We want everyone to know that they will be treated with honesty and integrity," he says. "We will do only top-notch work, and that extends into communication with the client. We won't cut corners, and we tell our guys, 'If you have an idea on how to make something better, say something. If there are options or modifications that might improve what we're doing, let's discuss it with the client.'"
When a company thrives for as long as Dilworth's Custom Design has, it's the mark of something truly unique. Although he may be modest about his company's success, Dan suggests three reasons for its longevity: dedication, focus, and a commitment to quality.
"My idea has always been let's do something better and do it right," he adds. "If we learn of products that might help a project, let's test them ourselves. I feel blessed to have people who take pride and have passion in what they do. They really work hard to produce the best possible result."
For Dan Dilworth, every day requires a concerted effort, with every member of the team focused on a common goal. In fact, he still oversees every project, often taking a hands-on approach to support his workers in the field.
"It's about creating something amazing together," he says. "It reminds me of when I had a client selling his house. He said they had a Dilworth kitchen, so they were hesitant about moving. But then they saw that the new home they liked had a Dilworth kitchen, and that was all they needed to know. They put a bid in right away … above the asking price."
Dilworth's Custom Design Inc.
175 N. Whitehorse Road
Phoenixville, Pa.
(610) 917-9119
dilworthscustomdesign.com
Photograph by Nina Lea Photography
Published (and copyrighted) in Suburban Life magazine, September 2019.