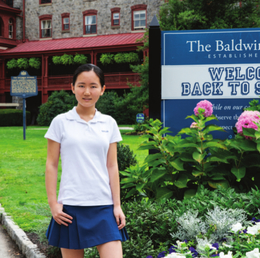 Composing a Bright Future
At The Baldwin School, student and award-winning writer Sophia Lee hones her skills and builds a strong foundation for college and beyond.
Sophia Lee says she will be forever grateful to The Baldwin School, a leading college-preparatory school based in Bryn Mawr. After all, that's where she found her "voice."
Though her demeanor may be best described as measured or reserved, Lee has long been full of thoughtful insights and observations of the world around her. Yet, for much of her young life, she says she felt nervous to voice her opinions and worked hard to "not be noticed." All that changed when her teachers urged her to be more vocal, and to take some risks and share her ideas through her writing, in ways she never would have attempted out loud.
"I was encouraged to foster a unique perspective, and I entered some writing competitions," says Lee, a rising 10th grader at Baldwin. "Surprisingly, [my entries] placed a few times, which prompted me to enter the New York Times annual editorial competition, even though I had very low expectations of winning. I was shocked a few months later when I received an email that my article had made it to the final round."
In this prestigious annual national competition, students are encouraged to write about issues that matter to them. More than 10,500 high school students across the country submitted editorials for last year's competition. After five rounds of judging, Lee's essay, "Nothing Gets Between Me and My Sushi … Except Plastic, Maybe," was named one of 12 winners in the 2019 New York Times' Sixth-Annual Student Editorial Contest. (To read her piece, go to nytimes.com and search for "Sophia Lee.")
Thought provoking and perceptive, the essay delves into Lee's fondness for sushi and the "ubiquity of plastics," and the unfortunate intersection between the two—namely, plastic's toll on the global environment, including the fish that ends up on her dinner plate.
"I credit my growth and confidence as a writer to my teachers at Baldwin who saw beyond my shyness and supported me when I was struggling and applauded me when I succeeded," she says. "They helped me to embrace who I am and understood that being quiet and antisocial at times wasn't something that I needed to overcome but rather accepted, and that I had my own unique perspective on things. My teachers encouraged me to be bold and more comfortable expressing my views with the words that I usually lack to say out loud."
She adds that she appreciates Baldwin even more because she has attended other private schools that were neither encouraging nor supportive of her uniqueness. Lee's parents enrolled her in Baldwin desiring a more diverse student body than the other schools she had attended, along with single-sex education paired with rigorous academics, and a top squash team. To their delight, their daughter found so much more. Lee likes the fact that being intelligent and talented is respected, and her teachers make a sincere effort to "get her."
Striving for Greatness
Since the school's founding in the late 1800s, ambitious girls such as Lee have been attending Baldwin not only to become ready for college but also to hone their interests and gain the essential skills needed to feel prepared for life once they have completed their education. While Baldwin certainly strives to prepare students through its robust academic curriculum, the school is also keenly focused on encouraging students to be their "best selves," as Lee puts it.
Interestingly enough, Lee says that she did not always have a particularly strong interest in writing beyond "filling space for reports." Her first high school writing grade opened her eyes, however.
"Back then, I was extremely confused with my first writing assignment's low grade, prompting me to seek my teacher's guidance," Lee recalls. "Her corrections were both incredibly helpful and ego deflating, as I quickly came to realize that there is always something that can be improved upon."
From then on, she worked on honing her talent and view writing as an opportunity to evolve and express her thoughts. As a result, her talent blossomed. Lee says that she admires how Baldwin is able to provide a challenging curriculum that engages students with immensely diverse interests. For Lee, Baldwin has provided an environment where her passion for reading and writing is cultivated, while her older sister, who excels in math and science, is also able to develop her passion for sculpture. Because of the strong sense of community and small class sizes at Baldwin, students can connect with teachers, discover their interests and abilities, and receive the guidance they need to move in the right direction.
"Nothing falls through the cracks here," says Laura Blankenship, Ph.D., Baldwin's assistant head of school. "All of the students have access to our faculty, and they are really able to help them, not just when they're struggling, but when they're striving to reach bigger goals. We have many students who want to go above and beyond and just need that mentorship support."
Blankenship says the school wants to nurture each student's unique passions and interests. After all, the interests that a student fosters in her formative years may lead to the development of skills that can be incredibly useful later in life—and perhaps serve as the springboard to a fulfilling career.
"There are many opportunities within the classroom to pursue topics that the students are interested in," Blankenship adds. "Outside of the classroom, we encourage students to discover what they are passionate about and find ways to weave that into their learning."
Bright Future Ahead
Baldwin has long been considered one of the nation's foremost college-preparatory schools. Blankenship says this reputation is due in part to the school's rigorous academic curriculum, which she describes as "ever-innovating" and "constantly improving."
"We are an old school—founded in 1888—but we are constantly making changes and evolving the curriculum so that we are not set in an outdated mindset," she adds. "We are always trying to meet the needs of our students in the best ways possible."
For Lee, the freedom and encouragement to truly become her best self has been the most rewarding aspect of her education at Baldwin.
"One of my favorite aspects of Baldwin is the diversity," she says. "It has many clubs that embrace different racial, cultural aspects of its students, and lets students express themselves freely without a sense of judgment. Unlike other schools I have attended in the past, Baldwin doesn't try to make you into someone they want you to be. Everyone at Baldwin supports you to be the best version of you, and that's very encouraging."
Baldwin also offers one of the country's best squash programs. Although some may not realize it, southeastern Pennsylvania is considered a hotbed for the sport known as squash, largely due to its popularity at Baldwin and other private schools on the Main Line, which are heavily recruited by Ivy League colleges each year. Thanks to the level of players Lee gets to train with she has grown immensely as a squash player. Lee appreciates that the competitive atmosphere of the squash team, along with the rigorous academics of Baldwin, will definitely prepare her for college and far beyond.
Both in and out of the classroom, Baldwin students such as Lee are gaining what Blankenship refers to as a well-rounded "foundation for their future." This, she believes, is perhaps the most valuable asset a student can hope to acquire during her high school years.
"We want to give students a firm foundation they can build their futures on," she says. "We are constantly looking for the best ways to prepare our students for the bright futures they have ahead."
For more information on The Baldwin School, call (610) 525-2700 or visit baldwinschool.org.
Photography by Jody Robinson
Published (and copyrighted) in Suburban Life magazine, September 2019.