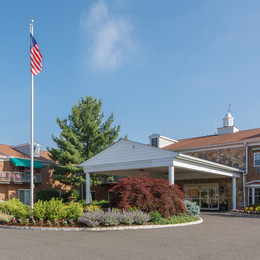 'My Life Here Is So Happy'
A journal editor, greeting-card maker, and snowman lover, Pat Wolf makes the most of life at Gwynedd Estates.
"You meet such interesting people," says Pat Wolf, of her fellow residents at Gwynedd Estates in Ambler. "Ph.D.s, doctors, nurses, even a mummer!"
That's true for Pat, who had two careers: as a homemaker, raising three daughters; and as an editor of a nursing journal. She returned to school at age 60 to complete her degree.
"It kept my brain going, and was very interesting," she says, "especially since I was the oldest person in my classes."
All that was "BG," as Pat likes to say—meaning before Gwynedd. For 20 years, Pat lived in Lansdale. A couple of medical events made her realize she wanted more support.
"I knew I wanted a continuing care retirement community," she explains. "When I came to Gwynedd, I thought: This will be my home."
What created that powerful impression? The people and the beauty of the community. The snowman helped, too.
"The day I visited was snowy," Pat explains. "When I looked into the courtyard, I saw a snowman the residents made. I loved it."
At Gwynedd, Pat says she's become "active in everything." She's a member of five committees, including one overseeing renovations, one that plans events, and the Garden Club.
Then there are trips to museums, plays, and a lavender farm. And the creative arts center, where friends gather to sew, quilt, and crochet, or in Pat's case, make unique greeting cards.
Pat was always active—a hiker and an avid traveler. But she was never as involved as now.
"Everything is so convenient here," she says. "There's nothing to stop you from joining in."
Pat volunteers as a resident ambassador, helping visitors get to know the community.
"I'm always eager to share," she says, "because my life here is so happy."
For more information on Gwynedd Estates, or to schedule a tour, call (888) 735-0685 or visit Acts-Lifestyle.com.
Photograph courtesy of Gwynedd Estates
Published (and copyrighted) in Suburban Life magazine, October 2019