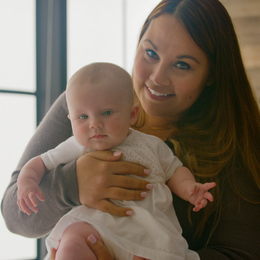 Building Families for More than 20 Years
RMA celebrates two decades of turning patients into parents.
When RMA opened its doors in October 1999, it had one simple goal in mind—to provide the very best in fertility care to New Jersey patients. That month, RMA's three doctors saw more than 1,000 patients. Over the years, the organization has opened up nine more locations in New Jersey, including a state-of-the-art center in Marlton, added dozens of doctors, and continued to stay focused on patient success.
Today, as RMA celebrates 20 years of innovative fertility care, its doctors and staff are humbled to say they have helped bring more than 40,000 babies to loving families. They also want to thank their patients for entrusting them with their care, for sharing their private lives, and for believing that they could achieve their dreams with just a little bit of help.
RMA's message: "Thank you to all our patients. Thanks to your trust, partnership, and unwavering strength, we will continue helping turn patients into parents. We could have never gotten to this 20-year milestone without you. Thank you, and never stop believing."
RMA's patients are the reason behind everything RMA does. Here's what a few real patients had to say about their experience.
"Heck yeah, I made the right choice coming here. If I didn't, I don't know if I would have given up, but I know another doctor would have given up." —Chelsea
"During my first visit, my doctor was just very knowledgeable and I remember him saying to me, 'We're going to try everything, we're going to pull out all the stops.' His confidence made me feel confident that I was going to get pregnant." —Joanna
"There is no question in my mind that this was the right place and these were the right people who were going to support me to get pregnant." —Allison
"They were my A team; they were it. They understood everything and knew everything, and I couldn't have asked for a better team. The minute I hear anyone talk about going to Dr. Bergh or RMA, I think to myself: You're good, you got this." —Annika
"When we met Dr. Scott, we fell in love with him instantly. I felt like I was in good hands the first consultation that we had with him. As impressive and vast as RMA is as an organization, he just made it personal." —Kristin
Visit rmanetwork.com/sl for more information, or call (973) 737-9916.
Published (and copyrighted) in Suburban Life magazine, October 2019.