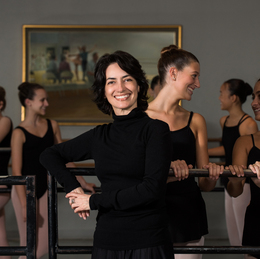 A Step Above
Now celebrating its 65-year anniversary, Princeton Ballet School uses the art of dance to give students "a powerful edge" that guides them for the rest of their lives.
Dance has so many proven benefits for the mind and body that can have a lasting positive impact on an individual's life. That's why the principals of Princeton Ballet School believe that anyone who wants to dance should have the opportunity to do so.
"We invite anyone who has an interest in learning how to dance," says Julie Diana Hench, executive director of American Repertory Ballet and Princeton Ballet School, which is currently celebrating its 65th anniversary. "Our classes allow younger students more time for movement exploration while providing advanced students the tools to become professional dancers, if they so choose.
"As a result," she continues, "students develop self-esteem, self-discipline, focus, and a strong fitness level that provides a powerful edge in any future endeavor."
Founded in 1954 by Audrée Estey, Princeton Ballet School is the official school of the American Repertory Ballet. The school has worked hard to uphold tradition as it continues to grow and evolve. Maintaining this delicate balance is the "essence of art itself," according to Aydmara Cabrera, the school's director.
"Princeton Ballet School is a living art," Cabrera explains, "a place for everyone who wants to dance with passion and dedication, with teachers who are willing to do the same."
Cabrera has introduced more modern and contemporary dance classes in recent years. She believes these new opportunities are just "different languages that converge in the same form of art—dance."
"Having modern and contemporary dance will definitely give a stronger foundation to our dancers to succeed and enjoy their education," she adds. "It should be part of the training for dancers to incorporate different disciplines and techniques, as it only enriches the final product."
The combination of inclusivity and a deep respect for tradition has helped make Princeton Ballet School a multigenerational affair. Hench says classes now include the children and, in some cases, grandchildren of families that have long been associated with the school.
"The stories and the lineage that you see are a beautiful legacy," she adds. "To have multiple generations come through our school is a piece of our history."
The school stands apart in other ways, too. It's not common for students to be able to learn dance with live musical accompaniment, according to Hench, but it is at Princeton Ballet School. She believes having professional musicians in the room while students dance enhances the educational experience.
"We are also unique in that we offer the opportunity for students to regularly interact with professional dancers and guest artists, who are frequently coming through the school," she says. "Our affiliation with American Repertory Ballet—and the opportunity for students to share the stage with professional dancers—is something students and their families embrace."
The school has attracted some of the area's finest talent. In fact, some of the school's students have gone on to dance for professional ballet and contemporary dance companies in the United States and around the world.
Whether a student is considering the pursuit of a professional dance career or merely wants to dance for recreation, Princeton Ballet School has classes to offer. The school provides different "tracks" for dancers, depending on their interest and skill level, doing its best to accommodate students' schedules as a way to help them to fit dance into their lives.
No matter where students' interest in dance takes them, Hench says dance education helps individuals learn many positive traits that will serve them well throughout their lives—namely, discipline, problem solving, and perseverance. It's also a wonderful creative outlet.
"There is much to be said for the transferable skills that you learn in the ballet studio," she says. "In my own life, I have many friends who have studied dance but gone on to careers in law and the arts and sciences. Dance provides many fundamental qualities and skills that will help children succeed in just about anything they pursue later in life."
Princeton Ballet School
(609) 921-7758
arballet.org
301 N. Harrison Street
Princeton, N.J. 08540
29 N. Main Street
Cranbury, N.J. 08512
60 Bayard Street
New Brunswick, N.J. 08901 (New Brunswick Performing Arts Center)
Photography by Jeff Anderson
Published (and copyrighted) in Suburban Life magazine, October 2019.