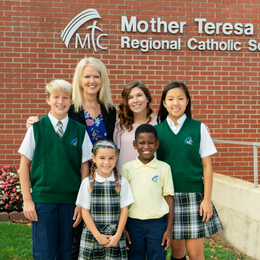 Educating the Whole Child
Mother Teresa Regional Catholic School provides the foundation students need to think critically, build connections, and find their place in the world.
For most children, elementary school is the proving ground that will shape them into the adults they will eventually become. In a perfect world, it's where they learn to make connections with the world outside their door, where they explore new opportunities, and where they begin to understand that who they are is just as important as what they know.
At Mother Teresa Regional Catholic School in King of Prussia, also known as MTC, families discover the rare sort of educational institution that educates "the whole child." The school does so by building a strong foundation of morals rooted in the Catholic faith, paired with a rigorous educational experience that includes an immersion in advanced technology. Its mission: to prepare every student for the challenges ahead, in high school and beyond.
"As a Catholic, non-public school, we know the expectations our parents and students have for excellence in the areas of academic, emotional, social, and spiritual growth," says Christine Pagan, principal of MTC. "We have strived in the past four years to build top-notch programs in all areas of our curriculum, beginning with pre-school right up to eighth grade."
MTC supports these initiatives through an environment where anyone interested in academic, emotional, social, and spiritual growth will feel welcome. A challenging curriculum emphasizes music and the visual arts; a comprehensive English language development program; and a STEM (science, technology, engineering, and mathematics) program built around a state-of-the-art technology center that includes "green screens" for broadcasting, 3D printing, and a makerspace where children can collaborate and enhance their skills in robotics.
Built on concepts first introduced in pre-K and kindergarten, the school's STEM program deepens students' knowledge as they progress in their education. The inquiry-based, hands-on curriculum is designed to improve students' ability to think critically and problem-solve, according to Laura Gherca, MTC's STEM director. In fact, the school is only the third school in the state to have received accreditation through the Middle States Association Commissions on Elementary and Secondary Schools for its STEM program.
"All students at MTC explore scientific concepts daily, and utilize technology in all of their classes," Gherca says. "In addition, they have a weekly technology course, with engineering classes as part of their schedule, and apply mathematics to solve real-world problems."
This is a school where all students are actively engaged—conducting experiments, making observations, and drawing conclusions based on the evidence they collect through tactile, hands-on experiences. They then use this information to inform the engineering process and solve problems, according to Gherca. Also, by interacting with their peers, students have the opportunity "to be creative, think on their own, and make mistakes so they can revise and feel accomplished."
"If you consider the skills students will need in their future careers, we are building the foundation for those at a young age," she adds. "Analytical thinking, problem solving, the ability to work both collaboratively and independently, technological literacy, communication, and capacity to apply mathematical and scientific concepts—all of these skills are highly valued in today's world and will continue to be."
She points to the popular MTC Engineering Club, through which students can imagine, design, and build cities as part of the annual nationwide Future City Competition. In this nationwide learning program, students must address sustainability issues in their designs and share their results through writing and public speaking.
"We continue to plan for upcoming initiatives to meet the needs of our ever-changing society," says Pagan. "We have dedicated staff and administrators who work extremely hard to make MTC a school for all." She adds that the school also has ever-developing special education program staffed with fully certified professionals.
Guided by the faculty and staff, MTC students learn how to become self-advocates and ask for help when needed. They also learn vital lessons in self-control, empathy, resiliency, and respect for others. Of course, every student learns the value of helping others and living a principled life by participating in charitable service and other teachings of the Catholic Church.
"As a Catholic school, making sure our students have a strong moral foundation is at the forefront of all we do," Gherca adds. "All of the skills our students hone through our academic programs should ultimately be used to serve God and love others as He taught us."
Mother Teresa Regional Catholic School
405 Allendale Road
King of Prussia, Pa.
(610) 265-2323
mtcschool.org
Photograph by Jody Robinson
Published (and copyrighted) in Suburban Life magazine, October 2019.