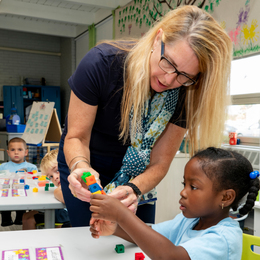 Starting Strong
Our Lady of Good Counsel's early education programs provide the foundations of love and learning that each child needs to build an exceptional academic career.
"Our Lady of Good Counsel, under the guidance of Mary, seeks to empower students to commit to Christian service, dedicate their lives to Gospel values, and lead with academic excellence."
So reads the official OLGC mission statement, which applies to every student who steps foot onto the grounds of the Southampton-based school—beginning with the children in its early education programs. In OLGC's pre-kindergarten and kindergarten classrooms, children learn the building blocks needed to socialize, collaborate, and prepare for a fruitful academic life, as well as hone their fine motor skills—the very foundations of a child's development.
"Kindergarten has become much more of a learning experience," says Diane Hediger, an OLGC kindergarten teacher who has a master's in early education. "At this age, kids are still very much working on their social skills and getting to work through problems with their peers, and then we're adding on, 'We're going to learn.' It's scaffolding, the base on which they're going to build their educational career."
Reimagining Early Education
OLGC has long recognized the formative nature of pre-K and kindergarten. This, after all, is the age when children acquire the tools needed to solve the challenges they will face not only in grade school, but also in high school and college.
OLGC's program has gained steam in the three years since Barbara Riley took the reins as principal. Enrollment in the school's early education programs has since doubled, according to Riley, in part because of a reimagined program that has included additional staff, redesigned classrooms, and investments in technology to facilitate children's learning—all rooted in the foundation of Christian service.
"We did a lot of research on the impact of design on student learning," Riley says. "Classrooms tend to be visually over-stimulating, and we wanted these spaces to be balanced—engaging but not chaotic, warm and lively but not overcrowded. From the classrooms to the teachers we have, I'm very happy with where we are right now."
For example, kindergarten classrooms now include iPads to facilitate learning, flexible seating that can be used in different configurations to accommodate group projects, "smart" interactive panel displays, which Riley describes as "much more dynamic." Technology is used as a learning tool, Riley adds, to help build real-world skills.
"Students are going to leave here and go to high school, and the tendency toward collaboration among individuals is stressed now more than ever," Riley says. "They're going to need to sit together and speak to each other, and they're going to need to collaborate. That starts here, from their earliest interactions. That's why we see our teachers not as instructors but as guides or facilitators, because students have to do the work themselves."
Nicole McPhillips, one of two kindergarten teachers at OLGC, couldn't agree more. She believes intimate class sizes help foster the sharing of vital life lessons.
"I have 16 children in my class, which is a wonderful number," says McPhillips, who has a doctorate in education. "It's small enough to give them individualized attention and help them become independent learners. The kids in my class always hear me say, 'Solve your own problems.' I'm certainly here to help them, but the goal is to have them learn the skills they need to work out problems on their own."
Staying Flexible
Kelly Shultz, an OLGC pre-K teacher, treasures the fact that "every day is different than the one previous." On any given day, the kids in her classroom might participate in music and media, go to the library, or, weather permitting, go outside to play on one of OLGC's two playgrounds.
"There's no such thing as a typical day," says Shultz, who has a master's in elementary education. "This is where children learn the rules, the routines, and the structures that prepare them for the rest of school, but when you're working with kids this young, you also have to be very flexible."
Academically, she says the children have a special fondness for "The Letter People," whereby she reinforces the building blocks of reading and writing by introducing them to different "mystery guests"—the letters of the alphabet—in puppet form. If the kids need a break from learning, she's happy to offer "brain breaks," utilizing instructional learning tools that combine singing and movement to stimulate the mind and body alike.
Pre-K and kindergarten students also learn through the bonds they build with OLGC's older students. For example, each child has an older "buddy" who travels with him or her to celebrate Mass, pays visits on in-school holidays and holy days, and assists early education teachers with various activities throughout the year. Also, students from the seventh and eighth grades greet the children when they arrive at OLGC every morning so these young learners can start each day on a warm, welcoming note.
The whole point of kindergarten may be to prepare students for "what comes next," but OLGC also wants to reinforce the fact that learning can and should be fun. In fact, Hediger describes pre-K and kindergarten at OLGC as "an academic program that loves to play."
"All of us are working together to provide a great academic foundation for children, combined with the faith component, but it's also about play," she says. "Play is so important to a child, because it helps us learn. We all think about the role of academics in helping students get into the best high schools and colleges, but if you don't make learning fun, the child is not going to enjoy school. We're here to make sure they have that foundation."
Note: On Sunday, Nov. 17, as part of Discover Catholic Schools Week, Our Lady of Good Counsel will welcome families to its fall open house. Attending families will be able to gain more knowledge about the school and how its programs can benefit their children. For more information, visit school.olgc.org/come-visit-us.
Our Lady of Good Counsel Catholic School
611 Knowles Ave.
Southampton, Pa.
(215) 357-1300
school.olgc.org
Photograph by Jody Robinson
Published (and copyrighted) in Suburban Life magazine, October 2019.