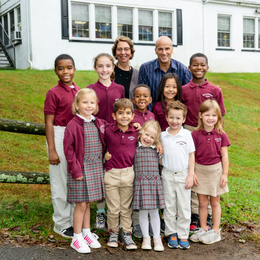 A Legacy of Learning
By "bringing life to learning," The Meadowbrook School has been placing boys and girls on a path to success for 100 years and counting.
Nestled on a quiet wooded campus in the middle of a Montgomery County neighborhood sits a little school that's celebrating a big legacy.
The Meadowbrook School, in Meadowbrook, Pa., is celebrating its centennial—100 years—this year. Founded in 1919 as an independent, nonsectarian country day school for boys from kindergarten to eighth grade, the school aims to provide children with a solid academic foundation and exceptional social skills that they can build upon for middle school and beyond.
The Meadowbrook School currently serves children in pre-school through sixth grade, ages 3 to 12, in a co-educational community setting. The school focuses on "bringing life to learning" for elementary-aged children in a nurturing, fun, and collaborative environment, according to Head of School Michael Reardon.
"The early years of a child's life form the core of who they become as a thinker, learner, citizen, and human being," says Reardon. "Our goal is to create a sense of community in a hands-on, fun environment that helps our students become confident, compassionate, creative learners."
Small classes help provide individualized attention to each student and allow for self-expression and personal growth. Students learn about their world through life lessons, such as growing their own fruits and vegetables from seeds and enjoying the fruits of their labor, using the post office, serving as mentors to younger children, volunteering at senior centers and soup kitchens, and learning how to balance the needs of others with their own.
"We spend a lot of time on developing 'soft skills,' building character, and teaching honesty and integrity, kindness, and respect from a young age," says Reardon. "The kids in our upper school serve as buddies to the younger kids and become role models, which helps them build confidence while instilling passion about learning and helping others."
The school offers a traditional curriculum of reading and math, in addition to "specials" including Spanish and French, science, art, music, computers, library, and physical education. The average class size is 12 students, with a student-to-teacher ratio of 4:1. Parents are encouraged to get involved in the Meadowbrook community, and many serve on the board of trustees, assist teachers with classroom projects, help organize special events, volunteer on field trips, and participate in school-based projects.
"I love the community-based feel that Meadowbrook provides," says Melinda Keller, the mother of two children who attend the school. "I drove by the school one day when I was in the neighborhood, took a tour and fell in love with the campus."
That happened before she had any kids. Today, her daughter Maddie, age 3, and her son, Oliver, age 5, attend the school.
"I was looking for a preschool that was focused on the kids, not a daycare," says Keller. "I wanted to find a school that would teach them social skills, how to interact with other kids and share—life lessons that they need to learn early on. At Meadowbrook, even at this early age, they've learned how to become part of a community and learned that learning is fun, and something they look forward to. I truly believe the foundation and support they get early on will make a difference in their lifelong learning."
'Like Family'
Traditions dating back to the early years continue to play a major role at Meadowbrook, including Field Day, the annual Fall Festival, a yearly art show, Red/Gray Soccer, and ice skating on Fridays in the winter at a local skating rink.
"One of my favorite activities at school is ice skating in the winter," says Annie Brogan, 11, a sixth grader at Meadowbrook who has attended the school since pre-school. "We help the younger kids get their skates on and help them skate around the rink, which is a lot of fun. We also do community service at Redeemer Village and put on a talent show for the residents, which brings them so much joy."
For Brogan, going to a small school "where everyone knows each other" has been an amazing experience.
"The teachers and friends I've made at school have become like family to me," she adds. "I've learned so much about myself and how to work with others over these past nine years."
Reardon believes Meadowbrook's sense of community and the specific focus on early childhood education have been the cornerstones of the school's success.
"We're very cognizant of the challenges independent schools have faced over the years," he adds. "For 100 years, we have been an intentionally elementary community. We have created our own little niche with a diverse student body and a personalized approach to learning. The families we work with recognize the effect the school has on their kids and have made a commitment to investing in their children's education."
Tuition assistance is offered to make a Meadowbrook education affordable to qualified students who would not otherwise be able to join the school community. The finance committee works with each family on an individual basis, based on their specific needs. A majority of Meadowbrook's families receive some sort of financial assistance, according to Reardon, adding that a flexible tuition plan enables the school to stabilize the tuition rate over a student's entire stay at the school.
Meadowbrook is celebrating its centennial with a number of special events, including a kickoff celebration with alumni that was held in September, its annual golf outing, which was held on the school's actual anniversary date—October 2—and a special Centennial Gala and Auction in the spring.
"We look forward to continuing to build upon the legacy we have created here at Meadowbrook," says Reardon. "Our underlying goal is to make learning fun and provide students with opportunities that will set them on a path to success in whatever their future holds."
The Meadowbrook School
1641 Hampton Road
Meadowbrook, Pa.
(215) 884-3238
themeadowbrookschool.org
Photograph by Jody Robinson
Published (and copyrighted) in Suburban Life magazine, October 2019.