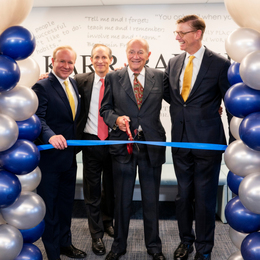 Historic Past, Brilliant Future
As Karr Barth Associates builds on its storied history, the firm remains focused on its founding promise: to make a difference in the lives of others.
"Help others achieve their dreams and you will achieve yours."
Iconic motivational speaker, author, and U.S. politician Les Brown once spoke these words, but they easily could have sprung from the lips of the financial professionals and staff of Karr Barth Associates. Throughout its history, Karr Barth Associates has sought to have a positive impact on the lives of its clients and community members. By doing so, as Brown's words suggest, the firm has enjoyed a sustained record of growth and success.
"We're having our best year ever in 52 years, with broad-based growth," says Timothy Maguire, Chairman of Karr Barth Associates, a prominent financial-services firm based in Bala Cynwyd. "A lot of the reason for that is the huge demand for what we do, and what we do is help make a difference in people's lives. People need our help in reaching their financial goals more than ever; they want to retire with dignity, protect their families, and plan with confidence."
Perhaps the most visible sign of Karr Barth's continued ascent is its new 42,000-square-foot office at 1 Belmont Avenue in Bala Cynwyd. Historically knows as the GSB Building, Maguire says the iconic corporate destination is now being referred to as "the Karr Barth Building," and its presence is spearheading new business growth along the City Avenue corridor in Bala Cynwyd. For the firm's more than 300 financial professionals and staff, it's an exciting time.
Maguire is excited about other indicators of the firm's growth—namely, the ongoing hiring of more than 40 new and experienced associates each year. He believes these young men and women are the company's "next generation of leaders" who will continue to build on the firm's foundation.
"Really, it's a new beginning for us," he adds. "From our remarkable business growth, to the new building, to the new talent who will lead us into the future, it's been a great year for Karr Barth—and we're just getting started."
Deep Roots
Karr Barth's roots stretch back to 1967—the year George Karr established a Philadelphia branch office with four financial professionals of the storied insurance firm The Equitable Life Assurance Society of the United States. Shortly after, Karr hired Bob Barth, and in 1974 they formally became partners as Karr Barth Associates. In the 1990s, when The Equitable was acquired by AXA Group, an international insurance conglomerate, Karr Barth remained true to its Philadelphia roots.
The Equitable, which was founded in 1859, has had a rich history in American business as a leader in wealth management, life insurance, annuities, and other sophisticated financial products. The company supported troops through World War I and World War II, waiving industry clauses during the war, unlike competitors at the time. When other companies closed, The Equitable helped clients navigate the trying times associated with the Great Depression, as well as 20 other recessions in the years since. It also served as a pillar of investment in the rebuilding and revitalization of many U.S. cities. In other words, The Equitable has been an enduring symbol of strength, resilience, and reliability.
Fast forward to 2019 and the company is now an independent, standalone company listed on the New York Stock Exchange (NYSE:EQH) and Karr Barth is proud to represent the affiliated broker-dealer and insurance agency.
In fact, Maguire says this long-standing relationship is one of the many reasons he's so excited about Karr Barth's future. Now more than ever, he believes the firm is "aligned strategically for growth and change, while continuing its track record as an organization that has the strength and stability to deliver on its promises."
"We have a growth-minded culture and growth-minded people," he adds. "The way we do business will continue to change, and we've always embraced technology as a catalyst of change. For example, we often meet with clients on the web instead of in person. Our clients expect technology to be an enabler, a time-saver, a way to make it easier for us to work together—anywhere in the country."
Maguire cites Asset-Map®, a technology that serves as "an enormously effective tool" for conducting meaningful conversations with clients about reaching their retirement goals or funding other aspects of their financial lives so they can make informed decisions going forward.
"On one page, we can show someone their financial situation, their goals, and that 'You're 50 percent there, 70 percent there,'" he says. "It helps people understand very quickly and simply where they are in terms of meeting their goals."
Asset-Map® is also an example of Karr Barth's expansive reach. The company has long served as an "incubator" for entrepreneurs and innovators who have sought to branch out on their own with businesses that reflect their financial services experience or personal interests.
Maguire says the firm has relationships with a "consortium" of other firms within AXA Advisors, each sharing in the professional support staff and resources designed to maximize the client experience. These include Firstrust Financial Resources, a firm that provides retirement planning, wealth management, and insurance protection, among other financial services, to Firstrust's banking customers and other individual and corporate clients.
"The term partnership is often overused, but in our instance we are two organizations of associated financial professionals that informally leverage each other's unique skills for the ultimate benefit of our clients," says David Fleisher, Vice Chairman of Karr Barth Associates, as well as CEO of Firstrust Financial Resources. "It's powerful that Karr Barth has built such a reputation among some of the most successful boutique firms in the region."
Fleisher adds, "We believe that giving back to the communities we serve is central to our mission." For example, the firm once again sponsored the Children's Hospital of Philadelphia Parkway Run & Walk, which has raised more than $300,000 in recent years to fund breakthrough cancer research at CHOP.
Opening Doors
One of Karr Barth's greatest defining factors is the fact that it is "always thinking about how to best serve our clients," says James J. Terranova, Executive Vice President of Karr Barth. He is also a Partner and Co-founder of Integrated Financial Strategies Inc., a firm that provides broad-based financial and investment services. He considers Integrated Financial Strategies yet another example of a Karr Barth relationship that was engineered to benefit clients.
"Karr Barth has really opened the door in terms of creating an atmosphere where you can use Karr Barth and the platform of AXA Advisors and its affiliates to help clients reach their objectives, no matter what those objectives may be," says Terranova. "One of the things about Karr Barth that has made it so successful is that we're constantly trying to improve in every area of the business.
"We are a group of individuals who share a lot of common threads in terms of working with clients," he continues. "If we run across a situation where we're introduced to someone who needs help with something that is outside of our group's focus, there's likely going to be someone else at Karr Barth who is experienced and focused in that area."
As Karr Barth continues to celebrate another historic year of growth and partnership, Maguire says the firm's financial professionals and staff have their eyes focused squarely on the future—the firm's and its clients'.
"We've been here for a long time, and we're going to be here for a lot longer," Maguire adds. "With the growth we've had, the team we've put together, and the history of support we have behind us, I think we're better prepared than ever to help people move forward with confidence so they can achieve their dreams."
Karr Barth Associates
1 Belmont Avenue, Suite 1100
Bala Cynwyd, PA
(610) 660-4000
karr-barthassociates.com
Photograph by Jody Robinson
* Duly-registered and licensed associates of Karr Barth Associates, Firstrust Financial Resources, LLC and Integrated Financial Strategies, Inc. offer securities through AXA Advisors, LLC (NY, NY 212-314-4600), member FINRA, SIPC, offer Investment advisory products and services through AXA Advisors, LLC, an SEC-registered investment advisor, and offer annuity and insurance products, including those issued by affiliate AXA Equitable Life Insurance Company (AXA Equitable), through AXA Network, LLC. Karr Barth Associates, Firstrust Financial Resources and Integrated Financial Strategies are not owned or operated by AXA Advisors or its affiliates. AGE-148535(10/19)(exp.08/20)
Published (and copyrighted) in Suburban Life magazine, October 2019.