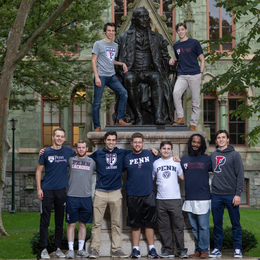 Tradition of Excellence
For more than 120 years, Holy Ghost Prep has been providing young men with the moral, intellectual, and spiritual preparedness needed to excel in college and career
Greg Geruson views his duties as considerably more than serving as president of Holy Ghost Preparatory School, a private, all-male Catholic school in Bensalem. As a Holy Ghost Prep graduate, Class of 1979, the fifth-year president also assumes the role of caretaker of a 122-year-old tradition.
"When I open the door of my office, I know that this was Father (Francis X.) Hanley's office," Geruson says, referring to the school's late headmaster. "I think about having known Father Hanley, having seen him sitting in this office when I was a student, and how he helped mold me as a student and a person. I have a personal connection of knowing our history and tradition and want our students to carry it on through education and experiences."
Prior to becoming president, Geruson served a total of 13 years as assistant headmaster for external affairs and as vice president of institutional advancement. Through his intimate history with the school, he has fostered relationships with alumni who can provide opportunities for student externships, and also to bring in guest speakers.
The school's LEAP initiative, short for Leadership Externship Advantage Program, is one example. Through this program, juniors with an interest in pursuing a particular field of study get real-life experience in the work environment while developing a relationship with an alumnus in the Holy Ghost Prep community.
"Alums can be a mentoring resource," Geruson says. "They host a student at a job site, where students can get up close and personal, and have hands-on experience on what it is like to be an accountant, structural engineer, district attorney, or cosmetic surgeon. We're expecting 50 juniors to get involved [in LEAP] this year."
Founded in 1897 by members of the Congregation of the Holy Ghost, the school aspires to form young men morally, intellectually, and spiritually in the Spiritan tradition, as they prepare for college and beyond. This tradition fosters the development of community in "one heart and one mind," the cultivation of each student's unique gifts, academic excellence, and generous service to the poor.
Thanks to an exceptional faculty and staff, and a student-to-teacher ratio of 9:1, Holy Ghost Prep's student body is thriving. One-hundred percent of its graduates are accepted into four-year colleges or universities, the average SAT score is near 1300, and an average of 115 colleges and university representatives visit the school annually.
Four years ago, Holy Ghost Prep initiated an ambitious college guidance counseling strategy. The program begins during students' sophomore year, when students start considering a path forward, and then "amps up" from there, according to AnnMarie Dougherty, Holy Ghost Prep's director of college guidance.
As juniors, students make a list of prospective colleges in Naviance, a college and career readiness portal that helps schools align students' interests with postsecondary goals. Students write a practice essay, start to build a résumé, and list their academic achievements, including awards, community service, and participation in clubs. As students enter their senior year, English teachers will edit the essays, and work with students so they understand financial aid and other important issues germane to the college experience. Parents can learn about their sons' progress through morning "Coffee Talk" meetings hosted monthly by the school.
To streamline the process, the school has expanded the size of its college guidance staff, with each member of the three-person team serving approximately 40 students. The process is successful, as Holy Ghost Prep graduates annually matriculate to the nation's finest universities, including 10 alums currently studying at the University of Pennsylvania.
"We care about the whole person," says Dougherty. "We get to know them as people, whether it's talking about a job opportunity to work at the shoe store in the mall, or picking a college, or when to take SATs."
In addition, the counselors chaperone sophomores and juniors on visits to multiple colleges and universities in a particular region. This year's four-day trip in April will include visits to nine universities in Maryland, Virginia, and North Carolina.
"Holy Ghost is a special place," says Dougherty. "We help these boys grow into the men their parents want them to be."
Much of the credit, she insists, belongs to Geruson.
"Greg gets it," she adds. "The boys can look at him, a man who was a student there, and see how successful he's become. He was a kid running in the same halls and playing on the same fields as they are now. He eats, sleeps, and breathes Holy Ghost Prep."
Somewhere, Father Hanley is smiling.
Holy Ghost Preparatory School
2429 Bristol Pike
Bensalem, Pa.
holyghostprep.org
(215) 639-2102
Photograph by Catalano Studio, courtesy of HGP
Published (and copyrighted) in Suburban Life magazine, October 2019.