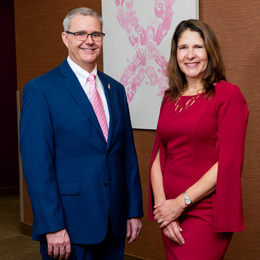 Care, Comfort, Compassion
Holy Redeemer Health System offers comprehensive care for each patient coping with a breast cancer diagnosis—before, during, and after treatment.
Breast cancer is the most common cancer in women, regardless of race or ethnicity, according to the U.S. Centers for Disease Control and Prevention. This fact underscores the importance of entrusting one's health to providers such as Holy Redeemer Health System, which focuses not only on prevention and screening but also on first-class treatment and care for the whole patient.
"The whole idea of our program is to meet patients where they are," says William Scarlett, D.O., FACS, FACOS, FAACS, chief of surgery and director of surgical services at Holy Redeemer. "We can take the cancer out, but if a patient is still fearful, she's not going to go back to being fully engaged in life. Our job is to help take care of a patient—mind, body, and spirit."
Comprehensive care isn't just a mission statement at Holy Redeemer; it's a reality. Each week, a team featuring Dr. Scarlett, as well as members including those from radiology, medical oncology, radiation oncology, breast surgery, counseling, nutrition, nurse navigation, and more, meet to discuss care so that patients can receive cohesive treatment.
"As a team, we're in constant communication," he says. "We've put systems in place to treat the whole patient. As part of our survivorship program, we have retreats, and we offer exercise programs, yoga, stress reduction, nutritional counseling, and life coaching, all of which are available to all our patients."
From the moment a patient meets with a nurse navigator at Holy Redeemer, all the way through treatment, reconstruction, and aftercare, a patient's wellbeing is paramount, according to Stacy L. Krisher, M.D., breast surgeon of Comprehensive Breast Care Surgeons, a specialized surgical practice within the Holy Redeemer Health network.
"Everyone does all they can to help patients feel as comfortable as possible," she says. "From our amazing front desk staff to our doctors, we emphasize compassionate care."
Dr. Scarlett stresses the importance of providing support to patients even after they have completed their treatment.
"We can 'finish care,' but often a patient needs a lot more support at the end of treatment," he notes. "We were really able to put together a team that's like-minded and really has a focus on the whole patient, not just their aspect of it. We're all driven by what's best for the patient."
Holy Redeemer takes the lead on screening and preventative measures utilizing the latest imaging technology, such as digital breast tomosynthesis (3D mammography). This technology provides images in "slices," thereby improving breast disease detection, particularly for women with denser breast tissue. Holy Redeemer also has state-of-the-art 3D stereotactic biopsy equipment, a noninvasive procedure that allows for an expedited diagnosis. Screenings are done by a compassionate staff of breast imagers and highly trained mammography and ultrasound technicians.
Dr. Scarlett suggests screening is only part of the battle.
"Screening doesn't prevent cancer; it just makes it so we can find the cancer as early as possible so we can proceed with less invasive treatment," he says. "It's a matter of getting into the community and explaining that this is why mammograms are necessary."
Holy Redeemer's breast care program empowers women to make improvements in their lives and provides the education needed to help them reduce the risk. Positive life changes include smoking cessation, reducing alcohol consumption, and regular exercise to manage one's weight. That noted, Dr. Krisher is the first to acknowledge how hard a lifestyle overhaul can be. For this reason, she prescribes incremental changes.
"If you make little changes, it can reduce your breast cancer risk," she says. "Some people are really motivated to make changes, and some people have a hard time. That's why I encourage people to set small goals—make a small change every week or two. It will move a patient closer to the end goal. If you set small goals, and reach them, you'll have a higher chance of success."
Take Time to Take Care of You
Mammograms can be performed at Holy Redeemer's conveniently located HealthCare Centers throughout the area.
Redeemer Healthcare at Bensalem
3300 Tillman Drive
Redeemer HealthCare at Huntingdon Valley
821 Huntingdon Pike
Redeemer HealthCare at Feasterville
23 Bustleton Pike
Redeemer Women's Healthcare at Southampton
45 2nd Street Pike
To schedule a mammogram, call (215) 938-5700. Evening and weekend appointments are available, and walk-ins are welcome. For more information, visit Holyredeemer.com/BreastCare or call (800) 818-4747.
Photograph by Jody Robinson
Published (and copyrighted) in Suburban Life magazine, October 2019.