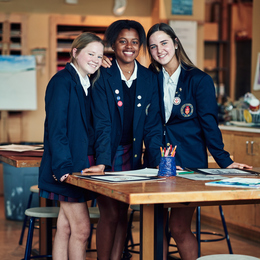 A Breath of Fresh Air
By emphasizing academics, mindfulness, wellness, and service, Gwynedd Mercy Academy High School equips girls to thrive as they prepare for college and to take on the world.
High school students today feel the pressure to excel more than any generation that preceded them. That's why one local school emphasizes not only academics, but also wellness, to help students remain centered during one of adolescence's most demanding times.
"We're purposefully giving our young women room to breathe," says Denise Corkery Marbach '72, P '05, '09, president of Gwynedd Mercy Academy High School. As an alumna and the mother of two Gwynedd alumnae, Marbach understands the increasing pressure on teens better than most. She and her team work closely with the student body from a wellness perspective, providing guidance, emotional support, and college prep across multiple fronts.
"The one thing we all need, and that includes our students, is time," adds Dean of Student Affairs Eileen Carty. "There are so many pressures on our girls, from academics to sports to family life to applying for college; so we're building time into the schedule for them to thoughtfully plan for their futures."
One such opportunity comes during "Monarch Mornings," a two-hour window built into the start of certain days to provide engaging, informative programming, and dialogue that address the needs of students: mind, body, and spirit.
The emphasis on student wellness is an integral part of a recently launched strategic initiative, built on the five pillars of a Gwynedd education—academics, leadership, wellness, engagement, and vitality. The initiative also produced a new Gwynedd mantra: "She is the Future." In addition, the initiative spurred the school to reimagine its counseling department to give students two dedicated school counselors, as well as two college counselors devoted solely to assisting students with applications, financing, and more.
Gwynedd's academic calendar has evolved, too. Pre-Christmas exams, for example, enable students to enjoy the winter holiday without the fret of looming assignments or deadlines. When they return, they enter the "Mercy-mester," a week-long block of "passion-based learning," wherein students can delve into and explore subject areas they love.
Gwynedd students' interests cover a wide array of disciplines, including athletics. The variety of student sports consists of 13 varsity and junior varsity teams, now including crew, the newest addition to the Gwynedd lineup. Not only does crew welcome traditional and nontraditional athletes of all abilities and skill levels, but Marbach suggests it also can provide remarkable opportunity for college admissions and scholarships.
Even club life at Gwynedd emphasizes wellness. The Meditation & Wellness Club saw the most signups of any club last fall, according to Marbach, and other extracurricular opportunities allow students to embrace wellness-based interests such as yoga and nutrition.
In addition, Gwynedd now hosts "Tech-Free Fridays," wherein girls put down their devices during lunch on Friday afternoons to focus on engaging with one another on a personal level.
"Our student clubs sponsor different Fridays," says Carty. "For example, the academic bowl club will run trivia, the dance club will teach dance steps, and the glee club will be caroling around the holidays. These days are about reminding each other to unplug and holding each other accountable."
Healthy interactions with technology are a recurring theme at GMAHS. Last year, for example, GMAHS held its first TE@CH week, an acronym for Tech Empowerment and Cognitive Health. During this time, students and staff focused on topics such as digital citizenship and the impacts of constant tech exposure on the brain.
The concept of nurturing "the whole student" ties directly into the mission of the school's founder, Catherine McAuley. This includes spirituality as a form of wellness—"not just being mindful in general, but being mindful in a specifically Catholic, Catherine McAuley way," Carty says. As evidenced by the school's weekly journal and prayer sessions, during which students reflect on where they see God in their everyday lives, it's clear that McAuley's legacy is alive and well at Gwynedd.
"We feel that our girls have to be prudent leaders as they go to college and out into the world," Marbach says. "Why prudent? Because a person can be a leader and not make good decisions for humankind. However, a humanitarian leader thinks of ethics and justice when making decisions. Prudent leadership is the way that we Gwynedd women make an enduring impact."
Gwynedd Mercy Academy High School
1345 Sumneytown Pike
Gwynedd Valley, Pa.
(215) 646-8815
gmahs.org
Photograph courtesy of GMAHS
Published (and copyrighted) in Suburban Life magazine, October 2019.