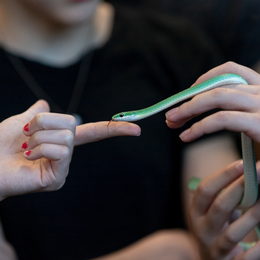 Scientific Results
Friends' Central's middle school students make invaluable connections to the world around them through a science program rooted in inquiry, discovery, and hands-on learning.
Alexa Quinn always had a soft spot for science. When she was a middle school student at Friends' Central School, she and her classmates treasured trips to the nearby "living laboratory" known as Morris Park, where they had the opportunity to "get our hands dirty" during teacher-led science exploration.
"My eighth grade teacher, Doug Ross, was a tremendous influence on me," Quinn says. "He was a pioneer in this kind of immersive style of teaching that uses outdoor spaces to help kids understand science in a completely different way. He's part of the reason I'm doing what I'm doing today."
Quinn is now the principal of the middle school at Friends' Central, a Quaker school in Wynnewood for students in nursery school through grade 12. Ross has since retired, but the school has a new crop of gifted teachers who are as deeply passionate about science as their pioneering predecessor.
"Science lends itself to natural curiosity," Quinn says. "To this day, our science classes are based in inquiry, discovery, and hands-on learning. Doing in-school labs and experiments, and going out to Indian Creek provides valuable context, and it makes the science we're doing here more meaningful, because it enables our students to feel more connected to the world they're living in every day."
'Always Changing'
Padraig Barry has been teaching at Friends' Central for 20 years, 13 of which he has since been teaching science, which he calls "my true passion." Prior to that, he worked as a scientist—in the genetics lab of a hospital in Boston, as well as in quality control for a food manufacturer. He modeled his science sixth-grade classrooms after his real-world experiences in the lab, meaning they're fluid, fast moving, and highly interactive.
"I don't use a textbook," he says. "Once the book is published, it's out of date. Instead I maintain the curriculum on a website, so I can update it frequently. Science is always changing—almost month to month—so my curriculum changes, too."
Recently, as part of students' study of genetics, Barry led students through a laboratory exploration of cell biology, whereby students examined some of their own cells under a microscope. Considering the hands-on nature of the class, he encouraged students to take the initiative: swabbing cells from the inside of their cheeks, staining the cells with iodine, and then looking at the cells through a microscope under different magnifications.
"They'll be able to see the cell membrane, the nucleus, and, if they're lucky, maybe the nucleolus," he says. "A sixth grader will say, 'Wow, Mr. Barry, look what I found!' It may be just a water bubble or air bubble, but it's new to them. And then I'll say, 'Great, but look right next to that and you'll see the nucleus.' I don't go overboard with detail, because they will hit this again in eighth and ninth grade, but it's a wonderful introduction. We have some parents who say, 'We didn't do this until college.'"
Scientific learning happens outside the lab as well. Every Wednesday, for example, a large group of students participating in a service project called Streamwatch tends to the Indian Creek Watershed. They pick up refuse, remove Japanese knotweed and other invasive plants, and monitor the health of the water, as well as maintain hiking trails.
Quinn suggests these kinds of immersive programs help students think about complex topics beyond the world of science, such as equality, ethics, and social justice.
"Streamwatch also teaches the importance of service and sustainability, which are integral to our science program," says Quinn. "It's one thing to study water chemistry, but it's another thing to think about where the water you're drinking is coming from, and where in the world—even in Philadelphia—the water is being compromised and why that may be happening."
Barry co-leads the Streamwatch program with Patricia Zaradic, an eighth grade science teacher with a Ph.D. in stream ecology, as well as another faculty member, Jacob Fogel, who teaches social studies.
"Being in nature has a lot of health benefits for children," says Zaradic, who previously taught at Harcum College and Bryn Mawr College. "Even after 15 minutes in the outdoors, a child can feel a sense of peace that's hard to find in the fast pace of day-to-day life. Our culture is pulling people away from natural experiences. With Streamwatch, we're helping young people connect with the natural world and also become better stewards of the environment."
'The Air We Breathe'
Both in and out of the classroom, Friends' Central's science teachers strive to help students do more than gain a deeper understanding of key scientific principles. The curriculum is designed to foster the development of life skills such as the ability to think critically and solve problems—scientific or otherwise—using evidence-based logic.
"Science is the air we breathe," Zaradic adds. "We want students to feel that science is part of them—just one more lens they can use to view the world."
Lessons integrate information across multiple scientific disciplines—biology, chemistry, and physics—so students leave middle school with a firm foundation for their studies in high school and beyond.
"Physics doesn't end with [Isaac] Newtown," she adds. "That's why we're also introducing students to ideas on the cutting edge of science—topics like dark matter and string theory, which are not part of the middle school curriculum but certainly have an impact on our understanding of the universe."
Hands-on projects bring these lessons to life, often aided by on-campus resources such the Friends' Central Makerspace.
"We talk about energy transfer and the laws of motion, and then we'll add in the experiential element by having students build a Rube Goldberg device after the winter break," Zaradic says. "The device needs to have five energy transfers and at least three different kinds of force. We've had some kids use the Mentos-Diet Coke reaction, flames popping balloons, a fair amount of hydropower, magnetism. The kids' creativity amazes me.
"They're basically learning how to be innovators," she continues. "At the same time, they're learning that you can have a great idea, but you also have to be willing to let go of it or change it in order to have a satisfactory result."
Quinn believes teachers such as Barry and Zaradic, as well as their science colleague Rosa Mutchnick, have the ability to share these lessons in ways that leave a lasting impact—much like Doug Ross did with her when she was a student at Friends' Central.
"Our teachers are incredibly passionate about the subject matter, and that passion is helping our students get excited about science," she says. "We're taking the foundation students had in lower school and building significant critical-thinking, problem-solving, and communication skills on top of that. Add in students' natural curiosity, and that's what's going to propel them forward no matter where they go from here."
Friends' Central School
friendscentral.org
Lower School Campus
228 Old Gulph Road
Wynnewood, Pa.
(610) 642-7575
Middle and Upper School Campus
1101 City Avenue
Wynnewood, Pa.
(610) 649-7440
Photograph by Nina Lea Photography
Published (and copyrighted) in Suburban Life magazine, October 2019.