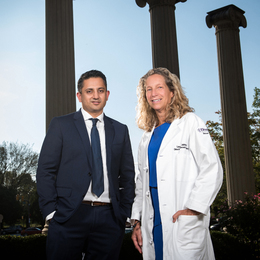 'It's Personal'
The "supportive family" of Einstein's Breast Health Program uses personalized, cutting-edge treatment to help patients return to normalcy after a breast cancer diagnosis.
A breast cancer diagnosis can be devastating. Even so, modern treatments and technology have made it easier for someone to manage the disease and return to a healthy, fulfilling life.
The average risk of women in the United States developing breast cancer over the course of a lifetime is 12 percent, or about one in eight, according to the American Cancer Society (ACS). Thankfully, the combination of increased awareness, early detection, and advances in treatment has significantly improved survival rates. At this time, more than 3.1 million Americans are considered breast cancer survivors, according to ACS estimates.
"While the incidence of breast cancer has gone up slightly over the years, we're seeing more success with earlier diagnosis and treatment," says Lisa K. Jablon, M.D., who leads the breast surgical team at Einstein Medical Center Philadelphia's Marion-Louise Saltzman Women's Center. "Modern technology has made it easier to diagnose the disease earlier, in some cases even before the disease can progress."
Many risk factors cannot be controlled when it comes to developing breast cancer, such as family history, advanced age, being female, race, genetics, reproductive history, and radiation therapy to the chest at a young age. But women can take steps to reduce the risk by maintaining a healthy weight, following a proper diet, and exercising regularly, as well as reducing alcohol consumption. Also, performing regular self-exams and getting an annual mammogram after the age of 40 can help identify any abnormalities early on.
For anyone facing a breast cancer diagnosis, Einstein's Breast Health Program can map out a course of treatment suited for the individual's particular diagnosis. The program includes a team of surgeons, medical oncologists, radiation oncologists, pathologists, radiologists, and nurse navigators to lead a patient through every step of the journey.
"Our collaborative team works together to guide patients toward the best treatment and therapy," says Dr. Jablon, a graduate of Temple University's School of Medicine, who began her career at Einstein in 1985 after completing both her internship and residency at Einstein Philadelphia. "Our goal is to develop a comprehensive treatment plan that gets patients back to a normal life as soon as possible."
'A Boutique, Concierge-type Program'
In 2012, Einstein Medical Center Montgomery opened its doors in East Norriton, offering patients a state-of-the-art facility that provides cutting-edge breast cancer screening, diagnosis, and treatment. The center was one of the first in the area to offer digital breast tomosynthesis (DBT), also known as 3D mammography, for breast imaging. This technique allows radiologists to see smaller areas of the breast and makes it easier to spot abnormalities in dense breast tissue. In addition, Einstein offers molecular breast imaging (MBI) to increase early detection of breast cancer among women with dense breasts by highlighting potential tumors in a way that traditional mammography does not.
"This advanced technology enables us to identify smaller cancers at an earlier stage that are not visible on standard 2D mammograms," says Archit A. Naik, M.D., M.B.A., who was recently appointed director of the Breast Health Program at Einstein Medical Center Montgomery. "It's like comparing the image on a regular TV to an HDTV."
Einstein takes a proactive approach to helping patients deal with a potential cancer diagnosis. If an abnormality is spotted, patients will be evaluated within 48 hours, and breast surgeons see referrals as quickly as possible.
"There is a lot of anxiety surrounding an abnormal mammogram," says Dr. Naik. "If we notice anything abnormal during a patient's screening, we get them into treatment as soon as possible. Minimally invasive biopsies are available to assess any abnormal tissue, and treatment is tailored to each individual patient."
Individualized treatment and personalized attention are paramount to the Einstein Breast Health Program, which Dr. Naik describes as "more of a boutique, concierge-type program."
"We offer all of the same surgical practices you can get at larger academic medical centers, but we aim to be a little more community focused and patient centric," says Dr. Naik, a graduate of Drexel University College of Medicine, where he also completed his residency. He earned his M.B.A. in Healthcare Systems at Drexel's LeBow College of Business and completed his fellowship training in Breast Surgical Oncology at the Rutgers Cancer Institute of New Jersey, Robert Wood Johnson Medical School. "We get to know all of our patients on a personal level, get to know their interests, hobbies, family members, aim to make them feel comfortable during the treatment and recovery process, and let them know they're part of our family."
In other words, Einstein's Breast Health Program's goal is to not only offer high-quality care and advanced technology, but also build relationships with its patients.
"When you're here, it's personal," Dr. Jablon adds. "One of the main questions patients have following a cancer diagnosis is, 'Will I be OK?' They want to know what comes next after a diagnosis, what types of additional tests will be needed, what their treatment or surgical choices are. We're here to answer all of their questions, educate them about their options, and identify the best course of treatment for them."
Each patient has a devoted nurse navigator, assigned to guide the individual from treatment to recovery. A nurse navigator advocates for his or her patients by coordinating appointments among surgeons, radiologists, and oncologists, explaining the various procedures and treatments patients will be receiving, informing patients about what to expect during recovery, and provide any additional support deemed necessary.
When applicable, Einstein's Breast Health Program employs cutting-edge treatment methodologies to limit the number of surgeries a patient must undergo and speed up the recovery process. For example, Dr. Naik specializes in oncoplastic surgery, which combines breast cancer tumor removal surgery and plastic or reconstructive surgery simultaneously, thereby reducing the need for additional surgery at a later date.
"We're constantly looking for ways to improve the operative experience," says Dr. Jablon. "Less invasive surgeries are easier to recover from, and in some cases, patients can even return home from a mastectomy within days rather than weeks."
Additional procedures offered at Einstein Philadelphia and Einstein Montgomery include sentinel node biopsies, which pinpoint lymph nodes affected by breast cancer, resulting in fewer removals; skin-sparing mastectomies, during which surgeons perform immediate reconstruction of the breast at the time of mastectomy with a patient's own skin to create a more natural-looking breast; and the use of magnetic "seeds" to localize surgery.
Einstein also offers a survivorship program for patients whose treatment has ended. Here, a nurse practitioner helps the patient focus on what comes next and discusses any risk factors to be aware of, such as diabetes and hypertension. The nurse practitioner also provides treatment summaries for primary care physicians, family members, and caregivers, and puts together a plan designed to help each patient move forward and maintain a healthy lifestyle.
"We aim to educate our patients, make them feel comfortable, and reduce their anxiety as much as possible," says Dr. Naik. "I often tell my patients, you inherit a family when you get breast cancer. We're here to provide a supportive family for them for as long as they need us."
For more information on Einstein's Breast Health Program, visit einstein.edu/breasthealth.
Photograph by Jeff Anderson
Published (and copyrighted) in Suburban Life magazine, October 2019.