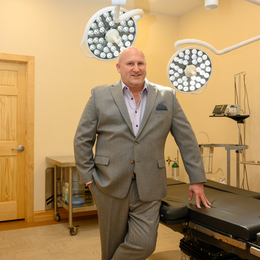 Only the Best
In the expert hands of board-certified plastic and reconstructive surgeon Dr. Michael Shafran, patients explore their options to refresh the face, breast, and body.
Not long ago, anyone who admitted to having "something done" used to have to wrestle with the associated stigma. The world of cosmetic medicine has since reached something of a tipping point, meaning the stigma has largely faded into the ether. As a result, more people than ever are educating themselves and exploring their options for refreshing how they look and feel.
Dr. Michael Shafran of Shafran Plastic Surgery Center in Feasterville considers this shift a good thing for men and women who want to look and feel their best. At the same time, he says this change also presents a few significant challenges: On one hand, the more people know about their options, the less hesitant they will be to take the next step, without fear of judgment; on the other hand, the surging popularity of these procedures has spawned a profusion of "med spas" with limited capabilities, often led by practitioners with areas of specialty other than cosmetic medicine.
That's why Dr. Shafran offers this guidance: When it comes to revitalizing the appearance of the face, breast, and body, the most capable and highly trained practitioners tend to produce the finest results.
Throughout his training, Dr. Shafran focused on areas such as breast reconstruction and oncoplastic surgery, trauma and maxillofacial surgery, and hand and microvascular surgery, as well as aesthetic and cosmetic surgery of the face, breast, and body. He later went on to become board certified in plastic and reconstructive surgery. He was considered a premier plastic surgeon in Bucks County long before he ventured out on his own. In fact, readers of the Bucks County Courier Times recently voted him "Best of Bucks," as the best plastic surgeon for 2019.
At Shafran Plastic Surgery Center, Dr. Shafran offers the full gamut of cosmetic services, from injectables and lasers to surgery, and he oversees or performs every procedure personally to ensure superior care, comfort, and education for all patients. We recently caught up with him at his Feasterville office to learn more about his practice, the importance of seeking out a board-certified specialist, and his best advice for patients who are considering a change.
Q&A
While there are other surgeons who perform these types of procedures, why should people consider going to see someone like you?
The manual dexterity and attention to detail of a plastic surgeon is important when you're talking about procedures on the face and body. There is extensive training on technique, which is certainly very helpful when talking about various cosmetic surgeries. A plastic surgeon also has an eye for aesthetic beauty and strives for symmetry and perfection, all while being realistic and always educating the patient on what's achievable. The goal is always to set and fulfill realistic expectations, being completely honest and transparent with the patient.
What kinds of procedures are you offering at Shafran Plastic Surgery Center?
I offer facial rejuvenation procedures such as eyelifts and facelifts; breast procedures including augmentations, lifts, and reductions; and body procedures including tummy tucks, liposuction, fat transfers, and full mommy makeovers. This is just the tip of the iceberg, as I personally oversee all procedures conducted in the office and perform all facial injections, such as Botox and facial fillers, myself. We see patients young and old, and we believe in catering to the patient. We understand that every patient has different wants and needs and different levels of readiness.
Just because the practice is overseen by a surgeon does not mean we perform only invasive procedures. There are many noninvasive treatments, like dermaplaning, hydrafacials, EMSCULPT, and various laser treatments, and we do have a licensed medical aesthetician on staff.
Why is the fact that you have a board-certified plastic surgeon performing or overseeing these procedures so important?
Ultimately, it comes down to the level of experience, training, and expertise. Behind the board certification are years and years of schooling and training. When you go to a med spa, you might not necessarily get a medical professional with nearly as much training and experience. This is also important when it comes to recovery. I think most patients gain peace of mind knowing that they have someone taking care of them from beginning to end, including postoperative medical care.
Beyond the level of experience and the training, we're also able to offer the patient a variety of services. You should not be pigeonholed into an option just because the options are limited. But when you're working with a board-certified surgeon, we can offer everything from A to Z, and then allow you to make the decision of what's best for you.
How has opening Shafran Plastic Surgery Center enabled you to deliver better care?
By going into private practice, I have been able to assemble a team of highly trained and experienced professionals that can cater to patients' needs. By being able to handpick this top-of-class team, I'm able to ensure that we are truly offering a personalized touch and can see patients through every step of their journey, no matter what the procedure.
How do you feel about the fact that the stigma surrounding these types of procedures has diminished?
I think it's a good news/bad news scenario. The good news is that many of these procedures are becoming more acceptable and less scary for patients. That has led more patients to educate themselves on what's available and what might fit their needs. But the increased demand has certainly created more pop-up type of places that are performing procedures that require a bit more experience than just a few courses and earning a quick certification. Ultimately, it does a disservice to the field in general when someone has a bad experience at a place that wasn't necessarily fully qualified to be offering it. That kind of situation can give the procedure a bad reputation when in reality the professional was the problem. Patients should know it's not like comparing apples to apples.
What other advice would you offer patients so that they can make a wise choice?
Patients should know these procedures are not like going for a haircut and should be done by highly trained professionals. This is your health, your look, and your life, and it's important that you protect it. Make sure that you are investing your time and trust in someone who is capable of handling it.
For more information of Shafran Plastic Surgery Center, which is located at 2 Park Lane, 3rd Floor, in Feasterville, Pa., call (215) 297-4242, or visit shafranplasticsurgery.com.
Photograph by Terree O'Neill Yeagle Photography
Published (and copyrighted) in Suburban Life magazine, October 2019.